This page contains archived information and may not display perfectly
F2 - Post Qualifying Press Conference
F2 - 2019 Race of Silverstone - Post-Qualifying Press Conference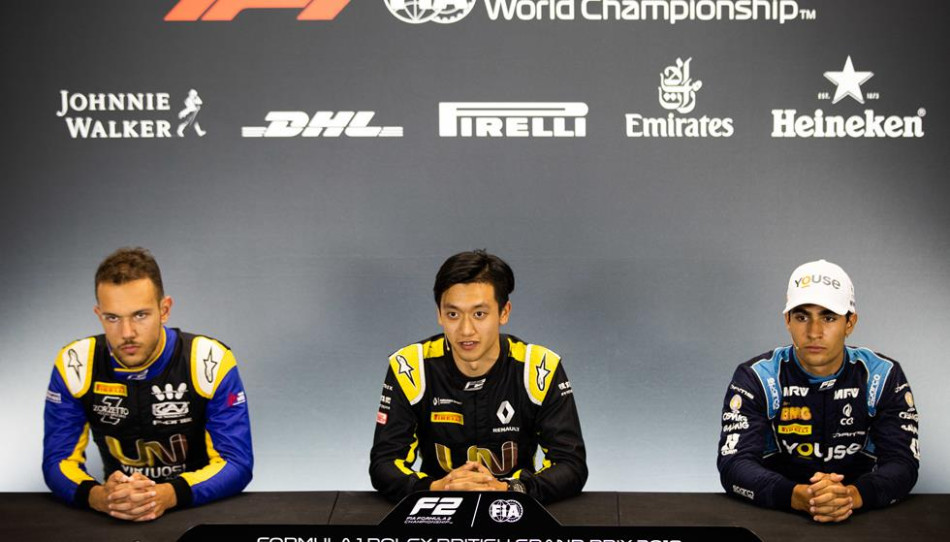 Thoughts from Zhou, Ghiotto and Sette Câmara
FIA Formula 2: Welcome to the press conference with the top three qualifiers for tomorrow's FIA Formula 2 Feature Race here in Great Britain. We are joined by polesitter Guanyu Zhou, from UNI-Virtuosi Racing, in second place is Luca Ghiotto, also of UNI-Virtuosi Racing, and in third is Sérgio Sette Câmara for DAMS. Guanyu, your first pole positon in Formula 2, just how good does that feel? 
Guanyu Zhou: Yeah it definitely felt good, I was screaming. It was a long time waiting, especially when you have done a good lap. You are P1 and Luca [Ghiotto] is still doing a second push and it is waiting for him to finish the lap, that was the longest wait of my life. When I got the pole I was screaming on the radio because I was super happy with what I done today. From the beginning of the first lap, it was good and I enjoyed the lap. There are really nice high speeding corners and everything went well and qualifying was just something special I think. On the first set I had good pace, but I made some mistakes. Then, with the second set I managed to pull off a good clean lap. The team did a fantastic job this weekend, but now I am just enjoying my first pole for myself. 
FIA Formula 2: I was about to say, it is obviously a special day for you and a special result, but how long will you enjoy that for and when will you start really focusing on chasing that first win tomorrow? 
Guanyu: After the press conference [laughs]. Now, for sure I will have to go back and focus on the race plan for tomorrow. It is going to be a long race tomorrow. Last time that I had a front row [start], I did not finish the job off, so hopefully we can do a good job tomorrow. Definitely today is good having the four points, but tomorrow is where everything counts so the main focus is always tomorrow. Let's see what happens in the race. 
FIA Formula 2: Thank you very much. Luca, coming onto you, Guanyu mentioned how close it was after the first run, I think it was 21-thousandths of a second between the front four drivers - just where did the fight to pole get away from you in the second part of qualifying?
Luca Ghiotto: I still have to see data from the car to compare with Zhou, but I mean for sure, we did an amazing lap because I was quite happy with mine, so when I saw the gap, I was a bit surprised about it. I had a small issue, the same [as] Sergio, but my problem was a bit less and I could still finish the lap and improve, compared to my first run. But, I lost some time there for sure. I don't know how much that time lost is, but yeah it still would have been tough to beat Zhou today [for] pole, he did an amazing lap. P2 is still good and we can score good points tomorrow. Of course, I would have liked those four points, but top two and front-row is better than starting P10. Hopefully we have a good race and a good fight and I am also really happy for the team, because they are doing an amazing job. I think that it is the first front-row lockup they have had, for sure in the UNI-Virtuosi racing era, but even before as a different name, I think it is the first time ever for them. They deserve that and I am really proud of everyone, they have done an amazing job and we will see what happens tomorrow. 
FIA Formula 2: You mention that starting P2 is better than starting a lot further back - The Championship leader [Nyck De Vries] starts in 7th place, so does it feel like there is a good opportunity tomorrow to make up a bit of ground?

Luca: Well, the gap to Nyck is already big and to be honest I am not even thinking about it right now. Yeah, he is P7 and I am P2, but to be honest, I just want to focus on tomorrow and the race and just do the best result possible, for the single race. Then, I will review the parts tomorrow evening after the race and see what I have done, but as I said, the gap is so big now that it is really useless for me to be counting the points every time, so yeah, I will just focus on tomorrow and see what happens. 
FIA Formula 2: Thank you very much. Sergio, moving on to you, it looks a bit like DAMS and UNI-Virtuosi Racing were in a bit of a league of their own during qualifying today, with both sets of cars in the top four. Did you see that pole was on the cards, or were these two just too quick for you?
Sérgio Sette Câmara: I think that it was definitely on the cards, but in the end they did a better job, not only on the second set, but also on the first set. They seemed to also manage to improve on their second laps, so that gave them one lap in each set, which is more chances for them. I think we could have done a bit better, I particularly struggled with hitting a limiter before one of the corners in my lap and then my engine went into safety mode and you can forget about your lap. That was a bit frustrating because even with that issue and pretty much giving up the lap, I was still not too far from my best, so it made me think that a lot was possible. In the end I am happy starting third and I think that it is a good starting point here in the top three, top five positions, because anyone can win. Of course, four points on pole, everyone wants to start the weekend with four points, but Zhou did an extremely good job today, with a big margin. So, I don't want to say that I could have done the lap, because I didn't do it. 
FIA Formula 2: My second question is a bit similar to the one I just asked Luca - you are a bit closer to Nyck in the Championship, so does tomorrow feel like a key opportunity to try and claw back some points. 
Sergio: It is always an opportunity. Every weekend you have the same opportunities, but yeah I agree with Luca, I think we are just taking it race-by-race and then you do the maths, not even tomorrow, but after the weekend is done on Sunday. I think that is the best way to look at it. 
FIA Formula 2: Zhou, just returning to you, this is your rookie season at Formula 2 level, so what have you learned so far this season that will prepare you for starting from pole position tomorrow?
Zhou: I am definitely getting used to these Pirelli rubbers: they are definitely not something that I got used to quite quickly. Obviously for the past few years, I have been racing with a different tyre manufacturer, so this year is a big learning year for me and I am getting used to these tyres each race. Last week I was strong race wise and we had some big deg, so all these periods help me learn as a rookie, but I am just happy that I can perform well with a lap in qualifying. Just doing one lap is so much pressure before that lap starts and then not making a mistake is key. The race is a long race as the others said, anything can happen and we are just trying to keep our position.