This page contains archived information and may not display perfectly
F2 - Post Qualifying Press Conference
F2 - 2019 Race of Barcelona - Post Qualifying Press Conference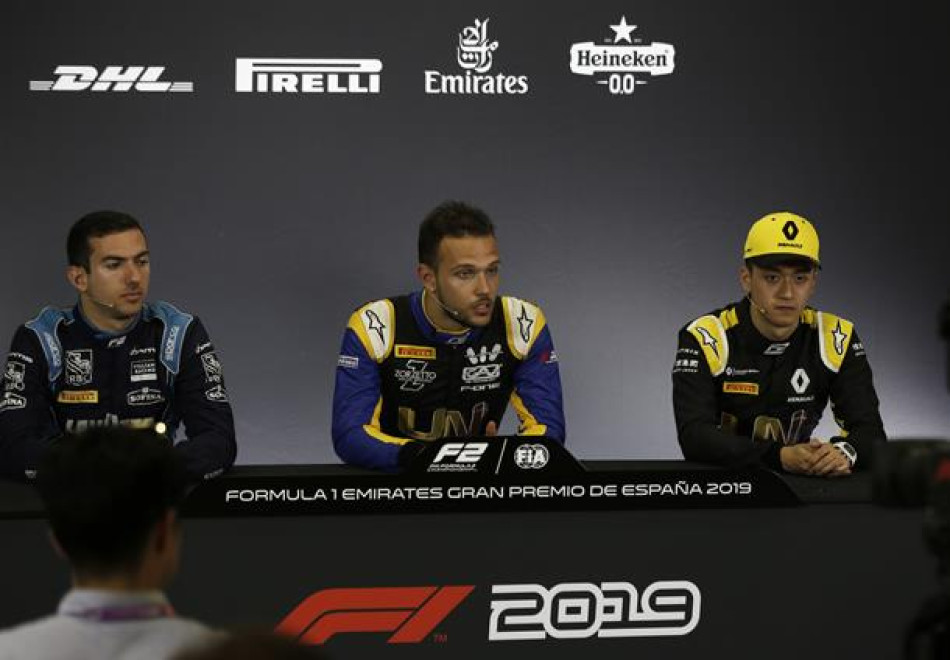 Thoughts from Ghiotto, Latifi and Zhou
FIA Formula 2: Welcome to today's press conference with the top three drivers in Qualifying for the FIA Formula 2 Feature Race here in Spain. We are joined by pole sitter Luca Ghiotto from UNI-Virtuosi Racing, second place is Nicholas Latifi for DAMS and in third place is Guanyu Zhou also for UNI-Virtuosi Racing. Luca, your third pole position at this level and it came at the very last lap, right at the end of the session. Is it your best pole in Formula 2?
Luca Ghiotto: To be honest, I was happier with myself in Bahrain, the way I drove and everything, but it's always good to be on pole anyway. I need for sure to thank the team for the right car today because we had some issues at the beginning of the qualifying so couldn't do the plan that we wanted to. But they were all calm and it's always good to have a team that is working really well and able to pass that feeling to the driver to not go crazy in that moment. I need to thank them for helping me keep my cool in that moment so I could still be able to do a good qualifying, because when those things happen it's easy to make mistakes. The car was great this morning in Practice, it was really a joy to drive it, and I think we did a really good job as a team overall considering Guanyu [Zhou] is P3 and he's in his rookie season. He was by far the best rookie today so yeah, I'm really happy about the qualifying overall, but of course it's just half of the job and we're already thinking about tomorrow.
FIA Formula 2: We didn't see many drivers go for two push laps at the end of the session, just how tricky was it to get the tyres right and get the time out of it?
Luca: Well I had to because I had made a mistake in the first lap, so I decided to abort that straight away. I knew that probably the tyres weren't going to be as good as the first lap in the last sector, so yeah I struggled more than I did on the first lap but still the tyres were good enough to keep pushing until the end and that was good enough for P1. As I said before I've not been happy with myself in the way I drove because that lap was not great, and also because of the tyre condition at the end of the laps, and to be honest I didn't expect to be on pole. It didn't look like a great lap on my side, and when I saw the laptime I was a bit surprised. What can I say, it was good anyway! But yeah I'm not really 100% happy with my driving.
FIA Formula 2: Well, congratulations anyway. Nicholas when you came back into the pits at the end of Qualifying you were still in P1 at that time, did you think you had it done?
Nicholas Latifi: My engineer told me that there were still a few cars that were going to go for a second lap, so I knew it was not over until it was officially over. I just kind of felt like I did in Bahrain where I was just sitting in the pits waiting, waiting in the car looking at the big pillar at the end of pit exit to see the numbers, but when I saw Luca's number go above mine for sure I was a bit frustrated. But no, firstly I'd like to thank the team as well for giving me a good car because in testing here I was quite off the pace in the performance runs, so we did quite a lot of work to analyse and we came here already on a much stronger foot with P2 in quali. We're still missing quite a bit and we kind of have an idea why, and where that gap might have been from, but then equalling my best qualifying in the series for sure I'm happy with that, but honestly it's probably the most frustrated I've been with a best qualifying position because we did have some braking problems that started in Practice. We thought we'd solved it but for me I feel that we didn't fully solve it, that it just got worse in the second run, so it took quite a bit of confidence away going into each braking phase, not really sure if I'd make it into the corner or not. Regardless, you always feel like you can find a bit more, you never feel like you've done the absolute perfect lap in F2, but this was one for me where I felt there was way, way more in it, also from the driving side. I think I could have found the time to challenge Luca, but thankfully the car itself was quite good and I still managed to be at the front row. Thanks to the team for that, but yeah as Luca said the job is tomorrow for sure, but it's frustrating to miss out on the four points especially as it would have been my first pole, but there's bigger points tomorrow so I'm going to be pushing for that.
FIA Formula 2: You mentioned the four points, obviously Luca's moved a bit closer and you're both at the sharp end of the Championship right now, is it good to have a straight fight with another title rival or is it all about picking up points at this stage of the season?
Nicholas: I think so. It's early in the season with 20 races to go. You always want to pick up points. To be on the front row with Luca, who I expect is going to be one of my main title rivals throughout the year, for me doesn't really change much. Whether he's at the front of the Championship with me or whether it's someone at the back who's qualified on pole you still want to push for the win, so that's what I going to do. 
FIA Formula 2: Thank you very much. Guanyu moving on to you. Congratulations and welcome to the press conference. Your best qualifying result so far this season by quite a distance so you must be really happy with third place?
Guanyu Zhou: Yeah, firstly I'm really thankful to the team. I mean congrats to Luca, the whole team being strong here in the testing and then we kept the momentum here for the race weekend, so it's quite good for the team. Yeah, pretty good qualifying from my side. Bahrain was a big shame as after a good Free Practice there were some issues, and Baku was a tough weekend, so we've come back here this weekend and I'm happy. It's a big day tomorrow. For my side, in the first sector of the qualifying session we hit the safety board in Turn 9 so I lost a big chunk and we all know that the first lap is pretty much the best a tyre could be. After that we had some traffic in the preparation laps but we managed to have great pace in Sector 2 and especially in the last sector. I've been quite happy with the car all weekend so far, and I'm just looking for a good race tomorrow.
FIA Formula 2: Mentioning the race, you've shown some great race pace in the first two Rounds. What's the target for tomorrow?
Guanyu: Surprisingly, Bahrain was pretty good tyre management so I'm happy, and we've been working through that in the simulator with that data. Hopefully I can stay in the position that I'm in at the start and try to move forward. Anything could happen with a safety car and strategy, so it's a big day tomorrow and we'll try to improve on that.
FIA Formula 2: Thank you and well done today. Luca just returning to you: Nicholas mentioned about how far there still is to go in the season, but he's got a 19 point lead over you at the moment, so does it feel crucial that you start to claw points back this weekend?
Luca: It's quite early. The only time I've thought about the Championship was in Baku and it was a really bad weekend, so I just went back to the mind-set that I had in Bahrain. Just thinking about each race as if it were the first race of the season again. I just want to focus on tomorrow and not really think about the points. Of course I need to finish the race and get a good result but I really don't want to think about that too much because sometimes if you think about it too much then your mind is not full focused on what you have to do in the race. You get scared of doing things and that's not what I want to do now.