This page contains archived information and may not display perfectly
F2 - Post-Feature Race Press Conference 
F2 - 2019 Race of Sakhir - Post-Feature Race Press Conference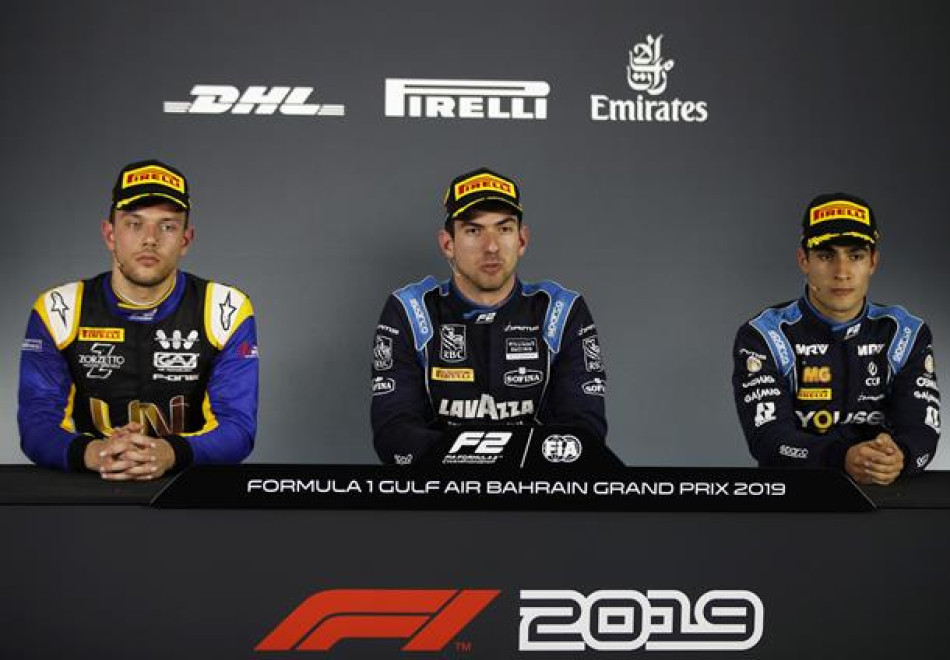 Words from Latifi, Ghiotto and Sette Câmara
FIA Formula 2: Welcome to today's FIA Formula 2 press conference following the Feature Race at the Bahrain International Circuit. Joining us today is the winner of the race Nicholas Latifi for DAMS. In second place, we have Luca Ghiotto for UNI-Virtuosi Racin and in third place we have Sérgio Sette Câmara also for DAMS. Starting with you Nicholas, after a tough qualifying yesterday and a slow pitstop today, you have not made it easy for you this weekend. This win must feel quite special…
Nicholas Latifi: Definitely. There's no better way to start: first win of the season, I'm really happy! The qualifying, obviously, I was at the front for most of it and in the end I dropped to fourth which was disappointing. I was still starting from the sharp end and in Formula 2 that's all we really need – especially on a track like this. The race makes a big difference. Over the winter testing, we worked really hard to try and make the car as good as possible, making sure that everything was good. We were quite confident with the race pace. Sure, we did not make things easy with the pit stop. It's the first race of the season, they're human you know. Thankfully, they gave me a great car so I had the pace to go back to the front. The hard work paid off and I was happy I could reward them with this win.
FIA Formula 2: After that pitstop, were you feeling angry, frustrated…?
Nicholas: I think I kept it pretty calm. I knew Louis and Nyck had pitted three laps before me. I assumed they were going to be either just in front or just behind me when I came out. I knew my tyres were going to be fresher so we were more concerned about Luca because he was the quickest one on track. I was just patient and biding my time to get in front of these guys as quickly as possible to build a gap to Luca.
FIA Formula 2: Luca, moving on to you, would you say you are satisfied with your recovery or is that frustration for today?
Luca Ghiotto: well, the frustration is bigger than the satisfaction today. We had an issue at the start. I could say we got lucky to start, but of course, when you lose so many places at the start, you know it's going to be a difficult race especially here when you race behind other cars, the tyres degrade quicker. At the end, we had a good pace and I think all the time we lost to Nicholas was mainly at the beginning of the race. I think our pace matched. It could have been a close fight without a problem at the start. DAMS always looked good on race pace at testing and if there's someone we need to look at on race distance it's them.
FIA Formula 2: In the final part of the race, who were your eyes fixed on: Nicholas or Sérgio [Sette Câmara]?
Luca: At the beginning, it was Nicholas because I was able to be second again before the pit stop, but I don't know if something went wrong or if the other drivers were much quicker on softer tyres because I got back out on P6 after my pit stop. Straight away I thought those guys in front of me still had to pit but my engineer told me that they had pitted so I had to pass them. I think there is quite a few things to look at after the race , but overall I am happy.
FIA Formula 2: Sergio, moving on to you. You had a difficult qualifying yesterday and a difficult start today. Is P3 satisfying for you?
Sérgio Sette Câmara: Yeah definitely. All I wanted to do here was to score big points. You have to leave Bahrain with a good amount of points. It boosts your confidence for the rest of the season and you manage a level of confidence you want to bring to each session and each round. Free practice was great for that, but my mistake in quali brought my spirits a bit down. I had a weird start and lost positions: I think I was 13th by the end of lap 1. I was already thinking we could recover into the top 8. I ended up on the podium in the end so I cannot complain. I am happy with myself because I didn't make any mistake today and I kept my head in the race. All the praise go to the team because our race pace was just superior. I just drove around the best I could. The car was really good.
FIA Formula 2: A lot of praise to the team. DAMS took their 2 drivers to the podium today. How do you see the rest of the season go?
Sérgio: Well, it is super exciting to see the both of us on the podium today. Of course, I wanted to be in first. Like Nicky said: we worked a lot over the winter and there is always a bit of doubt before the first round. To have a good result is great. I have experienced a similar thing last year with Carlin but now it's with DAMS. It shows that we worked well, a lot and in an intelligent way.
FIA Formula 2: Nicholas, returning to you. You had a hard time at the start of last year both on and off the track. How much of a reflexion is this result in terms of how smoothly this winter has gone?
Nicholas: Yes exactly. The beginning of last year was not ideal: losing the pre-season testing and even when I got back to full health, the first two thirds of the year we were way off the pace, trying to adapt to the new car. From Budapest things started to click a bit more and the performance was back to where it should have been. For me, the goal for this season was just starting where I left off last year. I kept saying in so many interviews over the winter that my expectations were that if I could start this season where we were last year, then there is no reason we cannot fight for the championship. I'm very, very happy today.