This page contains archived information and may not display perfectly
F2 - Post-Feature Race Press Conference
F2 - 2018 Race of Abu Dhabi  - Post Feature Race Press Conference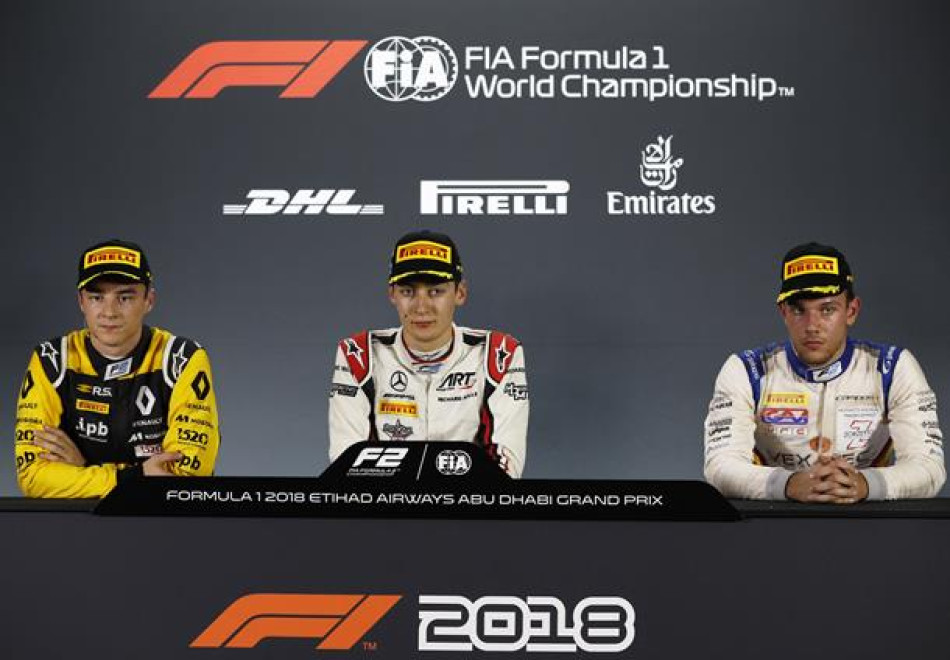 FIA Formula 2: Welcome to the press conference for this evening's FIA Formula 2 press conference for the feature race here at the Yas Marina Circuit: joining us are race winner George Russell from ART Grand Prix, in second place is Artem Markelov from RUSSIAN TIME, and in third place we have Luca Ghiotto from Campos Vexatec Racing. Congratulations on your 7th win of the season George: how was the race for you?
George Russell: It was a hard fought race for us. We lost the lead at the start, and it felt after the safety car that we had a pace advantage over Nyck but he wasn't going to give me the position easily, as I found out! Then we decided to gamble and stop first, and it paid off: I pushed extremely hard on my out lap to jump Nyck and avoid being jumped by Artem, and it paid off and I brought it home from there.
FIA Formula 2: We heard you calling for the stop: do you call your own strategy often?
George: This was a special circumstance: this weekend, and in this race, I was in a position to take a few more risks, and at the end of the day the team don't know how the tyres and the car was feeling, and that was my view. At the time I said I'd do the opposite of Nyck, but actually I probably would have come in on the next lap without any problems, and I would have come in on the next lap regardless.
FIA Formula 2: Artem, a great drive for your 7th podium of the year: do you think you could have won if you hadn't lost time behind Norris?
Artem Markelov: We had some problems with Norris and I thought he would be pushing all the time: I overtook him on the first straight and was trying to keep my DRS for the next straight and he got back, and I lost a lot of time behind him. This is racing, and anything can happen, but I don't know.
FIA Formula 2: What was your highlight of the race?
Artem: Just finishing in the finish lane: that was pretty good in 2nd position!
FIA Formula 2: Luca, your 4th podium of the year and a bold strategy for you today: could you have won the race without that 5s penalty?
Luca Ghiotto: It's tough to say, because these supersoft tyres famously don't last very long: I just had the time to catch Norris and de Vries and then I was managing the tyres and just cruising to the flag because they were done. It's a strategy that should have not worked, especially with the safety car it was the wrong strategy, but that the safety car took so long and the cars in front of me pitted pretty straight away I always had a clear track and could do my rhythm, and the team did a good job of updating me so I could keep up. The problem at the chicane was because of a lock up and there was not much I could do, especially because the run off area is straight and it's tough to know how much to push or not, because it's easy to lose time and it's easy to gain time, and unfortunately I gained time, maybe 2s, and I slowed down on the next lap but they gave me a penalty anyway! Probably if I had to do it now I'd keep it flat and not lose the 2s, which I gave for free! Maybe I would be fighting with Artem, but with George I don't think so.
FIA Formula 2: Was the late stop affected by the lock up?
Luca: no, I did another 5 laps and they were okay, so it was not really affecting the pace: we stopped really late because we knew the supersofts wouldn't last very long, and I think we did 26 laps on the softs which is a long time on a set of tyres! Probably the safety car helped, and we had a really good car this weekend after making a good change to the car before here, so I hope this result will repay all of the team's hard work.