This page contains archived information and may not display perfectly
F2 - Post-Feature Race press conference
F2 - 2021 Sochi Event - Round 6 - Post-Feature Race press conference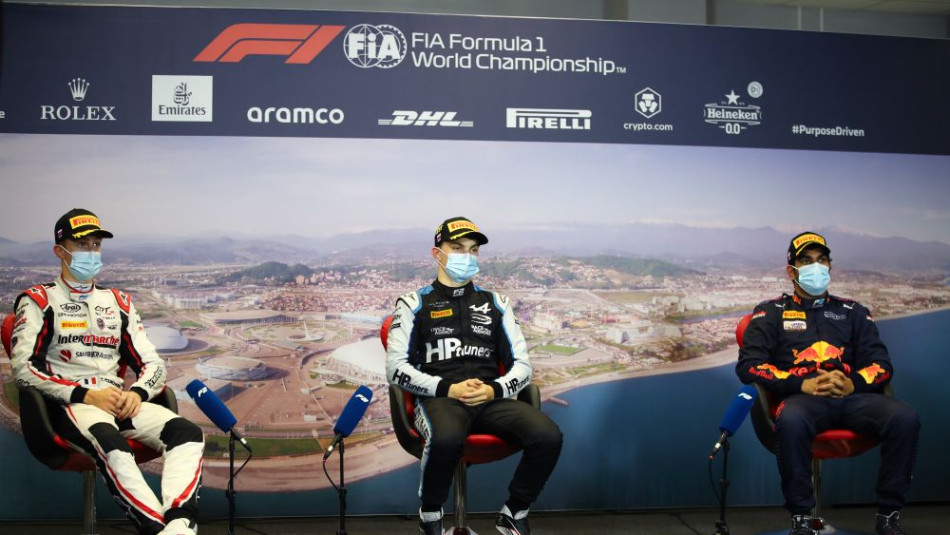 Thoughts from Piastri, Pourchaire and Daruvala
FIA Formula 2: Congratulations to the top three finishers of the FIA Formula 2 Feature Race here at the Sochi Autodrom, in third place, Jehan Daruvala for Carlin, in second place, Théo Pourchaire for ART Grand Prix and taking his third win of the 2021 campaign and his second Feature Race win in a row, Oscar Piastri for PREMA. Oscar a very well done that was a tremendous race, it was close but you controlled it well. How tough was it out there?
Oscar Piastri: It was a very tough race, pretty different to Monza in terms of having no breaks for Safety Cars and stuff like that. I was pushing the whole way and I could see Théo in the mirrors the whole way, and I think the gap was toing and froing a little bit. The most difficult part of the race, or most critical part, was trying to get through the alternate strategy guys quickly. I think we got through them reasonably the same but it was a very tough race.
FIA Formula 2: Talk to us about that traffic, were there any nervous moments from where you were sat?
Piastri: The first two cars were pretty straightforward to overtake, but then when I got to the Charouz, I thought he would defend because that's usually what he does and he didn't defend this time. So I had to spend the rest of Sector 3 stuck behind him and lost a bit of time there. But I think in terms of overall time lost I don't think I lost anything, and then maybe gained a bit. I knew it was critical to try and open the gap if I could, but that was probably the most difficult part as well.
FIA Formula 2: A quick word on the Championship, you're now 36 points in the lead ahead of Guanyu Zhou. Would you agree it's been a very good day in the office for that as well?
Piastri: Definitely, my engineer told me on the radio that Zhou was in eighth into the first corner I think, that was good, but then I was very occupied for the rest of the race with trying to keep the victory. It's nice to have that gap, and now I've got two and a half months of dream about that, but I still want to extend it more and make it a bit more comfortable because with the format this year everyone could change in the blink of an eye. So not getting ahead of myself with that.
FIA Formula 2: Thank you, Oscar, Théo coming to you now. Great race by you as well, this is your first time on the podium this year when you haven't won. How satisfied do you feel after that?
Théo Pourchaire: It was a really good race. First of all congrats to Oscar, it's not easy to do a complete race with pressure like that. We kept pushing we did almost no mistakes. It was really, really, tough physically for me. The neck was hurting at the end and Turn 3 was difficult at the end. The start was good, then I think we were three or four wide which was a bit difficult into Turn 2 but I managed to be P2 and then on the first stint of options tyres I was really fast. Then we pitted a lap later and the out lap was difficult. Oscar managed to overtake me, then I was pushing but it was impossible to catch him and enter the DRS zone. But P2? It's really good.
FIA Formula 2: Tell us a little bit about the tyre life. As Oscar said, no safety car?
Pourchaire: Yeah there were no Safety Cars so it was not easy on the front left tyre. Also for the rears a bit, but in general it was not so difficult. The most difficult part of the race was the traffic, at one moment there was a DAMS, either Nissany or Armstrong, and it was blocking me a bit for an entire lap and I lost a bit of time there. Maybe I could have caught Oscar, but you never know, and I'm happy with P2.
FIA Formula 2: Well done, thank you, Théo. Jehan coming to you, your fourth podium of the season. It was always going to be tough for you after that difficult getaway, so the first question, what happened at the start?
Jehan Daruvala: I'm not really too sure, the grid spot wasn't too damp, it was alright. But ten meters ahead of the grid there was a damp patch there and it definitely affected me because I had a good launch but then there was just no drive. I hit the damp patch and I started to immediately wheel spin. I didn't think I did too bad of a job because I was still alongside Théo into Turn 2 and at one point we were four abreast and I was on the inside. I broke as late as I could and luckily we all came around cleanly. After that it wasn't straightforward, I didn't really have a lot of pace on the option but the prime sprint was definitely better. Like the other guys said the backmarkers were tough to navigate but once I went through them the pace was pretty good.
FIA Formula 2: We saw a nice move from you on Ralph Boschung for third place?
Daruvala: I think I just caught him the lap before, he had to defend into Turn 1 and then again I was really close to him going into Turn 13. I put him under pressure, he braked in the middle of the track and locked his left front tyre. That gave me the position, after that Ralph was right behind me and I had to keep pushing to the end to make sure I stayed P3.
FIA Formula 2: Well done, thank you, Jehan.