This page contains archived information and may not display perfectly
F2 - Post-Feature Race press conference
2020 Race of Russia - Post Feature Race press conference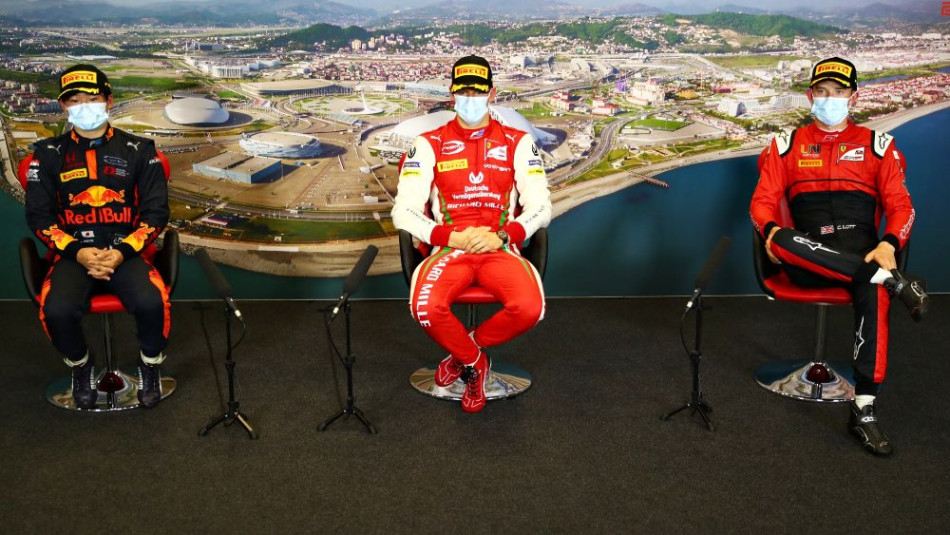 THOUGHTS FROM SCHUMACHER, TSUNODA AND ILOTT
FIA Formula 2: Congratulations to the top three finishers of the FIA Formula 2 Feature Race here at the Sochi Autodrom. In third place, Callum Ilott, in second place Yuki Tsunoda, and taking his second win of the season our winner Mick Schumacher. Mick, many congratulations on a fantastic drive. A great start, wonderful move for the lead... Would you say that's your most satisfying drive in Formula 2 so far?
Mick Schumacher: It's definitely among the top drives. We managed it pretty well. We had good tyre management, both on supersofts and on the mediums, so I'm very, very happy with that. I think Yuki probably pushed a bit too hard at the beginning. That was something we spoke about on the team radio and I felt like I wasn't going to be able to do that pace for the laps remaining. It proved to be the case. Tyre management was a concern for this race, and I think we managed it pretty well to then use Yuki's mistake in going on to the marbles, and take the move for victory. Afterwards, if you're in clean air, it's a lot easier to manage the tyres. Credit to Callum for keeping up for so long behind. I wasn't able to do that with Yuki before.
FIA Formula 2: Can you just talk us through that move for the lead on Lap 19? It was very opportunistic.
Mick: I'd thought even earlier to do the move, because Yuki was stuck behind (Artem) Markelov and I wasn't able to get past. That bunched us all up a bit, and I didn't want Callum to get too close because I know he's quite quick usually. I tried to make the move as soon as possible. After that, Markelov pitted straight away, so that basically then gave Yuki the clean air that he needed in the last two corners. I was a bit concerned that I was maybe a bit too far, therefore I had to brake on the outside and wasn't able to get around to brake in front of him. But, Yuki overshot a bit and then I just used that inside, and the undercut, to try and get around the outside which worked, thankfully.
FIA Formula 2: Exhilarating to watch, and just a few thoughts if we could on the Championship. It's a little bit of daylight now at the top.
Mick: I'm not quite sure how the points are now to be honest. I'm quite happy and satisfied with the race and how we managed it with the team. Obviously it was a late call from my side to pit suddenly, so the team was not one hundred per cent ready. They were not expecting me that lap, because we discussed that we wanted to an overcut, but in the end I felt that the tyres were not in the window anymore. Just on the last few corners. I decided to pit and they managed brilliantly to do that double stack stop, which was something that we practiced quite a lot and intensively. I'm very proud of them.
FIA Formula 2: Well done Mick. Yuki, if we can come on to you? First up, Mick says that maybe you took too much out of you tyres. Is that how you see it?
Yuki Tsunoda: To be honest I don't feel like I was pushing too much. It was still quite controllable and I didn't slide and there was no wheelspin or anything. Maybe there was a tiny bit too much pushing in the beginning, but still it was ok. It was just that (Artem) Markelov came in front of me, and it took me a little bit of time to overtake him. I couldn't overtake. I also went a little bit outside of the racing line and onto the marbles, and the grip suddenly goes low. I got passed by two cars, and that was also my mistake. It was bad luck. But, after that, I think I did a good job with my tyre management. I overtook Callum for P2 on the last lap, so I'm happy with that. But still, at the beginning of the race I wanted to take P1, especially when I think about the Drivers' Championship. I think the team did a really good job for this race week so far, and I've still got a chance tomorrow. I'll deliver for them.
FIA Formula 2: Yuki, can you just talk us through that move on Callum on the final lap, around the outside of Turn 3?
Yuki: We had quite similar pace, maybe just a little bit of advantage for me. I think it's quite hard to go around the outside of Turn 2 and overtake, like Mick did. I maximised the braking and tried to brake later than Callum. He missed the apex and I got better traction. After that I just did my job. I tried not to go too much to the outside and take the marbles. I had the experience from Artem. It was a good overtake.
FIA Formula 2: It certainly was. Well done Yuki. Callum, coming to you. Very tight at the end - less than one tenth of a second the gap between you and Luca Ghiotto. The just fell off the cliff, is that how you see it?
Callum Ilott: Yeah, and I had to play catch up a bit. I got held in the pitstop because PREMA double-stacked, which we didn't really expect. I had to wait another two seconds in the pitstop, which meant that when I came out I had Jehan (Daruvala) right behind me. I had to push for two laps to keep him behind. He was right behind me, and with cold tyres it's not easy. I overused the tyres on the first two laps. I then had to push to get a little bit of a gap, so I kept using them, and kept using them. These two obviously started to get close. Mick took advantage of Yuki with Artem, and so then after that I managed to get past Yuki because he struggled a bit with the tyres to get them back up from the marbles. I was holding on. I think I got to 1.2 behind Mick, so I was really close to the DRS, and every lap I felt like I could do it. I spent three or four laps closer than I should have really been to Mick. It just killed my rears. In the last two laps I started to struggle. Yuki was very fast at that point, and I think he learned from his earlier mistake in how to get past someone out of Turn 2, and that was me. I don't really know what happened. I was very close to Yuki but still on the inside. I managed to get a bit of aerowash, and I completely lost the car onto the marbles. The tyres were a disaster after that.