This page contains archived information and may not display perfectly
F2 - Post-Feature Race Press Conference 
F2 - Race of Barcelona - Post-Feature Race Press Conference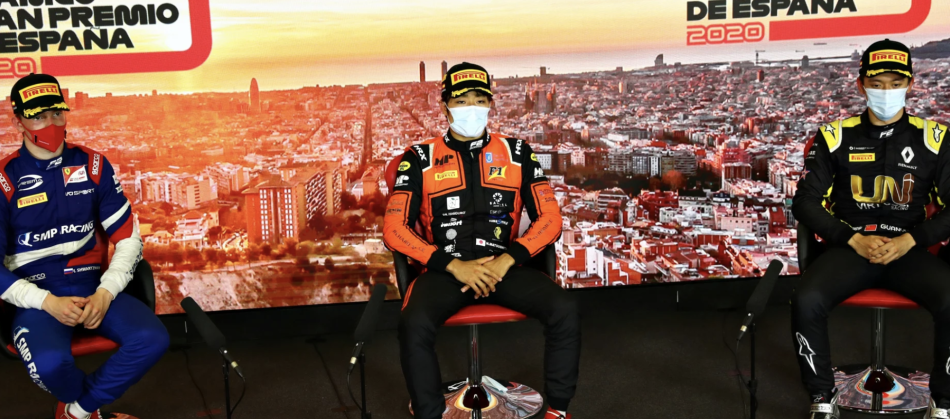 THOUGHTS FROM MATSUSHITA, SHWARTZMAN AND ZHOU
FIA Formula 2: Hello and welcome to the press conference with the top three finishers in today's FIA Formula 2 Feature Race here in Spain. We are joined by race winner Nobuharu Matsushita for MP Motorsport, in second place is Robert Shwartzman for PREMA Racing, and third is Guanyu Zhou for UNI-Virtuosi. Nobu, just what an incredible race. What a result from 18th on the grid. Can you believe that you've won today?
Nobuharu Matsushita: Obviously not. We had mega pace today, plus the safety cars, so everything got mixed up. But, after the safety car I think I did a really good job to fight with top guys, so I'm really happy with that. P18 to P1... I don't think I've done a race like that before in my career. I'm very happy.
FIA Formula 2: Just talk us through that second part of the race from your perspective. As you say, we hadn't seen a lot of you on screen before the safety car, and then suddenly you were mixing it right at the front.
Nobuharu: I tried to extend my stint. It was supposed to be five laps before, but I tried to extend because my pace was great compared to the other guys. My engineer told me to box and then the safety car came out. It was perfect timing. We did a good job with the pit stop. I think I overtook Mick (Schumacher), and everything was spot on.
FIA Formula 2: Congratulations, it was a thrilling race to watch. Robert, I'm not quite sure how you're still sitting in the same position that you started the race, after such an epic race. Are you happy with second place after all of that action?
Robert Shwartzman: It's good points. I must say I'm happy to be in P2 today because we've struggled a bit with tyre management - the rears. I was struggling a lot, so with how the race went it was quite a good result in the end. We had good fighting. The start was good, but I made a mistake and locked up in Turn 1. That influenced the next six laps. The car was vibrating so much that I was afraid something was going to break. We pitted early and Callum (Ilott) used that to his advantage and got in front. After that, I just tried to manage the pace but at some point my rears started to go away, and I started sliding a lot. There were also some guys that were quite slow on the different strategy, so it was all messed up. It was quite chaotic. The safety car came out, then the team decided to do the pitstop, which was the right decision. The guys did a good job, and I went out and I was P6 I think. After the restart there was more fighting going on and I managed to gain positions. At the end, before the last safety car, I managed to get to P2, and we finished there. It's good points and I'm happy because we needed that.
FIA Formula 2: I think after that second safety car, when there was all that fighting, you passed Nikita (Mazepin) and Callum (Ilott) in one move essentially. Just talk us through what that restart was like.
Robert: I took it quite easy at the restart and the first laps. I knew there was no point in pushing. There was a lot going on. Yuki (Tsunoda) was on a different strategy with a worse set of tyres. There was a lot of fighting and I remember Nobu went on the inside at Turn 7 and got passed. Then Callum went by and squeezed out Nikita and I had a better run out of the corner. We went three wide, side-by-side, but in Turn 9 I was on the inside, so I got past and then I was behind Nobu. That's how it went. Yuki couldn't pick up the pace so Nobu passed him, and then, it was quite a risky move, I went around the outside at Turn 3 but Yuki did a good job of holding the car on track so we didn't collide. That's how I managed to arrive in P2.
FIA Formula 2: Congratulations, well done today. Zhou, similar to you - started third, finished third. So much happened in there, just talk us through it. Especially that final lap when you made up some positions.
Guanyu Zhou: To be honest it was a lot to go through today, even before the race. We started up the car this morning and it was fine, then 45 minutes before the race the engine was not running probably. The mechanics had to change it. Normally it's an hour forty-minute job for that, and the guys did amazing so shout out to them to get it changed just before the race. Today's race wasn't the easiest for the team. My first stint was good and then I had a problem with the pitstop. The front right needed to be lifted again to get the tyres on properly, so we lost a lot of time and put us out of fighting with Robert. After that, it wasn't the quickest car out there. The team did another good call on the strategy, with a double stick to put me on new options. The whole race I was struggling a lot with the straight-line speed. Every time I exited the last corner, I couldn't really pass anyone. It was just about okay to pass people with DRS when they had no one in front, otherwise it would have been impossible to pass. All the moves were done by overtaking on the brakes, so I was happy with that. Today is definitely one of the happiest P3s. I got it on the last lap. I tried to give it everything on the last lap and it worked out quite nicely. The move was quite brave in Turn 10. I tried to go around the outside of two cars, which worked out nicely, and I'm really happy with that.
FIA Formula 2: Just what was some of the racing like today? As Robert hinted at, we saw lots of wheel-to-wheel action, in places we don't always get it here too.
Zhou: There was a lot of overtaking, and I think the one I did on (Mick) Schumacher was quite good as well. We were running side-by-side and I got squeezed massively to the kerb. There was no room, so I just send it to the inside to do a brave move which got done nicely. In the last lap, you never give up on the car. This podium is for the mechanics. They worked so hard before the race.
FIA Formula 2: Congratulations, well done today. Nobu, just returning to you. It's not been the easiest season for you so far, so how much of a boost is this result.
Nobuharu: A lot. My best result was P6 or P7 in the second race, so obviously to win the first race today is good for me and for the team as well. Now we can fight. I need to find the pace for Qualifying, but I will work on that.