This page contains archived information and may not display perfectly
F2 - Post Feature Race Press Conference
F2 - 2019 Race of Sochi - Post Feature Race Press Conference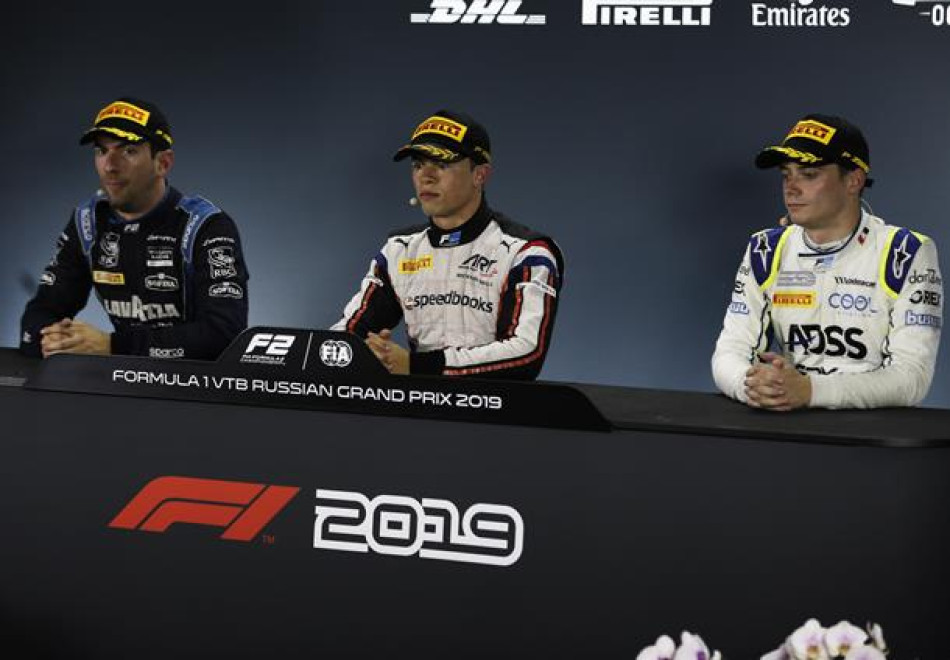 Thoughts from De Vries, Latifi and Deletraz
FIA Formula 2: Welcome to the press conference for the top three finishers in today's FIA Formula 2 Feature Race here in Russia. We are joined by race winner Nyck de Vries for ART Grand Prix. In second place is Nicholas Latifi for DAMS and in third place is Louis Deletraz for Carlin. Nyck, your fourth win of the season, but surely, the sweetest? 
Nyck de Vries: Certainly. Obviously, coming into this weekend, I always kind of avoided the subject, but I was well aware that we were in a good position to clinch the Championship. But, we really wanted to do it in style and we have had a long consistent run up until this point, with a lot of podiums, but our last win dated back to Paul Ricard, so a little while ago. It really felt like we had to kind of win this, not only to clinch the Championship, but also for ourselves, just to make sure that we really deserved this. I think yesterday, that was the first step towards accomplishing that kind of target. Not only for the Championship, but also for ourselves, and today everything went as planned. The car was mega, we did a good start, and everything just worked out well, so I am just super pleased and thankful for the team. 
FIA Formula 2: You say you want to avoid the subject and I am going to hold all of the title talk until a separate press conference after this one. Just focusing on the race itself, how tricky were those opening laps and trying to make it through to lap six on those tyres?
Nyck: Yeah that was very tough. We knew in advance that the supersofts were going to be tough, so the virtual safety car kind of played a little bit into our hands, because it kind of gave us an extra lap, or shortened the stint by one lap. Nicholas was kind of catching a bit on the in-lap, but it was just enough and I did a good out-lap. Yeah, the pace was good. I kind of managed it and never asked too much. Yeah, I was very much in control and that is how we want it. 
FIA Formula 2: Congratulations today, we will return to you in a moment. Nicholas, another podium for you, but it looked like you just couldn't quite get close enough to Nyck in this one, to really put him under a lot of pressure?
Nicholas Latifi: Yeah, it was a really difficult race for me to manage today. Going into it, I was quite confident, I mean, especially given the pace we showed in practice and what I felt we had in Qualifying, and going off last year again, when it was a really strong track for us. On the laps to the grid, I felt right away that I had some kind of issue with the brakes. We will have to investigate what it was, but it just wasn't feeling the correct bite. Maybe the brake disks were biting a bit unevenly. It didn't go away when I started the race, so I was kind of just nursing it. It was creating quite an imbalance, lets say, so it was very, very difficult to manage, so I am happy to hang on to P2 and still score some points. It hurts a little bit for me to lose the Championship. I think that coming into this weekend, it was obviously always going to be a bit of a formality, he just had to score some points, but like he said, he did it in style, so credit to them. Amazing job to him and ART all year long, the consistency that they have shown as a team and driver - the whole package - it has really been quite impressive. I think, if I am not mistaken, he is probably on course, if he hasn't already, to outscore what George [Russell] did and what [Charles] Leclerc did in the previous years as well. I think that they were quite dominant and I think it just shows the level that Nyck and ART were at this year. Full credit to them, well deserved. My focus now is on solidify at least my P2 in the drivers' Championship. It is still going to be quite close. Second, third, fourth and fifth are all quite close in the Championship, so there are still a lot of points up for grabs. We will try and figure out what went wrong today, why we didn't quite have the pace, and just try and bounce back tomorrow. 
FIA Formula 2: Nice words about Nyck that you mentioned. 

Nyck: I appreciate, yes, very nice. 
FIA Formula 2: You mentioned Luca [Ghiotto] as well, you had some pressure from him towards the end there. Did you know that his tyres would go off, given the first stint that you had to go through? 
Nicholas: I think, yeah, he came out of the pits with four laps to go or something like that and even with the lower fuel, we saw from last year that the guys did like three laps on them coming out at the end and they had massive deg. So, for sure, Luca is a bit more experienced and he wasn't going to burn the tyres right out of the pits. Yeah, honestly, I think in a way, if he wasn't there, I think Louis [Deletraz], would have had a good chance of getting me because he came out and kind of just put that stop to his run and the lap he was trying to catch me was on the cusp of when his tyres were starting to go. I was losing them a little bit, but not at the rate of the supersofts, so yeah, very fortunate in that regard. But then I also got a bit unlucky on the in-lap, as I was really catching Nyck and then two of the guys on the other strategy got me and I lost a lot of time because of that. It is kind of the ebb and flow of the race, but I am happy to have maintained P2.
FIA Formula 2: Well done today. Louis, moving on to you. Your third podium of the season, but your first one in a Feature Race. You must be delighted with this result?
Louis Deletraz: It was really a good race and I am really happy about the result. Obviously we have had a tough season, with some good stuff and some very bad moments, sometimes. To have a Feature Race podium is really good. The car was really, fast and from lap one, I knew that I had something to play with. I lost quite a lot of time with the supersoft because I had the alternate strategy guys just coming around me, because we were dropping. I lost, I don't know, how many seconds to Nicholas, but, quite some distance. Since the moment that I pitted, I just pushed as hard as I could. I caught little bit by little bit. Then, Luca arrived and I was like 'ah, that is not a good moment for it.' I still got that last chance in the last lap and I just sent it in and thought 'okay, let's see if it works or not.' 
FIA Formula 2: It was a great move to watch, but did you think the podium had gone when he first came past you, or were you expecting to get a chance to get it back?
Louis: I thought 'this makes it a lot more difficult now.' When I saw him behind, he had such a big pace advantage that I decided not to fight too much and thought that hopefully he could catch Nicholas and go for it and maybe there would then be a little bit of fighting which would allow me to come back. That is pretty much what happened and then he dropped off on the supersofts, because he didn't hold on and I could just go for it. I thought that it would be difficult, but I just tried to stay close and see what happened. I got the DRS and braked late and it worked out. 
FIA Formula 2: Nicely done, and well done today. Nyck, just returning to you, before we move on to all of the title talk, is the pressure now off for you in the Sprint Race? 
Nyck: A little bit [laughs]. Yes, and also, as I mentioned yesterday, you can look at it from two ways. Obviously, my future has been decided recently, so you can look at it from two perspectives. One, it is nice because you know what you are doing, but on the other hand, people will also judge if you don't finish the job properly. You maybe win the Championship, but not in style. That was a real focus and to be honest, tomorrow is a new day. I am sure I will be in bed by ten, as I usually am and ready to go again.