This page contains archived information and may not display perfectly
F2 - Post-Feature Race Press Conference 
F2 - 2019 Race of Silverstone - Post-Feature Race Press Conference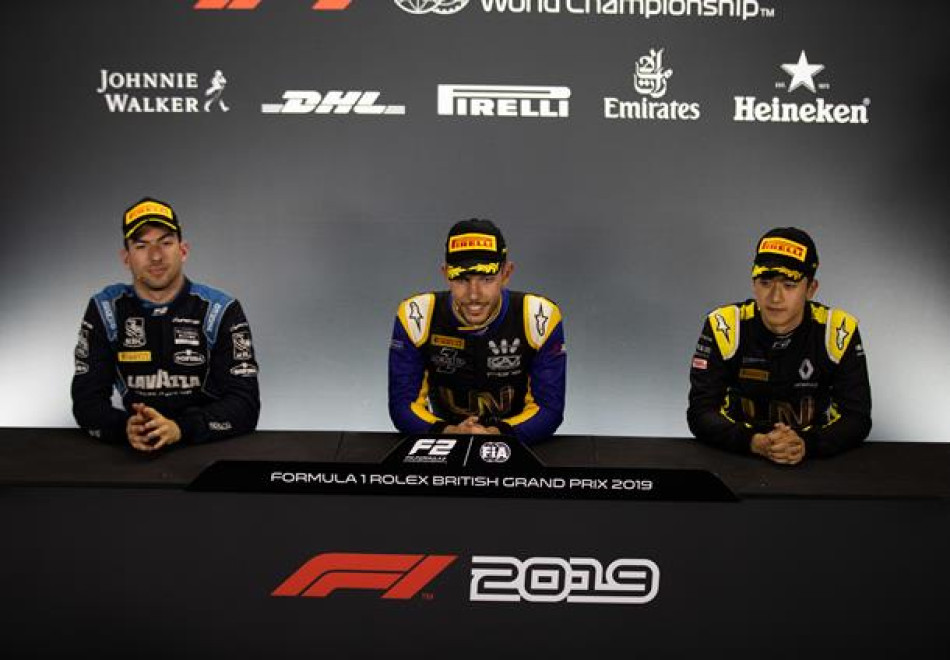 Thoughts from Ghiotto, Latifi and Zhou
FIA Formula 2: Welcome to the press conference with the top three finishers in today's FIA Formula 2 Feature Race here at Silverstone. We are joined by race winner Luca Ghiotto for UNI-Virtuosi Racing, in second place is Nicholas Latifi for DAMS and in third place is Guanyu Zhou also for UNI-Virtuosi Racing. Luca, finally your first Feature Race victory. Just how sweet does that one feel?
Luca Ghiotto: I think I've never been so happy! It's amazing to be here right now. It's unbelievable and to do it at such a nice, such an historical, place as Silverstone makes this moment even more special.
FIA Formula 2: You were made to work hard for victory, you had a great scrap with Nicholas in those laps after the pit stop. Just talk us through your race.
Luca: In the beginning I just got a better get-away than [Guanyu] Zhou and I overtook him into Turn 1. We had a little bit of a battle in the first half of the first lap and then I think the positions stayed pretty much as they were until the pit stops. I think Nicholas stopped one lap earlier than me and when I went out he could overtake me with hotter tyres. After he overtook me I immediately thought that I had to try to overtake him straight away or back off because when you stay close to another car on this track it's pretty easy to destroy your front tyres. I tried to push very hard to overtake him and luckily I managed to do so. It was a nice battle - quite hard but I think it was fair. After that I just kept my pace and with the help of some cars that still had to stop I could make a bit of a gap to Nicky and kept my pace until the end.
FIA Formula 2: We saw you pushing hard until the end as well, with the car sideways at times and few lock-ups. Were you chasing the fastest lap? Was there still plenty of pace in the car?
Luca: Yeah. The team told me to try and do the fastest lap, and as I felt the tyres still had something I tried. I kept on improving but not as much as Sergio [Sette Câmara] did, so I stopped. I think there were two tenths between my fastest lap and his. I was trying it because the extra points are good to get and it's a good thing to do. Also, we had quite a good margin so we could still maybe go wide. It meant I could try with the gap we had. I gave it all that I had, it was not enough, but we'll try next time.
FIA Formula 2: Congratulations today. Nicholas moving on to you. You're first podium since Barcelona. Does it feel good to be back in the top three?
Nicholas Latifi: Yeah definitely. The past three rounds have been quite difficult. It's even more frustrating because it was only in one of them that I just didn't have the pace to fight for the podium and the win, and that was actually the one where I ended up scoring the most points out of all the previous three rounds [laughs]. It was really just about coming into this weekend for me. I was quite confident about being on the pace and it's my favourite track on the calendar. For me it was about maximising points and staying out of trouble. I'm really happy to get back on the podium and score some good points. I got myself into a good position after the team gave me an amazing pit stop. I had such a strong out-lap to get myself in a position to fight with Luca, especially at a track where normally it's quite difficult to follow. Like Luca said, I kind of knew he was going to push quite hard to pass me straight away and it's quite difficult to follow. I was pushing hard, but from the midway stage onwards, once I knew it was very unlikely I was going to challenge Luca, I tried to go for fastest lap and the extra points, pushing for one lap and then cooling down the next. But it was not enough today.
FIA Formula 2: You mentioned the pace that Luca had, obviously Zhou was on pole position, so was there ever a stage in that second stint when you were looking in your mirrors a bit at what might be coming as well.
Nicholas: Once Luca got passed I was able to hold on a little bit for a few laps and I could see the gap was staying quite consistent to Zhou, but I did tell my team to keep me updated with the gap because I figured if Luca's that quick maybe Zhou was going to be the same. Thankfully I think we were pretty much a similar pace for most of the whole race. It was just about not making mistakes and bringing home the points.
FIA Formula 2: Well done today. Guanyu Zhou moving on to you. You started from pole position and finished third. You said on the social media chat you were a little bit disappointed with that, but just talk us through the race - especially the pit stop where Nicholas got you.
Guanyu Zhou: Firstly I think the gap at the beginning to Nicholas was very good, but after a bit acceleration wasn't the best. After that it was about keeping the gap with Luca before the pit stop. Unfortunately, I was the first car to stop along with the rest of the drivers on soft/prime. I knew it was going to be busy [in the pit lane], but it's about how much luck you have and unfortunately we had to wait for two more cars to go past. I was a bit disappointed when I saw Nicholas had gotten in front of me. After that I think they were fighting hard and for me it was just about keeping a nice, clean gap trying to get extra from my tyres. In the middle stage Sergio [Sette Câmara] was pushing hard after he got a good temperature in his tyres I think. I started pushing hard as well just to try and keep him behind, and not make mistakes in the second sector in which I'm quite strong. I happy with that. In the last few laps I think we were all pushing for the fastest lap and I think we all had a pretty similar, consistent pace to get into the top four. I'm happy to be on my first Silverstone podium but of course it's disappointing after starting from pole.
FIA Formula 2: You mentioned how similar the pace was between the top four cars. Did it feel like if you'd have retained the lead at the start that you had the pace to hold on to win today?
Guanyu: To be honest I think Luca and Nicholas had a bit more pace during the early part of the race. At the end it was similar but at the beginning I was struggling with my tyre balance. That's why I didn't want to get too close because I knew I would destroy the tyres even more and I was trying to keep them alive for the end of the race. If you're leading the race it's obviously another situation but I think these two did a good a job so congratulations to them.
FIA Formula 2: Thank you very much. Luca just returning to you. We've seen very impressive pace from both UNI-Virtuosi and DAMS so far this weekend. Does it feel like you've got the car to climb through in tomorrow's race as well starting from eighth?
Luca: Today it didn't look so much like a tyre management race. Normally those races are the ones where you see people climbing up quite quickly, maybe at the end of the race, through the field. I don't really know if it will be possible tomorrow. I don't know the pace of the cars that finished from P4 to P8. I'll have to study that with the team and look at that. I'm sure that they will do something for tomorrow and we will be quicker for sure. Everyone's going to work for tomorrow after this race. I'm not too sure we'll be able to do it, it will be quite a tough race tomorrow - especially to overtake. I don't really know what to expect. It could be one of those races where you have to think about how to manage your race and the last thing you really want to do is monitor that.