This page contains archived information and may not display perfectly
F2 - Post-Feature Race Press Conference 
F2 - 2019 Race of France - Post-Feature Race Press Conference Transcript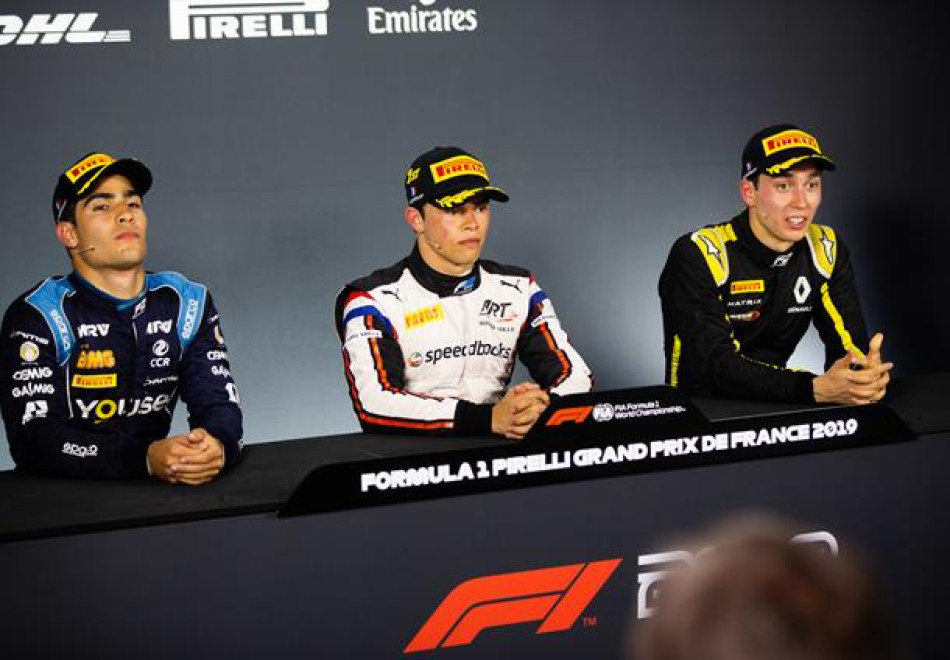 Thoughts from De Vries, Sette Câmara and Aitken
FIA Formula 2: Hello and welcome to the press conference for the top three finishers in today's FIA Formula 2 Feature Race here in France. We are joined by race winner Nyck de Vries for ART Grand Prix, in second place is Sérgio Sette Câmara for DAMS and in third place is Jack Aitken for Campos Racing. Nyck, your third win of the season and that one seemed to all hinge on the start. Talk us through that opening lap and your launch off the line.
Nyck de Vries: We as a team put a lot of effort into getting on top of our starts and obviously it's very tricky, but I'm very thankful for them for all the work we've put in together and luckily it worked today and we got a very good launch and good start. I think from then on we stayed cool and did our job. We had another red flag and race suspension, which is never really ideal, and we had a couple of virtual safety cars so there was quite a lot to manage. I'm very happy and thankful to the team. They gave me an awesome car so happy with the day's result.
FIA Formula 2: You also had to do some overtaking in that race due to the timing of the pit stops. How crucial was it for you to get past Jack quickly when you came out behind him?
Nyck: It was a shame. We just lost out on position but obviously there was no one in front of Jack, so I managed to position myself well with DRS. That was a slight advantage but it was important to take control early in the race again because I think we had the pace and we were kind of managing it. As you could see in the last lap we could still go a bit quicker.
FIA Formula 2: Well done today. Well move on to Sérgio. Second place but starting from pole position. It looked like you got swamped a little bit at the start. Just talk us through the launch off the line from your point of view.
Sérgio Sette Câmara: It wasn't a great start. It's a shame because it's so tricky with the way it is. We have a throttle map that is not linear, so if you don't want to start full throttle it's really tricky to know where to position your foot, and also how much you lift because there's a part of the map that's really, really steep. They did that last year as a kind of solution to all the cars stalling, but I think out of all the changes they did this was probably an unnecessary one. I'm not trying to use it as an excuse but it is the main reason why I personally struggle in the start. I feel it's very counter-intuitive. So yeah, it's a shame because I seem to always miss out, it seems no matter what. Even if I qualify well I know I'm going to lose one or two positions in the start. Today was not really a degradation race, maybe for Jack a little bit in the end, but in general it was not really a race where all the cars were falling off in the end. The start is more crucial, so it's a shame, in fact in Turn 1 there were many cars side-by-side and the objective was to avoid contact. I think everyone around there was experienced and didn't want to finish the race in the first corner so that's always positive. I had to restart my race from there.
FIA Formula 2: You mentioned the degradation for Jack towards the end there, just talk us through the fight trying to get past him for second place. Where you still hoping that you might be able to try and case down Nyck?
Sérgio: To be honest I didn't have the radio for all the race pretty much. At the beginning of the race, before the red flag, I had it but it was very poor. After that my radio stopped working and I don't think the team knew it so I didn't have a pit board either. I didn't know what was up. I knew from the first part of the race that Luca [Ghiotto] was on the opposite strategy so the only reason why I was pushing was to protect from Luca. It was not really to try and pass Jack because Jack seemed to have an incredible pace. For a visual point of view, from where I was it looked like he was even catching Nyck for part of the race. I was pushing just to try and avoid an overtake from Luca but after the VSC I saw that Luca stopped the race and I just kept my rhythm. I was surprised to see Jack dropping off in the end. He dropped off all of a sudden and I saw an opportunity to actually get the position after a few lock-ups from him. I was glad because it feels like a kind of compensation for a bad start. I think it's good for the team to see me overtaking someone and fighting and showing that I'm pushing and trying my best. That's always important. More than the three points I think the meaning of the overtake is good for everything.
FIA Formula 2: Well done today. Jack, moving on to you. Starting from third and finishing third doesn't really tell the full story today, so just talk us through the race from your perspective.
Jack Aitken: Sérgio's spoken about the start, but yeah, I wanted to try and keep my nose clean. I knew Nyck was somewhere on the outside and that it was probably going to get very tight so I tried to take a bit of a circumspect view and we all came out of the other side which is nice. I never really felt really strong today to be honest. I tried chasing Nyck down a couple of times, once in the option stint, and didn't really have the pace. I obviously lost a position after just about managing to do the undercut, but the DRS is very powerful here so I almost overtook him at the wrong point [laughs]. I might have been better off waiting but I think he was quicker today anyway. I did try pushing quite hard in the middle part of the race and we were catching Nyck for a while, but I was doing that mainly because I felt that I had to try something. I knew that I wasn't quite feeling like we had the package today to win and I just thought 'screw it, we'll go for the win' and unfortunately that bit me a bit at the end. I started to overheat the tyres and I tried to fight against Sérgio but he was just too quick at that point. A bit unfortunate but I think it was good to try in the middle of the race because you never know with these tyres. They could have a second window.
FIA Formula 2: Just how challenging was the race strategically based on the fact that we had the red flag early on and then the safety car periods as well?
Jack: It threw up a few interesting options in the sense that we could have extended the stint a little bit by having that break with the red flag and the VSC. We opted to try the undercut just because we saw the option wasn't very strong at that point. We thought that the hard tyre would be pretty easy in terms of degradation, as it was for most people. I think that was a fine decision, it's just how the cards played out.
FIA Formula 2: Well done today. Nyck we'll just return to you. This result puts you into the lead of the Drivers' Championship at this stage of the season. Is it something you're looking at already? If it's not, when do you start having that in the back of your mind?
Nyck: I would be lying if I said we did not look at it, but it's certainly not something which is taking our focus and priority. It's nice but honestly it's not changing our feeling whatsoever. We're happy with today's result. The team did an awesome job. We did a good job together so I think we can be pleased with that, but tomorrow we have another race to do and we need to optimise our points again. That will be our approach for the rest of the season.æ