This page contains archived information and may not display perfectly
F2 - Matsushita: "I always have confidence with the start, and today I knew it would be good because of the grip"
F2 - 2017 Race of Hungaroring - Post sprint race press conference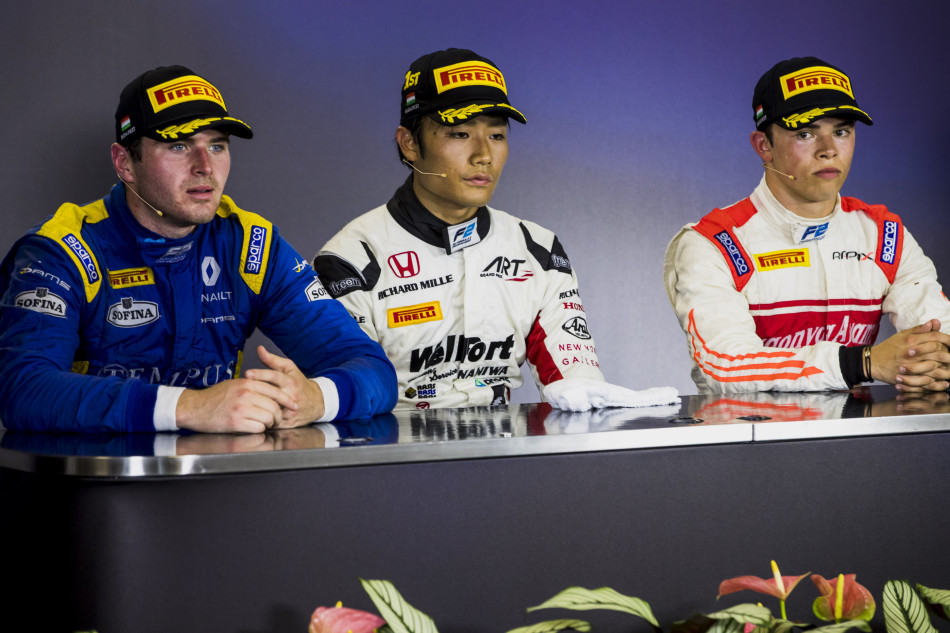 FIA Formula 2: Ladies and gentlemen, welcome to the press conference for this morning's FIA Formula 2 sprint race here at the Hungaroring: joining us today are race winner Nobuharu Matsushita from ART Grand Prix, in second place we have Oliver Rowland from DAMS, and in third we have Nyck De Vries from Rapax. Nobu, congratulations on a dominant performance today: we didn't see a lot of you on the screens today, so how was your race for you?
Nobuharu Matsushita: Degradation was quite big but I had good pace and was managing it, and in case of a safety car I just drove safely and managed the tyres. It was a good race, I think.
FIA Formula 2: Your start was amazing, from 4th to 1st in one corner: how did you do that?
Nobuharu: I always have confidence with the start, and today I knew it would be good because of the grip. This morning there was a GP3 race so I put down more power, and it was a good stop.
FIA Formula 2: It's a second win and a first visit to the podium since Monaco: what can you take from this into the break and the second half of the season?
Nobuharu: We've had some difficult weekends after Monaco, where we always had the pace but I couldn't make it work, but I think Spa and Monza are our favourite tracks, we were quite quick last year, and I hope it will be another podium like these guys and we can continue like that. I want to be in the top 3 this year, so I will push!
FIA Formula 2: Congratulations. Oliver, a great race with a lot of overtaking for you, and in some unusual places: how was it for you?
Oliver Rowland: Obviously from the start of the race I wanted to manage everything, and yesterday I made a mistake in how I was with the tyres, so I stayed calm and was there or thereabouts the whole race. I was waiting, I had good tyres, but they had the grip to defend so there was no point in trying, and then I saw Luca starting to struggle and Nyck was pushing so I thought I'd better get close in case something happens. That move Kyvat did to me here in 2012, although he crashed into the side of me, but I knew that you could surprise somebody there, and I knew he was struggling and he'd just been passed by Nyck. And later the Nyck move I was surprised he gave me that much room, because I was kind of hovering and it was his corner so he could have just run me out, but luckily he didn't, I got the power down and I had a bit more pace at that moment. I was happy with the speed, and weekends don't get much better than 1st and 2nd.
FIA Formula 2: You've finished ahead of both of your rivals this weekend: how positive is that for you?
Oliver: Yeah, I think it is: after Silverstone I was disappointed with myself after race 2 as there were too many errors on my part, probably because it was my home race and I was enthusiastic. But it was starting to get to the stage where Charles was gone and that I was fighting for 2nd, and I didn't want to believe that. Obviously anything can happen, and after this weekend we're right back in there: we're not quite with him but we're closing, and if we keep this pace we can challenge him to the end of the year.
FIA Formula 2: Nyck, another great start for you, 6th to 3rd, but how intense was your race?
Nyck De Vries: It was very intense! They had a little easier race than me as I was sitting behind Ghiotto but a little bit stronger, so in the end I had nothing left. When Ghiotto was struggling I knew I had a little more pace than him, and that I had to attack him straight away or else Oliver might get past me and I'd lose my opportunity for a podium, so I attacked and it was a successful move. Towards the end I tried to defend a little bit from Oliver, but once he decided to go around the outside in turn 2 I didn't want to resist too much because I knew he had a lot more grip than me and I didn't want to throw my podium away and lose some points. When you're fighting you're losing time and I didn't know what was going on behind me, so I thought I'll take third.
FIA Formula 2: You spoke yesterday about the need for more consistency, and you've had 2 podiums here: how encouraging is that going into the break?
Nyck: Obviously it's a great feeling, getting a double podium, and we did improve a little overnight because we had a strong race, but we still need to improve. We know which direction we need to go in, but it's a case of continuing to work to keep it up.