This page contains archived information and may not display perfectly
F2 - 2021 Round 6 Post-Qualifying Q&A
F2 - Thoughts from Oscar Piastri, Jehan Daruvala and Théo Pourchaire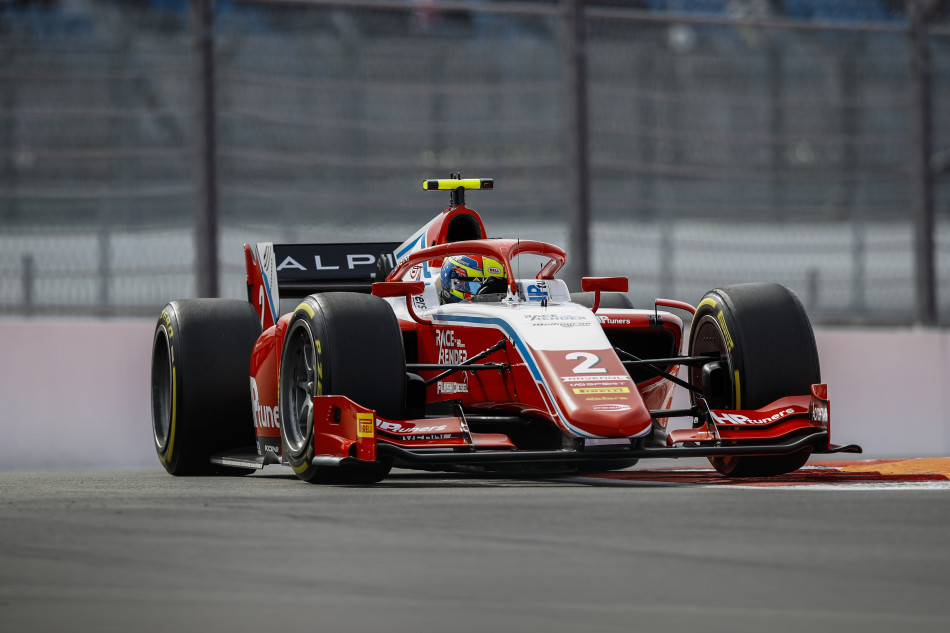 FIA Formula 2: Oscar, P1 in today's Qualifying session, give us a brief recap of how the session went for you.
Oscar Piastri: Yeah, mostly it was good, and it obviously ended very well. My first lap wasn't great, and I had to find quite a lot of time. The three laps after that were very good and the last lap was probably the best pole of the year in terms of my driving. I was very happy with that!
FIA Formula 2: Tell us about that best lap of the year, how did you but all three sectors together?
Oscar: I think that was kind of what I was missing throughout the whole day. I'd been quick, but I hadn't put it altogether yet. I think on the last lap I had a few mistakes to iron out from the laps before, and on that last lap I nailed almost everywhere, I would say. That last lap was very good and it's such a fine line between being under the limit and being slow or pushing and being sideways. It was tricky to find the limit.
FIA Formula 2: You're starting P10 in the first Sprint Race tomorrow, we're looking at rainy conditions – if we are able to go racing, what are you expecting?
Oscar: I think it's most certainly going to be wet I would say, so starting tenth is not ideal for that. Try and survive Turn 2 firstly and stay in the top ten, get points and get a good starting position for Sprint Race 2, if it happens. That's kind of been the aim all year with this format, that's the strategy you have to go from Qualifying.
FIA Formula 2: Starting on pole for the third successive round, what will it take to convert it into another win?
Oscar: Another good start. That was sort of the biggest improvement I made in Monza. I think that was the last piece of the puzzle that I needed to get right. The run to Turn 2 is one of the longest of the year, if not the longest. I'll need a very good start to hold first into Turn 1. That's the first aim, and then try and control the race from there really.
FIA Formula 2: You came into this event with the biggest championship advantage you've held all season. With two rounds remaining after Sochi, is that something that's starting to play on your mind?
Oscar: It's definitely not additional pressure. Zhou is the main rival and far more experienced than me, so from that side of things, it's definitely not any pressure. But of course, I want to win the championship. The bigger I can get the lead before the last couple of rounds, the better. Zhou has been equally as consistent, and even the guys behind us are certainly not out of the picture as well. They'll need to have some pretty impressive rounds but they're certainly not out of the equation yet. Try and keep doing what we're doing, we're clearly quick at the moment and in good form. We'll just keep it rolling and see where it takes us.
---
FIA Formula 2: Jehan, P2 today in Qualifying today. It was a good lap but not enough for pole. How was the session for you?
Jehan Daruvala: I think all in all the session was pretty smooth. My lap at the end felt pretty good. I felt it was good enough for pole. But clearly, I just missed out. But it's back-to-back front rows, so it feels really good to be on the front row for Sunday's Feature Race. We definitely made a step forward again, so I feel very happy.
FIA Formula 2: You seem to have found extra pace this second half of the season. What have you and Carlin changed?
Jehan: Yes, we have found some speed, I think. Like I said, into the second half of the season, my goal is to improve qualifying, which I have done for these two rounds. We haven't changed too much, but I've just been working hard to get the best out of myself and it seems to be paying off.
FIA Formula 2: You will be starting in P9 on tomorrow's reverse grid. The forecast predicts that it will be raining. Is that good news for you?
Jehan: Tomorrow is going to be wet, looks like the full day. From P9, we don't know if it's going to be a Safety Car start or not. Hopefully we just get racing and get the opportunity to do some laps and try to move forward as much as I can.  If we do get some racing laps, the goal is to be fast, try to move forward as much as we can, score some good points.
---

FIA Formula 2: Théo, P3 in today's Qualifying session. It's a great result and it must feel good to be back at the top. How your the session?
Théo Pourchaire: It was a good Qualifying session. P3 is nice considering we had an issue with the first set of tyres. We had a lot of vibration because Pirelli did a mistake with the weight of the tyre. One tyre was lighter or heavier than the other ones, and it created a lot of vibrations. Then the second set was good. P3, it's a good starting position for the Feature Race and I'm really confident and looking forward to the rest of the weekend, maybe in the rain, maybe in dry conditions. But anyway, I will give it everything, I need a lot of points.
FIA Formula 2: You will be lining up in 8th place tomorrow for the first Sprint Race. What's the plan in what is expected to be a wet race?
Théo: Starting eighth tomorrow is going to be difficult considering it's going to be a wet race. Everyone will need to adapt really quick to the conditions. I'm going to do my best for sure. The visibility is going to be the key point: if we are going to race, we don't know if there's going to be too much water to race, or if we're going to race. But yeah, anyway, the key will be to adapt, not do any mistakes, to stay in the top ten and bring the car home. But I want to do some good results, I really want to win races, to do podiums and to be back in the top three of the championship.