F2 - 2020 Round 2 post-Qualifying press conference
F2 - Race of Steiermark - Post Qualifying Press Conference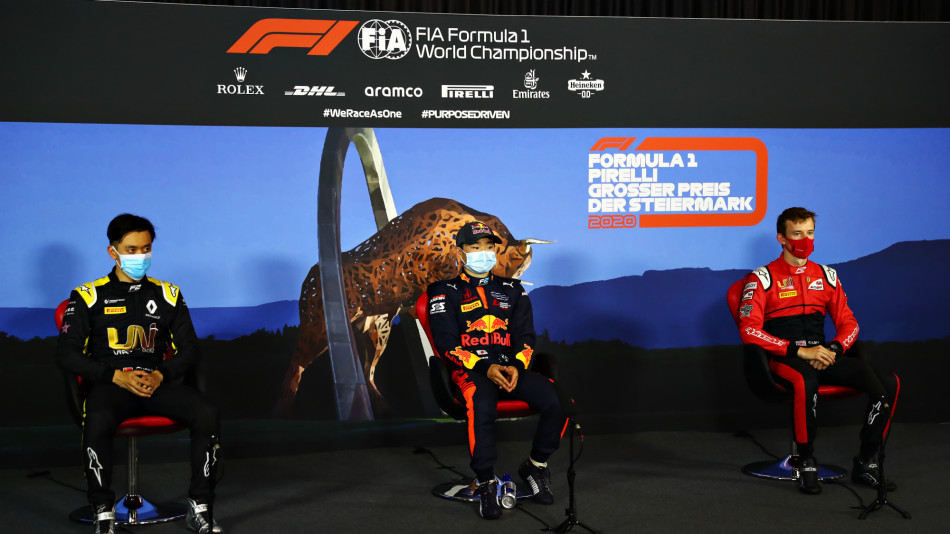 FIA Formula 2: Hello and welcome to the press conference for the top three qualifiers for the FIA Formula 2 Feature Race at the second weekend here in Austria. We are joined by polesitter Yuki Tsunoda, for Carlin, in second place is Guanyu Zhou for UNi-Virtuosi Racing and third is Callum Ilott, also for UNI-Virtuosi Racing. Yuki, you looked quick last weekend, but couldn't quite put it all together in Qualifying, what was different today?
Yuki Tsunoda: Mainly the track position. We were in the fast lane last week, and then there was red flag. A car went off the track in front of me, so the red flag meant I couldn't do a push lap in the second stint. That's why I wasn't able to do a really good job in Qualifying last week. We took the experience from that, and this time we went top early, and that's why I'm in pole position.
FIA Formula 2: It is your second weekend in Formula 2 and your first pole position. Were you expecting to be so competitive from the start of this season?
Yuki: From Bahrain I had a really good feeling with the tyre, and also with the team. I was confident I had the pace, so I'm just doing my job and driving well.
FIA Formula 2: Congratulations. Zhou, moving on to you, it was P1 in Qualifying last week, P2 this week, so still another strong showing today. How was your session?
Guanyu Zhou: The session wasn't as easy as last week, like you said. I think after the trouble that we had last week, the team done a good job to put a car out with no problems, so a big thanks to UNI-Virtuosi. In the Qualifying session, I think that on the first set we had pretty alright pace to be honest, and I think that we improved a little bit from there and we were up there fighting for pole position. The last two laps I got a purple sector one, but then I lost three tenths, which I think would have been enough for pole position today, but I should be happy with where I am and I am looking forward to the race tomorrow. 
FIA Formula 2: With the unfortunate result that you had in the Feature Race last weekend, is there a little bit more determination to put it right tomorrow? 
Zhou: Definitely, it hurt so much last week. Coming into last weekend, I was so excited to be coming back to the seat and on Saturday everything was going my way until I had a technical issue and had to retire from the race. That meant coming out of the weekend without any points for the races, so I lost quite a lot for that. It was lucky that we had back-to-back races so that I could put that weekend behind me and focus on this weekend. 
FIA Formula 2: Good luck this weekend. Now Callum, coming on to you. Front three again and just 0.085s between the top three of you here. Is there a little bit of frustration that it is only first place in that sense?
Callum Ilott: You can always do a bit better. I am definitely not unhappy with the result, I think that as a team we did a very, very good job. I went P2 with a lap where I made quite a big mistake in the last corner, so that was going to be a decent lap, maybe just good enough for pole, but it was a first run so I wasn't sure if we would improve or not second time. On the second run, my car wouldn't start straight away so I was a bit out of the position from where I wanted to be, but I made the most of it and on the last lap I improved a little bit. I can't be too unhappy with P3, so a big thanks to the team again for putting me in a good position. 
FIA Formula 2: We have got softer tyre compounds this weekend for the race, so do you think that tyre management will be more of a factor than it was last weekend, and is that perhaps an advantage to the experienced guys, over the rookie lads? 
Ilott: It would be, but who knows what the weather is going to be like. I think that we would be in a good position if it was dry. Me and Zhou have both driven once or twice in this car in the wet though, so whichever way it goes, we will just try and stay out of trouble and get some more points. 
FIA Formula 2: Yuki, returning to you. A similar question really. We have got the softer tyre compound this weekend, do you think that it is going to be tough for you to convert this pole position into a win tomorrow. 
Yuki: It is definitely going to be tough, but we have good race experience from last year, because Carlin have shown me a lot of things. I have confidence from today and I will just do my job. I don't know what the weather will do tomorrow, but if it is wet, it is going to be close. I don't know how it is going to be, but I will just do my job to win the race.