F2 - 2020 Round 2 post-Feature Race press conference
F2 - Race of Austria - Round 2 - Post Feature Race Press Conference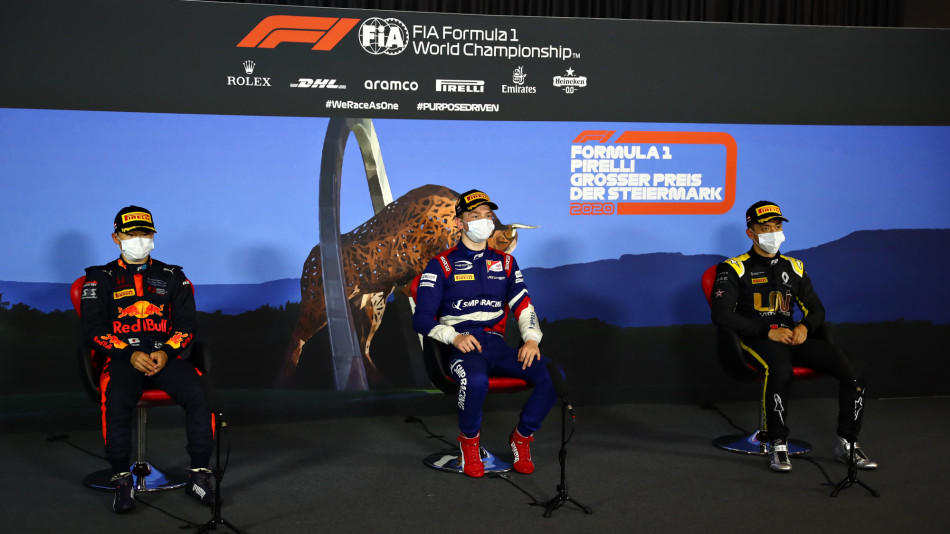 FIA Formula 2: Hello and welcome to the press conference with the top three finishers in today's FIA Formula 2 Feature Race at the second weekend here in Austria. We are joined by race winner Robert Shwartzman for PREMA Racing, in second place is Yuki Tsunoda for Carlin, and third is Guanyu Zhou for UNI-Virtuosi. Robert, Formula 3 champion last year and now your first Formula 2 Feature Race win at just the second round. How do you feel?
Robert Shwartzman: I feel super happy. I wasn't expecting at the beginning of this race to be in this position. We struggled big time with the car during the safety car formation laps. I had some issues that were quite big. There was a red flag and luckily I could re-join my sixth position on the starting grid. When we restarted there was still a lot of water, so I was taking it fairly easy. The race was quite good. I started well and started to find the racing lines where I could be faster than the guys in front. I slowly started to pick up the pace to get past the field. I think I was P4 behind Callum Ilott, and then we pitted. The strategy was mega, so big thanks to the team. We changed the tyres quickly and when I exited the pit lane I was behind Zhou. We had an interesting fight. I didn't know where Yuki was, so my target was just Zhou. I saw him struggling with the grip as it started to get drier, and it was a close move, but I managed to get a crossover on the exit. After that, I was in front, so I tried to push and then Yuki was behind me, but I heard from my engineer that he was really quick. I tried to pick up the pace that I could, but at that time I was also struggling quite a bit with the rear tyres. In the end, Yuki caught me, and it was really close, but I managed to save first place. I'm really happy. I've run out of words. A big thanks to the team and to my father.
FIA Formula 2: Lovely words. You mentioned Yuki, and in those final laps when you saw him coming closer and putting the pressure on, how tough was that to deal with?
Robert: At one point I saw he was gaining quite a lot, so there was one stage when I was thinking that if he's gaining that much, I'll have quite a low chance of doing anything. I looked in my mirrors and I saw that he was also starting to struggle with the rears and sliding. My engineer said that he was starting to lose the pace, and at that point I knew. Anyway, I wouldn't have given up first place that easily. I just tried to keep a good pace, and at the end it was quite intense. I was a bit nervous but I'm happy that it ended well.
FIA Formula 2: Congratulations, well done today. Yuki, moving on to you. It looked like you had that race under control for most of it, but the team were trying to call you into the pits, and you didn't seem to get the message. Then there was the slow pit stop as well. Just talk us through what happened there.
Yuki Tsunoda: After the start the pace was good, and I think my tyre management was good. I couldn't hear anything on the radio, so we had an issue there. I didn't see the pit board either. I just thought that the engineers weren't talking to me in order to let me focus on the race. When it started to get harder to manage the tyre, I saw the board to box and so I did. The tyre change was maybe not that good, but we had better tyres than the others and so I just trusted my speed and drove as fast as possible. I knew I was catching Robert, but at the time I needed to push so I didn't think about tyre management. I think that paid off at the end, but I started to struggle with the rear tyres and my pace stopped. It was then a similar pace to Robert and there was not enough space to pass him. The team did a really good job, and Robert also did a really good job with tyre management. I'm happy that I've taken my first podium in F2.
FIA Formula 2: You mentioned how quick those laps were out of the pits. You really seemed to be on it. When you caught Robert, was there ever a time when you thought about trying to make a move in those closing laps, or did you settle for second?
Yuki: I was pushing all the time to pass him, but after I struggled with the rear tyres, I was losing traction so I couldn't. I had confidence in the braking, so I caught him in the braking zones, but on the exit I struggled so I couldn't pass him.
FIA Formula 2: Well done today with second place. Zhou, moving on to you. Finishing third, and it wasn't like your race was without incident either - just talk us through it from your perspective.
Guanyu Zhou: It was probably one of the hardest F2 races I've done. I started well and I think me, Callum Ilott and Yuki were quite fast in the full wet conditions. Our car was more towards a wet set up, so when the track started drying up I was struggling with the tyres. I had to pit a bit earlier than the others. I put in a fastest lap and straight away I felt that the rears weren't there on a dry racing line. I couldn't really fight with these two guys. I tried my best and when I realised that I couldn't I kept my tyres cooler just to keep a good position in the end. I think we did a pretty good job on the tyre management because of how much I was struggling with the rear tyres. It was really tough out there and I was snappy all the time. Especially at high speed. When I saw another PREMA coming in Mick Schumacher, he was getting close and I think he got past Callum quite quickly, which wasn't ideal for me. In the last laps I had to be quite smart on the defensive, especially with the traction issues I was having on exits. In the end I am happy with a podium. I think we maximised everything that we could do today. Obviously, a win was the target, but we'll continue to work.
FIA Formula 2: You mentioned the set up. Obviously, we've had a very wet day and then suddenly by the end of the race there was a dry line appearing. Were you a bit surprised by the fact that it did dry out so much?
Zhou: Yeah, I think the whole team were a bit because obviously we weren't expecting to be waiting that long. The rain was really heavy before we started, and also during the red flag, so we were thinking there was a good chance that they would cancel or postpone the race. I never thought it would dry so quickly out there, because after the safety car the track was still pretty wet, and it was really hard to see - even though I was the second car out there. The track dried out really quickly and I was surprised. Our set up wasn't meant for such dry conditions.
FIA Formula 2: Thank you. Robert, just returning to you. We saw you celebrating in the pit lane from a safe distance with your team and Ferrari at the end of the race. You spent a lot of time in that pit lane during that red flag period. Just how difficult was it to get your mindset right, especially if you were struggling in those formation laps earlier?
Robert: It was quite challenging, because in the formation laps I couldn't do anything with the car. I was really scared and at some point I thought I wouldn't be going anywhere. The situation with the rain and the red flags saved me. Otherwise I wouldn't have been able to continue the race. Then when I was in the pit lane I was told that either I was going to be able to pass behind the safety car, or that I'd get pushed to P6 in the pit lane. I was trying to focus and learn as quickly as possible in order to see the lines from the guys in front to where I could gain. I saw some guys from Ferrari because I was that far into the pit lane and they right on the side. Some of them were pointing fingers at me and saying, "do a good job!" It cheered me up and it was quite helpful. At that time I was just relaxed, calm, and trying to focus on my driving.