Everybody against Camponeschi!
Five month after the opening round held in Suzuka, Japan, the CIK-FIA World Karting Championship will reach its climax on the circuit of Coloane, one of the two main islands composing Macau.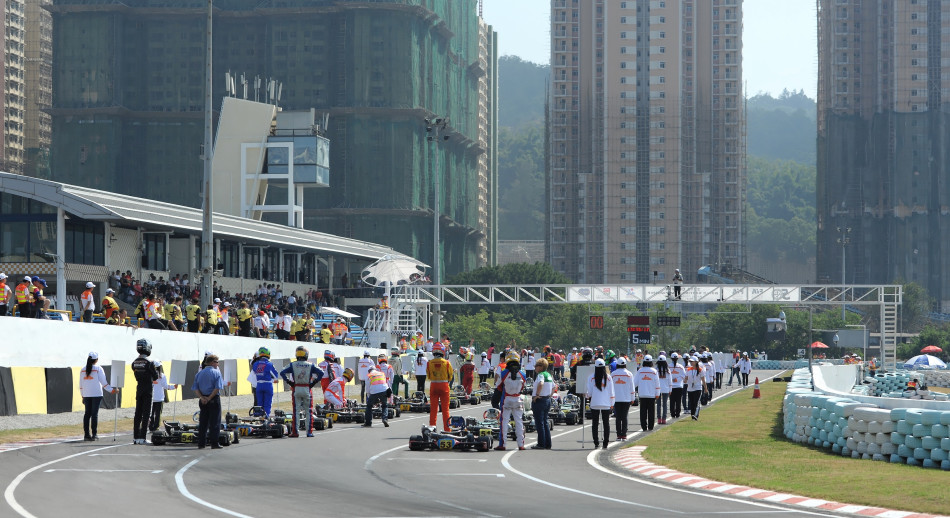 The Italian Flavio Camponeschi is dreaming of turning that Special Administrative Region of the Popular Republic of China into the scene of his maiden world title. Japan's Daiki Sasaki and Italy's Felice Tiene are however toying with the same ambition, just like the already four-time World Champion Davide Foré. And with four races still to go, many scenarios are possible!
It was at the end of May on the Suzuka circuit. By landing 3 out of the 4 races of the opening round of this 2012 World Championship, Flavio Camponeschi (Tony Kart-Vortex) had stricken a major blow. It is therefore as a comfortable leader that the Italian will arrive in Macau for the second and last meeting of the World competition. "After having competed in the European Championship and World Cup for the KF2 category with harder tyres, I shall be able to use again in Macau the special tyres placed at our disposal by Bridgestone", explained the Italian. "They are better fitted to my driving style and I hope to take again the road to success. I really want this title!"
Extremely motivated, Flavio is also aware that he will have to be cautious as with 4 races in two days (the 3 best results of which will be retained) many opponents can very well reverse the situation. The Japanese Daiki Sasaki (Kosmic-Vortex), impressive on his home land, will confidently reach this world final. One week after he won the second division of the Japanese Formula 3 Championship, Daiki will indeed have to find again a good rhythm since he has seldom been at the wheel of a kart this year. However, he likes Macau, where he landed last year's Asia-Pacific KF1 Championship, and he dreams of putting an end to his Karting career by donning the supreme crown. Although he is 15 points down on Camponeschi it therefore does not seem unsurpassable.
Likewise Felice Tiene (CRG-BMB) is on the way up. Laureate of the World Cup for KF2 at Zuera at the end of September, the Italian is 26 points behind and aware that he will not hold all the cards. But he is in high spirits, and his sole tactic will therefore be attacking! Opposed to these three young Drivers, Davide Foré (CRG-BMB) is determined to utilise his experience. Despite the four world titles he already landed between 1998 and 2006, the 38 years old and most senior Driver in this competition shows a young up-an-coming Driver's dogged determination to win. His success in the fourth race in Suzuka has certainly given him wings, and Davide will not make this long trip just to do a walk-on part. After all, he is only 2 points down on his team-mate Tiene, and he knows only too well that anything can always happen…
It is a priori between these four Drivers that the world crown will be settled. Unlucky in Japan, where he was betrayed by his equipment, the Pole Karol Basz (Birel-Parilla) will have to hope for a miracle to win, just like the Dutchman Max Verstappen (he has switched to the CRG team since Suzuka and now disposes of a CRG-TM kart), who can regret having had a collision in the final Japanese race which cost him precious points. Also in the provisional Top 10, Britain's Tom Joyner (LH-BMB), Jordon Lennox-Lamb (CRG-BMB) and Matthew Graham (Zanardi-TM) as well as the Indonesian Philo Paz Patric Armand (Tony Kart-Vortex) will aim at a glorious feat which would enable them to gain a few places in the hierarchy. It will also be worth following the Brit Ben Hanley (ART GP-TM), who will make a come-back to the top category of direct-drive karts after having stepped on the podium of the World Cup for KZ1 in early September. Finally, let us mention the presence of two Australians (Cian Tothergill and Matthew Waters, both on Kosmic-Vortex) among the 35 entries, and a strong Asian delegation with in particular the young Andy Chang Wing Chung (Tony Kart-Vortex), who will undoubtedly have all the public's favours as he will defend the colours of Macau.
The competitors will get down to business on Saturday morning with qualifying practice, which will determine the starting grid of the first of Saturday's two races. On Sunday, the slate will be swiped clean with another qualifying practice session and two races which promise to be thrilling. For the title candidates there is still be a long way to go before claiming the thrown!