This page contains archived information and may not display perfectly
Euro RX - Oliver Solberg sets the early 'Magic Weekend' pace in Sweden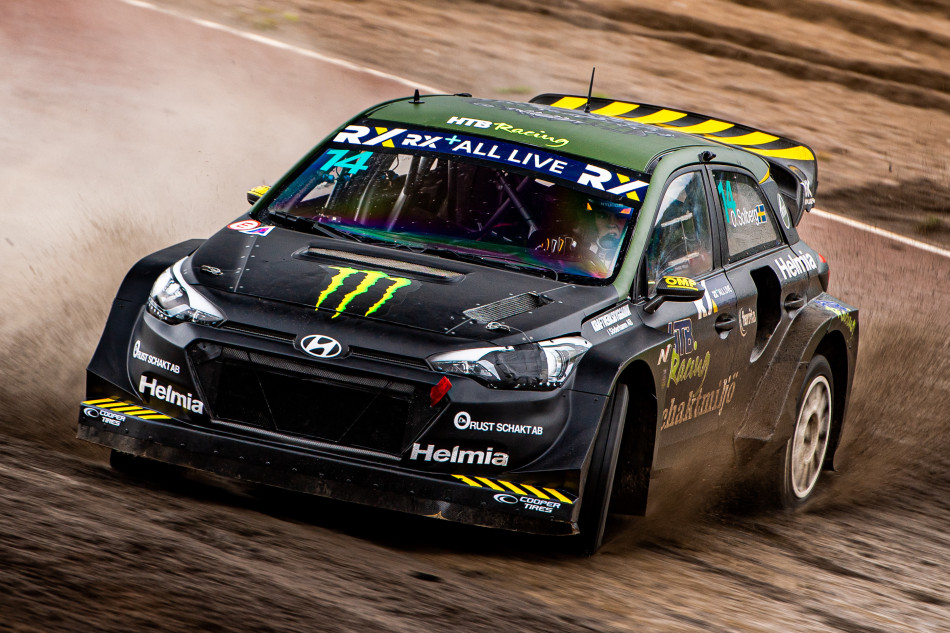 Oliver Solberg set the pace on day one of the 'Magic Weekend' in Sweden, as round two of the 2022 FIA European Rallycross Championship got underway at Höljes.
After torrential early morning rain, 20-year-old Solberg was on sensational form in a wet and slippery heat one to set the pace by almost a second in the high-calibre, 25-strong Euro RX1 field – despite having only previously driven his Hedströms Motorsport Hyundai i20 in dry conditions.
Despite not having raced in rallycross since 2020, he then battled his way to the third-best time in heat two – despite suffering starter motor issues.
"It was a great day overall," said Solberg.
"I got a really clean run in the first heat – it actually felt surprisingly good – but then in the second one I got a terrible launch, and it was very strange to suddenly be in traffic for the first time in two years!
"The other guys are super-fast and the margins are so small, but it was really cool to be able to fight like that again – a lot of fun – and it's fantastic to be in first place overnight."
Solberg is two points clear of championship leader Anton Marklund, winner of the season curtain-raiser in Hungary last month, with the Swede proving himself to be every bit the equal of his illustrious adversaries by going second-fastest in both sessions as he bids to extend his advantage in the title battle this weekend.
Four-time World RX champion Johan Kristoffersson sits third after engaging in a crowd-pleasing, no-holds-barred duel with Andreas Bakkerud in heat one and then setting the pace in heat two despite reporting a loss of power over the last two laps of his race.
Multiple Andros Trophy winner Jean Baptiste Dubourg is fourth, the Frenchman sweeping spectacularly all the way around the outside of his rivals to seize the early initiative in heat one. Sondre Evjen was a consistent contender for JC Raceteknik and lies fifth, with EKS ace Bakkerud sixth after losing time to a slow start in heat two.
Jānis Baumanis was frustrated by a spin in the second heat but nonetheless holds seventh position for #YellowSquad, just ahead of Enzo Ide, who came together with Anders Michalak at the start of heat one.
Drivers with work to do on Sunday include Nyirád finalists Ulrik Linnemann and Sivert Svardal, both of whom ran into trouble in the opening heat. The Dane ended his race in the barriers, while the Norwegian suffered broken steering that sent him into a spin.
Martin Kjaer produced a surprise in Euro RX3 to lead the way at the end of the first day.
Rising star Marius Solberg Hansen impressed throughout to push Kjaer hardest, just a single point behind his fellow Norwegian after winning heat two, with title duellists Kobe Pauwels and Jan Černý tied on points for third.
There was less luck, however, for free practice pace-setter Janno Ligur, who was unable to start heat one due to a broken gearbox in his Škoda Fabia and then found himself the victim of a first corner squeeze that spat him off the track at the beginning of heat two.
Viktor Vranckx had been tipped to make a strong impression on his FIA RX2e Championship debut, and the 16-year-old did just that at Höljes today. Under the tutelage of last year's title-winner Guillaume De Ridder, the Belgian teenager outpaced all of his competitors in heat one and set the second-quickest time in heat two to end proceedings ensconced at the top of the leaderboard.
Second-year drivers Nils Andersson, Isak Sjökvist and Patrick O'Donovan are in hot pursuit, with the racing set to continue tomorrow with heat three in all categories followed by the Progression races, Semi-Finals and all-important Finals.