This page contains archived information and may not display perfectly
ETRC - Jarama Preview: Jarama drama guarateed in FIA ETRC Season Finale
ETRC - 2017 Race of Jarama - Preview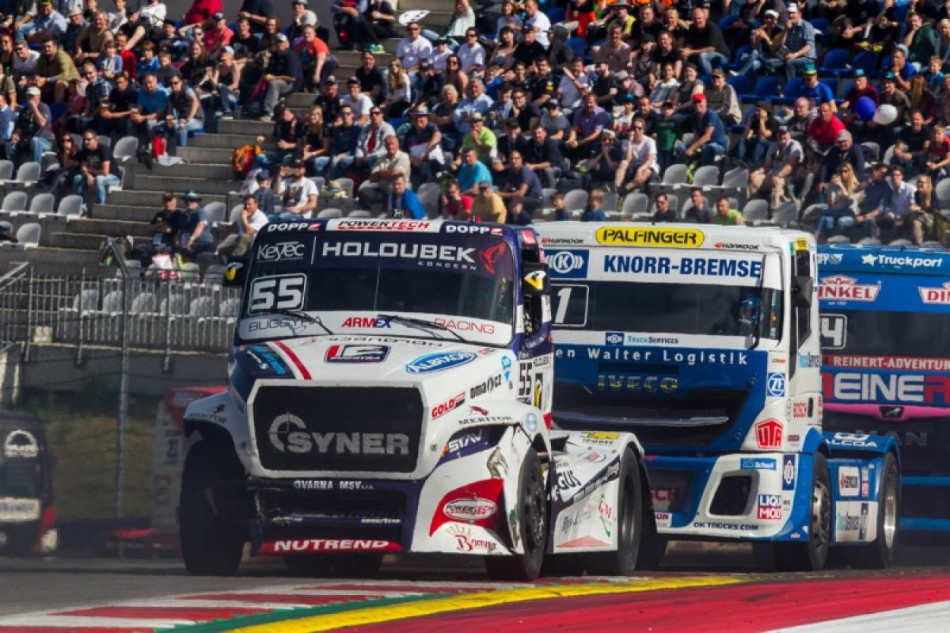 Where: Circuito Jarama, Spain 7/8 October
When: For the Timetable click HERE
Who: for the Full Entry List click HERE
 
The 2017 FIA European Truck Racing Championship season is approaching its climax as the truck racing fraternity is heading towards Spain to finish the year off with some fascinating and spectacular on track action at Circuito de Jarama near Madrid.
Adam Lacko, driver of the No.55 Freightliner truck prepared by Buggyra International Racing System, is just a tiny step away from his maiden title.
The Czech emerged as the title favourite early on in the year, following a back-to-back hat-tricks of wins achieved at Misano and at the Nürburgring.
From then on he remained in control. There were, however, setbacks along the way, such as gearbox failure that lead to retirement in race one at Zolder and a sudden dip in performance at Le Mans. This was where in Saturday's races he crossed the line in seventh and eighth places respectively and finished the day with only seven points to his name.
At Jarama there are 60-points on the table and Lacko is currently 45 points clear off his nearest rival Jochen Hahn.
Although overturning Lacko's lead remains highly unlikely, reigning champion Hahn is still mathematically in contention.
Behind the two title protagonists is Norbert Kiss (Team Tankpool24 Racing/Mercedes-Benz) and Steffi Halm (Reinert Racing/MAN). They have their own battle to look forward to for third overall, with the Hungarian having a 14-point advantage over the German who won last time out at Le Mans.
Circuito de Jarama, built in 1967, represents a fearsome challenge on the FIA ETRC calendar.
No one knows the venue, situated north of Madrid, better than local ace, Antonio Albacete.
"Jarama is one of these old school circuits. It's up and down, it has difficult corners, corners that you don't have at most other circuits," explains the Truck Sport Lutz Bernau driver.
"I'm looking forward to Jarama as always. It's our home race and there's always a huge crowd. I hope that also this time lot of people will come to see us. I'd like to be competitive this weekend," he adds.
Three-time European champion, Albacete has won at Jarama 11 times in FIA ETRC, more than any other driver.
"All the drivers know Jarama but I have raced there more than others and I'm still the driver with most wins in truck racing there. I'd like to keep this record and win some more races this year".
Promoter's Cup Drama goes to the Wire
Also at Jarama, the first ever Promoter's Cup will be decided, with both title protagonists – José Rodrigues and André Kursim – determined to do their best in order to clinch the trophy.
Points wise, it is Rodrigues who has the edge but in the second part of the season Kursim proved to be a formidable competitor capable of winning races overall if the circumstances were right.
Adding to what is already a weekend full of fascinating storylines, three generations of the Rodrigues clan will participate in the event, all representing the same Reboconorte outfit, which is run by Truck Sport Lutz Bernau.
Jose-Eduardo Rodrigues joins his father José and grandfather Eduardo in the second consecutive Jarama weekend where they have all raced together.
"Jarama is a nice circuit and the closest we have to a home race so I am really looking forward to racing there again with my father and grandfather," said the youngest of the Rodrigues family.
The grid will be bolstered by a number of local truck racers, who will join FIA ETRC regulars.
Joining the fray will be: Orlando Rodriguez Ruiz, David Marco Bermejo, Pedro Ignacio Garcia Marco, Enrique Alberto Vila Monteserin, José Alberto Vila Sainz and Agudo Dian.
Race by race Promoter's Cup entrant Frankie Vojtisek will return with his Czech Truck Racing Team MAN for the first time since his home round at Autodrom Most.
What Happened Last Year?
Race 1: Adam Lacko
Race 2: Jochen Hahn
Race 3: Jochen Hahn
Race 4: Anthony Janiec
Follow the action
Check out all the action live at our special Race Centre with live timing and text commentary HERE