This page contains archived information and may not display perfectly
EHC, Round 1: MERLI AND SCHAGERL SET THE TONE
In France, on the occasion of the opening of the FIA European Hill Climb Championship, Italian Christian Merli and Austrian Karl Schagerl confirmed both their status as favourites and their intentions to win the European crown at the end of the season, respectively in Category 2 and Category 1.
Judging by the 48 drivers registered for the international part of the St Jean du Gard-Col St Pierre hill climb - a record for the event since it became part of the European Championship - the 2022 season is shaping up to be an exciting one. The 'Performance Factor' applied in Category 1 is also gaining in popularity and should guarantee even stronger entry lists as the year progresses, especially in those countries (not including France) that have already adopted this regulation at national level.
In France, Christian Merli (Osella FA30) never left any doubt about his ability to dominate the debates. From the first practice heat, he set a time that was a cold shower for all his competitors. And even if he is deprived this year of his rivalry with his long-time opponent, Simone Faggioli (who prefers to fall back on the Italian national championship in 2022), Merli will not be satisfied with less than adding a fourth FIA title to his palmarès. At St Jean du Gard, besides dominating all the heats, both practice and race, he made a point of breaking the absolute course record - which he himself has held since 2019!
Frenchman Billy Ritchen (Nova NP01) has made the French Championship his priority, but he proved at the Col St Pierre that he also has what it takes to do well in the European Championship. In addition to having recorded the second best performance of the weekend, he won the E2-SC Group.
Spain's Javier Villa once again showed off his talent, having previously been successful in GP2 and WTCC. With a BRC "made in Spain", certainly light and agile but underpowered (with a 1.3t Suzuki Hayabusa motorbike engine), he shone on the "Corniche des Cévennes" twisty road, to the point of beating the V8-powered Nova, Norma and Osella of Sebastien Petit (4th), Petr Trnka (5th) and Alexander Hin (7th).
Like Villa, the Pernot brothers, Marc (6th, Tatuus Master) and Etienne (8th, Norma M20FC), with smaller engines, did well against the European Championship regulars. At the wheel of the 1100cc Aprilia-powered Wolf Thunder, Michele Fattorini took 11th place in the final ranking, and 5th in the E2-SS Group.
Both forced to retire in the first race heat, Spain's Joseba Iraola (Nova NP01) and the Andorran Raul Ferre (Silver Car CS Turbo) did not score any points in France and have to wait for the Portuguese and/or Spanish races to open their score.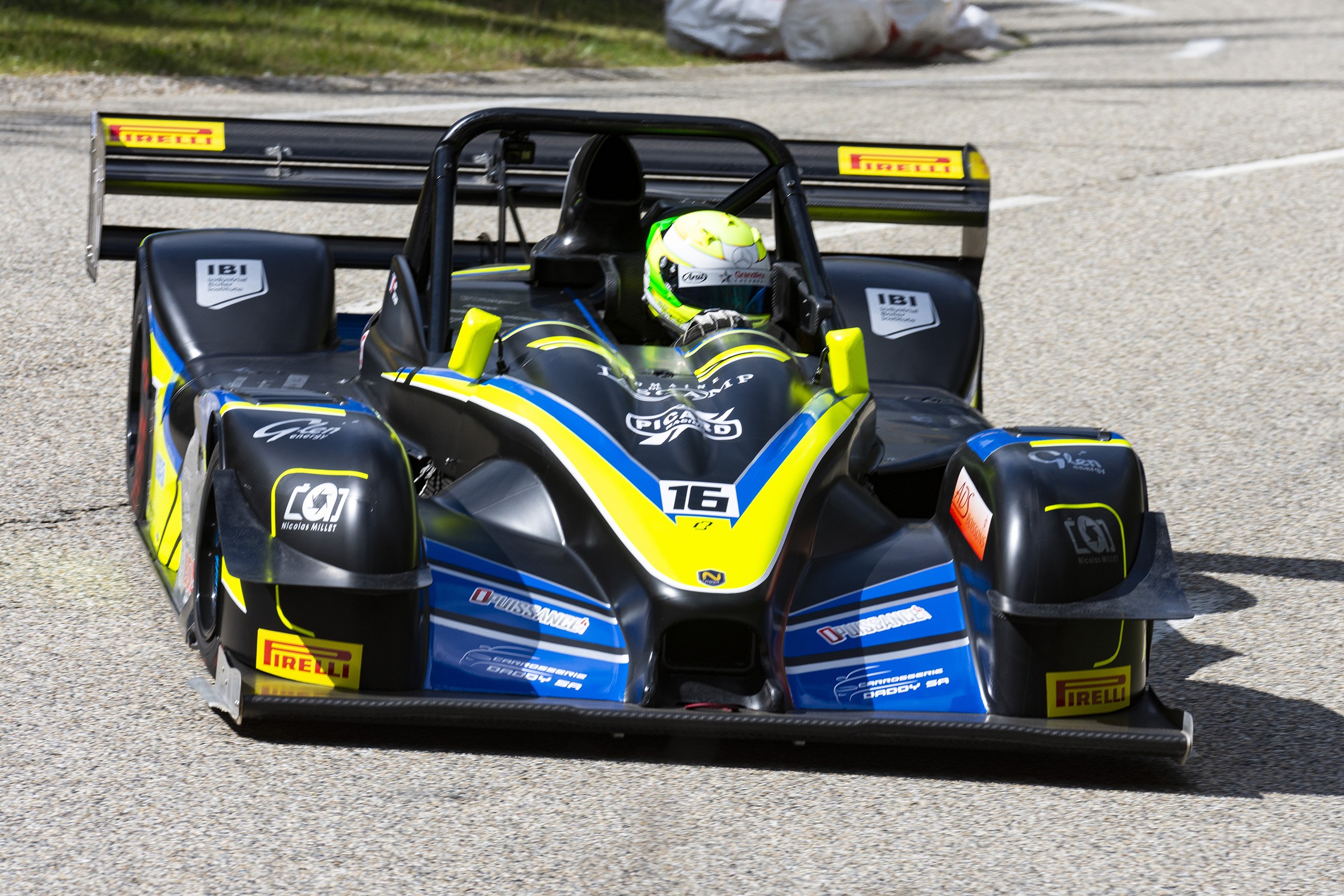 CATEGORY 1: GOLF vs LAMBORGHINI
With a power of around 700 bhp, Karl Schagerl's VW Golf Rallye belongs to the well-named "Bergmonsters" family. The Austrian has announced his intention to take part in the entire European Championship to the delight of fans and organisers. Although he was new to the course, Schagerl dominated the practice sessions from the start. He then set the fastest absolute time in the closed cars in the first race heat. Transmission problems delayed him on the second heat and although he was beaten by the Lamborghini Huracan of Ronald Garcès, he nevertheless maintained his lead in the final overall classification. In addition to the 25 points awarded to the winner of Group 1, Schagerl also received the 10 points awarded to the absolute winner of Category 1 for the so-called "Best Performer" classification.
The Croatian Tomislav Muhvic, with his Mitsubishi Lancer, grew in power and confidence as the heats progressed and beat by a small margin the Porsche 911.2 Cup of Frenchman Paul Reutter to victory in Group 2. Anthony Dubois placed his Alpine A110 GT4 in third place, ahead of Christian Schweiger, who is back in business with his Mitsubishi Lancer.
Reigning champion Antonino Migliuolo discovered in France that he would have to deal with stronger opposition this year than in 2021, in particular with former two-time European Champion (2014 and 2015) Igor Stefanovski. The Macedonian and his Hyundai i30 TCR were 3 tenths of a second ahead of Migliuolo's Mitsubishi, but nevertheless had to concede the win to local hero Nicolas Granier, the fastest Group 3 driver in his Seat Leon Cup Racer.
Group 4 was won by Montenegro's Vasilije Jaksic (Mitsubishi Lancer), ahead of Poland's Janusz Grzyb (Honda Civic) and Jiri Osmera (VW Scirocco), while Piotr Ilnicki (Honda Civic) won Group 5 ahead of his compatriot Maciej Serafin (Renault Clio).
The FIA European Championship is about to go through an intense month of May, with a succession of three events in the space of four weeks: Falperra (Portugal) on May 8, Al Fito (Spain) on May 15 and Ecce Homo-Sternberk (Czech Republic) on May 29.
All the standings of this first round of the 2022 FIA European Hill Climb Championship can be found here.
Photo galleries can be viewed via the following links: FIA web, FIA facebook, FIA twitter , FIA facebook Masters and fia instagram.
EHC : MERLI ET SCHAGERL DONNENT LE TON
En France, à l'occasion de l'ouverture du Championnat d'Europe de la Montagne de la FIA, l'Italien Christian Merli et l'Autrichien Karl Schagerl ont confirmé à la fois leur statut de favoris et leurs intentions de coiffer la couronne européenne au bout de la saison, respectivement en Catégorie 2 et Catégorie 1.
Si l'on en juge par le nombre de pilotes inscrits pour la partie internationale de la course de côte de St Jean du Gard-Col St Pierre – un record pour l'épreuve depuis qu'elle a intégré le Championnat européen – la saison 2022 s'annonce sous les meilleurs auspices. Le « Performance Factor » appliqué en Catégorie 1 gagne aussi en popularité et devrait garantir des plateaux de plus en plus fournis au fil de l'année, en particulier dans les pays (dont ne fait pas partie la France) qui ont déjà adopté cette règlementation au niveau national.
Christian Merli (Osella FA30) n'a jamais laissé planer le moindre doute sur sa capacité à dominer les débats. Dès la première montée d'essais, il a réalisé un chrono synonyme de douche froide pour tous ses concurrents. Et même s'il est privé cette année de sa rivalité avec son adversaire de toujours, Simone Faggioli (qui préfère se replier en 2022 sur le championnat national italien), Merli ne se contentera pas du moindre effort pour tenter d'accrocher un quatrième titre FIA à son palmarès. A St Jean du Gard, en plus d'avoir dominé nettement toutes les montées, d'essais comme de course, il a mis un point d'honneur à faire tomber le record absolu du parcours – dont il était lui-même le détenteur depuis 2019 !
Le Français Billy Ritchen (Nova NP01) a fait du Championnat de France sa priorité, mais il a prouvé au Col St Pierre qu'il a aussi le niveau pour très bien figurer en Championnat d'Europe. En plus d'avoir signé la seconde meilleure performance de week-end, il s'est imposé dans le Groupe E2-SC.
L'Espagnol Javier Villa a, une nouvelle fois, fait étalage de tout son talent, lui qui jadis a connu le succès en GP2 et WTCC. Avec une BRC « made in Spain », certes légère et agile mais sous-motorisée (avec un Suzuki Hayabusa 1340cc de moto, turbocompressé), il a brillé d'aisance sur le tracé de la « Corniche des Cévennes », au point de devancer les Nova, Norma et Osella à moteur V8 de Sébastien Petit (4e), Petr Trnka (5e) et Alexander Hin (7e).
Comme Villa, avec des voitures de moindre cylindrée, les frères Pernot, Marc (6e, Tatuus Master) et Etienne (8e, Norma M20FC), ont fait plus que bonne figure face aux habitués du Championnat d'Europe. Au volant de la Wolf Thunder à moteur 1100cc Aprilia, Michele Fattorini s'est hissé à la 11e place finale, et à la 5e dans le Groupe E2-SS.
Tous deux forcés à l'abandon dans la première montée de course, l'Espagnol Joseba Iraola (Nova NP01) et l'Andorrain Raul Ferre (Silver Car CS Turbo) n'ont pas marqué de point en France et doivent se résoudre à attendre les épreuves portugaise et/ou espagnole pour ouvrir leur score.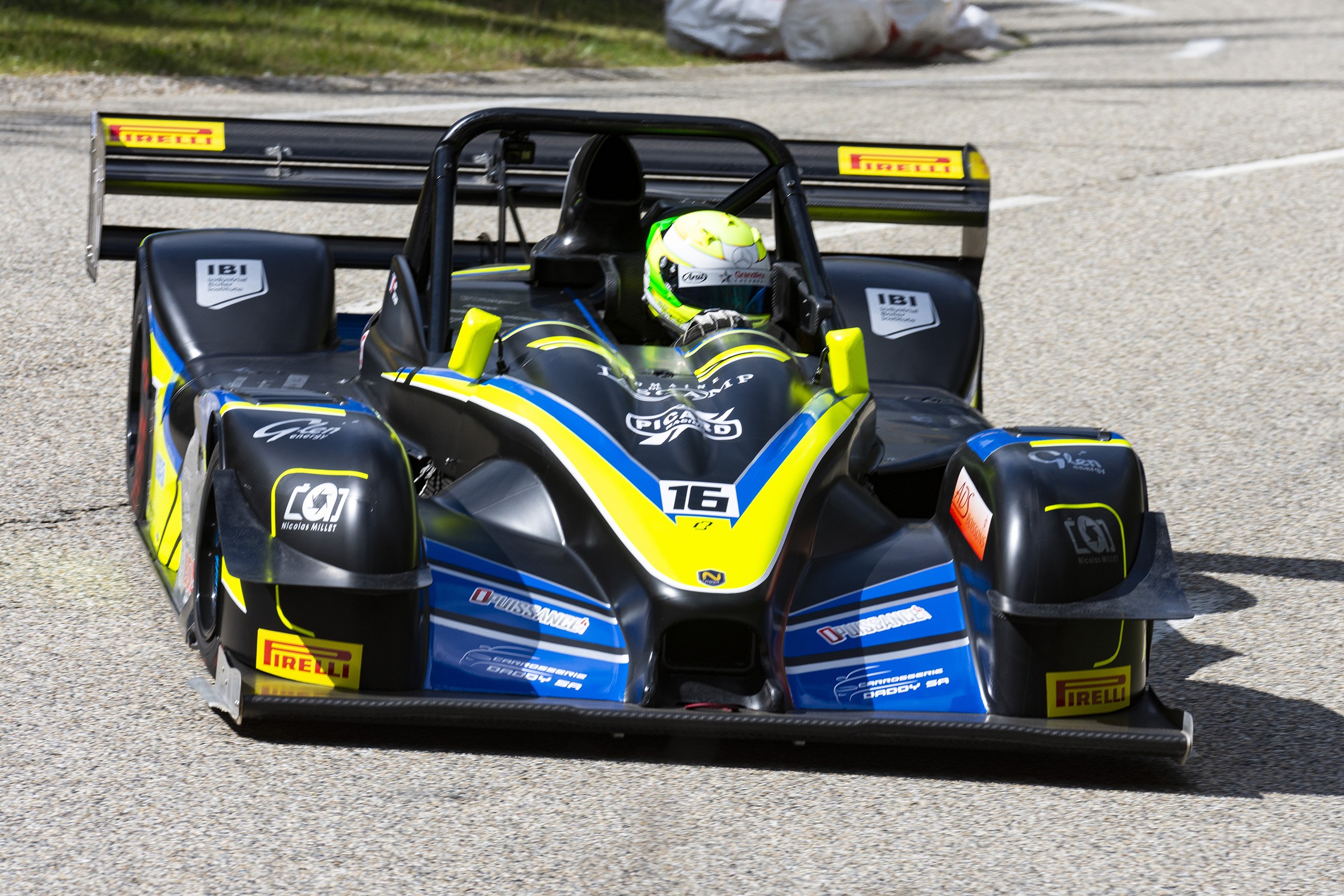 CATEGORIE 1 : SUPER GOLF
Avec une puissance avoisinant les 700 bhp, la VW Golf Rallye de Karl Schagerl appartient à la bien nommée famille des « Bergmonsters ». L'Autrichien a annoncé son intention de participer à l'intégralité du Championnat d'Europe, pour le plus grand plaisir de tous les organisateurs du continent et des fans des pays concernés. Bien qu'il découvrait le parcours, Schagerl a d'emblée dominé les essais. Il a ensuite signé le meilleur temps absolu des voitures fermées lors de la première montée de course. Des problèmes de transmission l'ont ensuite retardé dans la seconde ascension et s'il fut devancé dans cet exercice par la Lamborghini Huracan de Ronald Garcès, il n'en a pas moins gardé l'avantage au cumul des deux manches pour l'emporter au classement final. En plus des 25 points dévolus au vainqueur du Groupe 1, Schagerl décroche aussi les 10 points accordés au vainqueur absolu de la Catégorie 1 pour le classement dit du « Best Performer ».
Montant en puissance et en confiance au fil des manches avec sa Mitsubishi Lancer, le Croate Tomislav Muhvic a coiffé sur le fil la Porsche 911.2 Cup du Français Paul Reutter pour s'adjuger la victoire dans le Groupe 2. Anthony Dubois y a placé son Alpine A110 GT4 au troisième rang, devant Christian Schweiger, qui revient aux affaires avec sa Mitsubishi Lancer.
Champion en titre, l'Italien Antonino Migliuolo a découvert en France qu'il lui faudrait composer cette année avec une opposition plus affirmée qu'en 2020, en particulier avec l'ex-double Champion d'Europe (2014 et 2015) Igor Stefanovski. Le Macédonien et sa Hyundai i30 TCR ont devancé de 3 gros dixièmes de seconde la Mitsubishi de Migliuolo, mais ont néanmoins dû céder la victoire du Groupe 3 au Français Nicolas Granier, le plus rapide aux commandes de sa Seat Leon Cup Racer.
Le Groupe 4 a vu le succès du pilote du Montenegro Vasilije Jaksic (Mitsubishi Lancer), devant le Polonais Janusz Grzyb (Honda Civic) et Jiri Osmera (VW Scirocco), tandis que Piotr Ilnicki (Honda Civic) a remporté le Groupe 5 devant son compatriote Maciej Serafin (Renault Clio).
Le Championnat d'Europe s'apprête à traverser un intense mois de mai, avec une succession de trois épreuves en l'espace de quatre semaines : Falperra (Portugal) le 8 mai, Al Fito (Espagne) le 15 mai et Ecce Homo-Sternberk (Rép. Tchèque) le 29 mai 2022.
Tous les classements de cette première épreuve du Championnat d'Europe de la Montagne de la FIA 2022 peuvent être consultés ici.
Des galeries photos sont visibles via les liens suivants : FIA web, FIA facebook, FIA twitter , FIA facebook Masters et fia instagram.