Education, motor sport and fun waiting for girls in Berlin!
The FIA Women in Motorsport Commission, in collaboration with Susie Wolff, continues its drive to engage young girls to look at the multitude of career opportunities in motor sport and the second FIA Girls on Track-Dare to be Different event now heads to Europe to inspire, motivate and enthuse.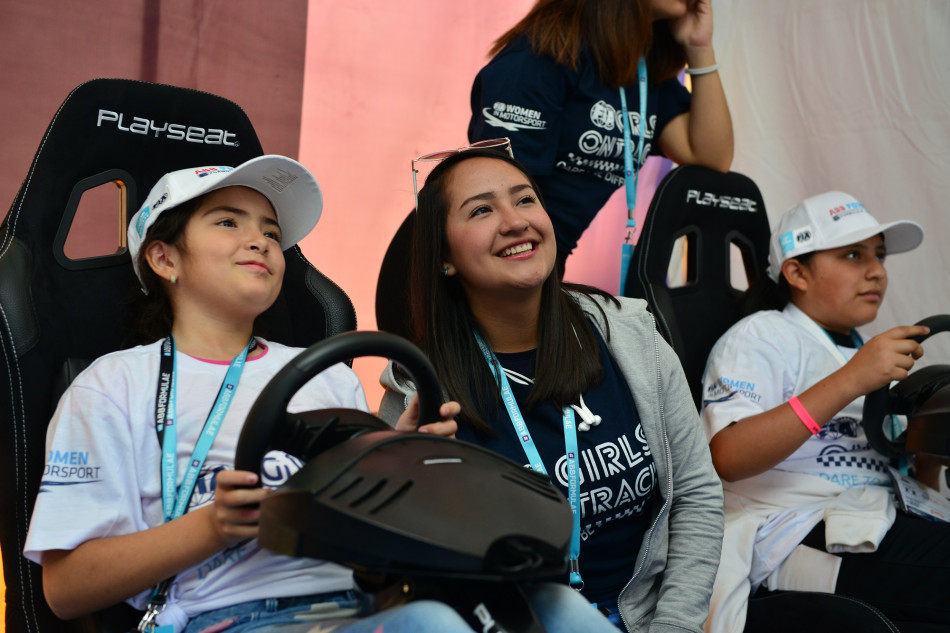 After the success of the pilot event in Mexico City earlier this year, FIA Girls on Track-Dare to be Different will next be hosted at the 10th round of the ABB FIA Formula E Championship, the Berlin E-Prix (23-25 May).
This exciting project provides a unique opportunity for girls between the ages of 8 and 18 years old to check out the world of motor sport and the many and varied career opportunities open to them. In what some still consider to be a male-dominated environment, FIA Girls on Track aims to shed any preconceptions and demonstrate that motor sport is all-inclusive and open to everyone.
"Our FIA Girls on Track event is the perfect opportunity to show young girls what is accessible to them in motor sport and potentially a competitive career in a mixed environment," said Michèle Mouton, President of the FIA Women in Motorsport Commission. "There are so many different areas they can become involved in and being able to inspire at a young age, before career decisions are made, is so important. Across all areas we need to increase female representation and to do this we need to open young eyes to the opportunities and immerse young girls in a world they may not even have considered. It's exciting to think these events could shape future decisions and encourage young girls to follow a path in motor sport."
While educational, it's also fun!
The event combines a whole of host of activities, affording young girls an exceptional chance to explore the high-octane world of motor sport and see first-hand the roles many women already have. Enjoyable STEM tasks seek to inspire girls towards these science, technology, engineering and mathematics subjects and the possibility of a career in more technical areas of the sport, while a media workshop allows them to slip into the role of a television journalist and present to camera. They also get to meet some of the many highly-successful ambassadors representing women in motor sport who aim to give personal insights into their different occupations and provide inspiration to the girls we hope are part of the future generation of women in motor sport.
Road safety activities aim to demonstrate the dangers around distraction behind the wheel, and environmental awareness seeks to show how we can all do something to help protect our planet.
And, for the girls who want to experience the adrenaline rush of motor sport, there's the chance to get behind the wheel of a go-kart for laps around a purpose-built slalom course.
With the support of Formula E and the teams participating in one of the most modern series in motor sport, the girls also get to go behind the scenes in the pit lane and paddock, see the all-electric Gen2 race cars close up and meet some of the championship's most successful drivers.
All girls between 8-18 years are invited to attend, free of charge, to have a truly memorable day discovering a whole new world in motor sport.  
The FIA Girls on Track event takes place in the grounds of the Tempelhof-Ring in Berlin and girls are welcome to register according to the following schedule:
Thursday 23 May 08:30 – 14:00 hrs
Thursday 23 May 13:00 – 18:30 hrs
Friday 24 May  08:30 – 14:00 hrs
On Friday 24 May (13:00-18:00 hrs) no registration is necessary; all 8-18 year old girls are welcome to come and try, and on Saturday 25 May the event is open to everyone between 08:30-18:00 hrs.
A number of ambassadors showcasing the roles of women in motor sport will be available for media interviews according to the following schedule:
Thursday
Sophia Flörsch, driver, Formula Regional European Championship
Tanja Bauer, Sports reporter and TV presenter
Cristiana Pace, Motorsport consultant and PHD researcher
Thursday afternoon/Friday
Michèle Mouton, President of the FIA Women in Motorsport Commission
Leena Gade, three-time Le Mans-winning race engineer
Tanja Bauer, Sports reporter and TV presenter
Cristiana Pace, Motorsport consultant and PHD researcher
On request
Susie Wolff, founder of Dare to be Different and Venturi Formula E Team Principal
Katherine Legge, IMSA and Jaguar I-Pace driver

For further information or to schedule an interview, please contact
Hayley Gallagher     
FIA       
e:  Hgallagher-consultant@fia.com   
m: +44 7887 508890
    
Bettina Eichhammer
Dare to be Different
e: bettinaeichhammer@daretobedifferent.org 
m: +49 175 4169693