This page contains archived information and may not display perfectly
CROSS COUNTRY – WORLD CUP CONTENDERS HIT PROBLEMS; TITLE FIGHT GOES TO THE FINAL LEG
Nasser Al-Attiyah and Stéphane Peterhansel were both dealt blows today, as Carlos Sainz took another stage win and Giniel de Villiers claimed the lead for Toyota.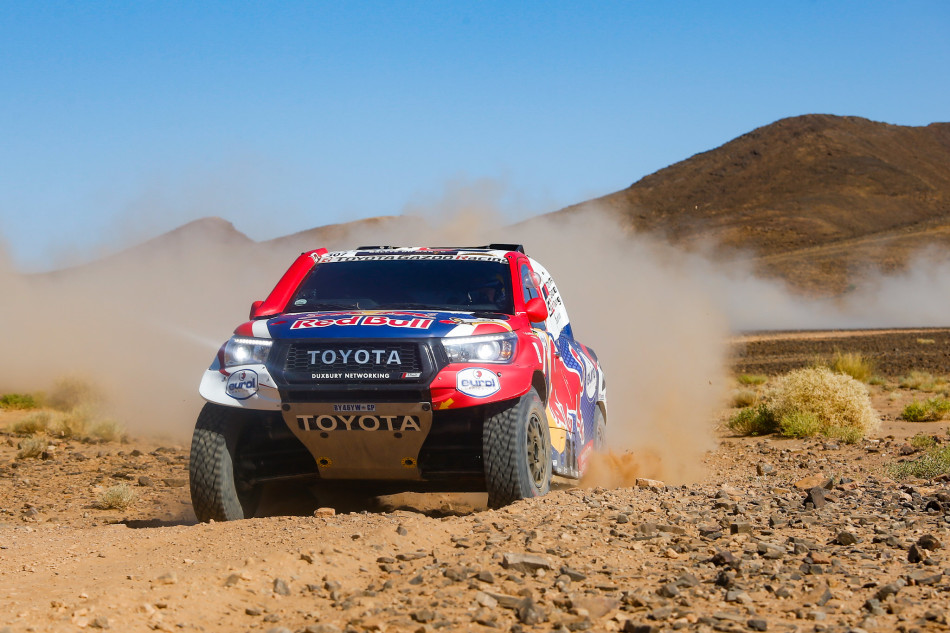 The top of the Rallye du Maroc leaderboard and fight for the FIA World Cup for Cross Country Rallies title was turned on its head today as both Nasser Al-Attiyah/Mathieu Baumel and Stéphane and Andrea Peterhansel hit problems in the penultimate leg while holding first and third positions respectively. Giniel de Villiers/Alex Haro now inherit the top spot from their team-mates and take a four minute 47 second advantage over the MINI crew of Carlos Sainz/Lucas Cruz into tomorrow's final section. Mathieu Serradori and Fabian Lurquin take the final provisional podium position in their Century Racing CR6.
Today's penultimate leg saw the crews tackle a shortened 311-kilometre section and World Cup leader Al-Attiyah looked comfortably placed for a sixth consecutive Rallye du Maroc win and fifth title. However, 205 kilometres into the section the Qatari was struck with an electrical problem following an impact, forcing him to abandon the stage and be towed by fellow Toyota driver Erik van Loon. He has amassed penalties and has plummeted down the order to 20th.
Al-Attiyah's misfortune looked set to significantly benefit title rival Stéphane Peterhansel, until the Frenchman rolled in the section and dropped nearly an hour and a half making repairs to the stricken MINI. Having completed the stage, however, he and wife Andrea hold fifth position overall and, trailing Al-Attiyah in the World Cup standings by nine points, their hopes of claiming the title rely on them picking up a minimum of 10 points for fifth at the finish tomorrow.
"It's really a big mistake from my side," said Stéphane. "Less than 20 kilometres before the end there were two dunes and I thought on the right it was more progressive, so I decided to pass here to not lose too much speed. But there was a cliff of five metres. The speed was 10/15 kph, really slow, but I was not able to see because of the bonnet and when I started to go down we crashed the car. The shock absorber was destroyed and I was thinking it was finished. I'm really so disappointed because it was my fault and it was possible to win the race for Andrea and it would be really nice for the team. When we crashed I thought we lose the race, we lose the World Cup, we lose everything. I have won a lot of races in the past, but with Andrea it's really a good feeling and if we can win something together..."
At the head of the leaderboard, de Villiers dropped nearly eight and a half minutes to stage pacesetter Sainz and the scene is now set for an epic fight for victory between the Toyota and MINI drivers. They are split by four minutes and 47 seconds going into the closing kilometres. "We have to go for it, Carlos will push," said de Villiers. "Some races are crazy! The section was pretty nice at the start and then Al Rajhi caught us before he picked up a puncture. We then saw Nasser and tried to help, but there was nothing we could do. We did a wrong turn and did an extra 15 kilometres, which I was upset about, and we decided to push like mad for the last 60 kilometres. Then we saw Stéphane's car on its side, but they were both okay. It's been a bit of a crazy day."
Carlos Sainz and Lucas Cruz claimed a second consecutive stage win and the Spaniards climb from fourth to second with everything to fight for. "It will be full attack tomorrow, but it's a short day and you never know what can happen," said Sainz. "I'm happy with today, especially as opening the road is never easy. We lost the road a bit and got stuck in Stephane's dust for lots of kilometres, dropping three or four minutes."
Serradori completed the section in fifth position to move up the leaderboard, courtesy of the problems ahead, and the Century Racing CR6 driver heads into the final day in third.
He does however have a chasing Jakub Przygoński behind, the Pole and co-driver Timo Gottschalk 20 minutes further adrift and finishing today's stage second to Sainz. "It was a tricky stage with lots of stones, not easy to find the way and super hard navigation," said Przygoński. "We were lost in one place but the car has been good. I'm sad for Stéphane but happy they are okay."
Yazeed Al Rajhi and Michael Orr have moved into sixth, despite five punctures in the section. Nani Roma continues his training in competition in the Borgward and is seventh overall. "It was a busy day with some navigation problems and a puncture," said Roma, who was fourth through the section. "I'm happy to be here, learning all the time."
Reinaldo Varela/Gustavo Gugelmin have now moved into the lead of T3 and are eighth overall, nearly three minutes ahead of category rivals Aleksandr Dorosinskiy/Oleg Uperenko.
After amassing penalties for not completing yesterday's leg, Fernando Alonso and Marc Coma are down in 27th overall, but the Spaniards were seventh fastest through today's section despite punctures and stopping to try and assist team-mate Al Attiyah. "We had too many punctures again, one in the liaison and then we found out one tyre was not new and one was damaged," said the double FIA Formula One World Champion. "It left us with one tyre to change in the stage and at kilometre 90 we had a puncture and had to drive 210 kilometres to the end with no spare wheels. It was a very slow pace, I took it very easy. We saw Nasser and stopped and we took some tyres from him and took it easy to the end. If you see all the things that happened, these 27 minutes [we lost] were easily recovered so we could have done a very good stage.
"Cross country is very interesting how it develops day after day; problems to someone, problems to different people in different parts of the rally," continued the Spaniard. "So it's just a matter of having the least problems, because always you have some in the stage, but if you have a little less than the others sometimes you recover time. I'm enjoying it, but lacking a lot of experience and confidence in the car on the new roads and I need more kilometres; today was good to have 300 more or less clean. It's good experience and hopefully tomorrow we'll have a better opportunity to attack and have a little more pace."
The final day of competition takes the crews from Erfoud over a 168 kilometre selective section back to Fes for the finish where the winners of the Rallye du Maroc and the 2019 FIA World Cup for Cross Country Rallies will be crowned.
Rallye du Maroc – Provisional results after Leg 4 (19:04 hrs local)
| | | | |
| --- | --- | --- | --- |
| 1 | Giniel de Villiers/Alex Haro | Toyota Hilux | 15hr 25min 19sec |
| 2 | Carlos Sainz/Lucas Cruz | MINI John Cooper Works Buggy | 15hr 30min 06sec |
| 3 | Mathieu Serradori/Fabian Lurquin | Century Racing CR6 | 15hr 54min 00sec |
| 4 | Jakub Przygoński/Timo Gottschalk | MINI John Cooper Works Rally | 16hr 13min 52sec |
| 5 | Stéphane Peterhansel/Andrea Peterhansel | MINI John Cooper Works Buggy | 16hr 45min 01sec |
| 6 | Yazeed Al Rajhi/Michael Orr | Toyota Hilux Overdrive | 17hr 53min 12sec |
| 7 | Nani Roma/Dani Oliveras | Borgward BX7 DKR Evo | 18hr 03min 43sec |
| 8 | Reinaldo Varela/Gustavo Gugelmin | Can-Am Maverick | 18hr 06min 57sec |
| 9 | Aleksandr Dorosinskiy/Oleg Uperenko | Can-Am Maverick X3 | 18hr 09min 44sec |
| 10 | Sergei Kariakin/Anton Vlasiuk | Snag Proto | 18hr 11min 06sec |
Photo: @DPPI