Closing Date for 2023 FIA Cross Car Academy Trophy Looms
Third season of the FIA's off-road academy to begin in June. 
ASNs urged to support rising teenage stars of rally and rallycross. 
Inaugural series champion becomes Red Bull's youngest rally driver.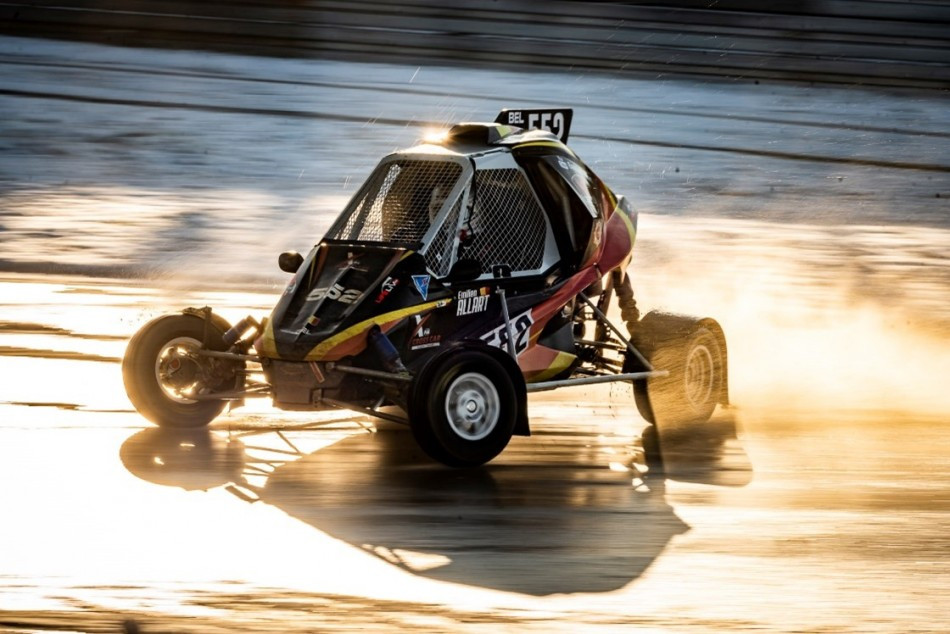 The closing date for aspiring rally, rallycross and autocross stars of the future to enter in this year's FIA Cross Car Academy Trophy is looming, with seats still available in this unique initiative to encourage the next generation of off-road stars. The official closing date for ASNs to register their drivers is Friday, May 12.
With a fleet of identically-prepared Cross Car buggies built, prepared and serviced by the expert team at LifeLive, the FIA Cross Car Academy Trophy is undeniably the most cost-effective route for drivers aged between 13 and 16 years to build international competition experience. 
The LifeLive TN5 is a purpose-built competition Cross Car buggy designed and built by the Belgian specialists under Yannick Neuville, with input from 17-time World Rally Championship event winner Thierry Neuville and the FIA. 
With a 75-horsepower motor, resilient driver's safety cell and outstanding handling properties, the TN5 provides all the qualities needed from which to nurture young talent and witness it in close competitive action. Recently, the LifeLive TN5 has also been seen in action with Thierry Neuville, Max Verstappen and other leading talents at the wheel in promotional and competitive appearances.
In addition to the high-quality machinery, the expert training and guidance from LifeLive's staff throughout the season has proven hugely beneficial to competitors in the FIA Cross Car Academy Trophy since its founding in 2021. Each race weekend comprises practice sessions, qualifying, three heats and a final. In the event of a high number of subscriptions, there is provision for semi-finals to be added to the schedule, meaning that the minimum number of track sessions is six per weekend.
The inaugural series champion, Spaniard Gil Membrado, was recently signed as the youngest-ever rally driver to join the Red Bull athlete programme, competing in the Spanish Super Rally Championship at just 15 years of age alongside former WRC event-winning co-driver Carlos del Barrio. 
The champion of 2022, Miguel Gayoso, is also aiming high with his plans for 2023 by becoming a LifeLive driver in the entire Senior European Championship and the Spanish Autocross Championship, while runner-up Valentino Ledda won his first event in this year's Italian National Rallycross Championship.
Competitors in the series to date have hailed not only from Spain but also Italy, Belgium, the Czech Republic, Norway, France, Germany, Ireland, Luxembourg, Cyprus and Kenya. With entry fees capped at just €21,250 for the 2023 season, the series continues to offer unbeatable value for money as well as an excellent proving ground.
The FIA's support extends further, with a dedicated media delegate on hand to host media at events, prepare and distribute media materials and provide social media content. Additional media training and support will also be available upon request.
For the 2023 FIA Cross Car Academy Trophy, a five-round schedule is planned as a support category to the FIA European Autocross Championship. The season will begin at the picturesque Matschenberg Off-Road Circuit in eastern Germany on June 24-25, then move on to France, the Czech Republic, Italy and Spain before the champion is crowned.
Andrew Wheatley, FIA Rally Director, said: "In the space of just two seasons, the FIA Cross Car Academy has proven itself as a genuinely world-class training ground for young talent at an outstanding price point.
"The action is close and exciting, the comradeship between these young drivers is incredible and the value that we sought to drive in creating the initiative is evident. LifeLive has granted the FIA and its member clubs a unique opportunity to provide the one thing that young off-road stars have lacked for so long: dedicated training and high quality seat time."
Yannick Neuville, Managing Director at LifeLive said: "Now is absolutely the right moment for ASNs to engage with us and to offer their best young talent the opportunity to race, learn and grow with the FIA Cross Car Academy in 2023. 
"We want to meet and get to know all the drivers at the soonest opportunity, in order to begin working towards a successful start to the season. Between us, I believe that the FIA and LifeLive can be proud of our product, the value that it represents and the results that we can see in the young careers that are blossoming today. We want 2023 to be our best season so far."
2023 FIA Cross Car Academy Trophy Calendar
Round 1              Matschenberg, Germany                           June 24-25
Round 2              St Georges de Montaigu, France               July 22-23
Round 3              Prerov, Czech Republic                               August 26-27
Round 4              Maggiora, Italy                                             September 23-24
Round 5              Mollerussa, Spain                                        October 7-8
For full information on the FIA Cross Car Academy please visit: 
https://www.xcacademytrophy.com/wp-content/uploads/2023/01/XC-Academy-Trophy_Presentation-Marketing_23.pdf
To discuss participation in the series please contact:
LiveLive: Danny Müller, Commercial and Administrative Manager : d.mueller@life-live.be
Presentation, race highlights and season review photos and videos are available here:
https://www.xcacademytrophy.com/xc-academy-trophy/media-press-2/2022-2/
https://www.youtube.com/@lifelive2016