Chevrolet steamroller Moroccan streets
After struggling a bit more than it was expected in Valencia, the Chevrolet team resumed their dominant pace and claimed two impressive 1-2-3 finishes at Marrakech.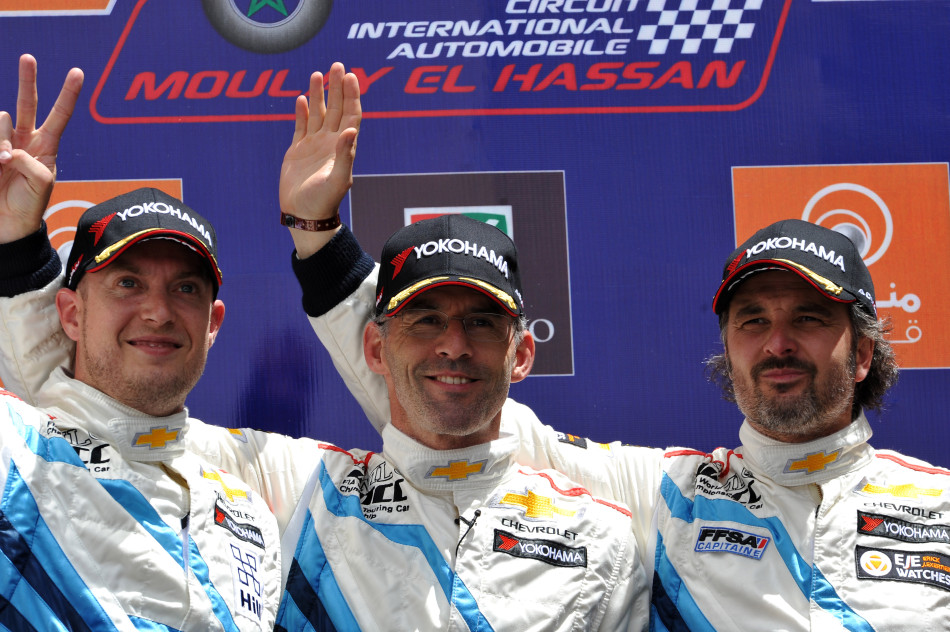 If this result was expected in the first race, after Alain Menu, Rob Huff and Yvan Muller had qualified in first, second and fourth respectively, the top-ten reverse grid was due to make like harder for the blue trio.
And instead, they managed to recover in only five laps, swallowing up the other competitors on the straight with awkward ease.
In the first race only Pepe Oriola was able not to lose contact, while in the second James Nash put up a decent a fight.
The young Englishman's four laps in the lead will remain in WTCC history, as they were the first ever for a Ford car in the championship. All in all it was a very encouraging weekend for Team Aon and their drivers, who were consistently fighting for top positions and eventually Nash and Tom Chilton scored their first points.
Oriola and Stefano D'Aste shared victories in the Yokohoma Trophy, just like they had done in the two previous events: first race to the young Spaniard and second race to the Italian. No surprise that they are now on top of the point table covered by only four points.
In the overall championship, Muller (130 pts), Menu (106) and Huff (97) have already created a gap, leaving Tom Coronel a further twenty points behind. An impressive D'Aste has climbed to fifth, one point ahead of his compatriot Gabriele Tarquini who suffered from a nightmare weekend.
The championship will resume at Slovakia Ring, on April 29 for rounds 7 and 8.
RACE 1 – MENU BEATS CHEVROLET TEAM-MATES
Alain Menu claimed his second consecutive victory of the season leading home a Chevrolet 1-2-3 with Rob Huff and Yvan Muller in second and third position respectively.
The trio led from the start, while drivers behind were fighting hard for positions. Pepe Oriola took a great start and managed to overtake Tom Coronel; a manoeuvre
that eventually gave fourth position to the young Spaniard, as well as victory in theYokohama Tophy.
Stefano D'Aste and Franz Engstler were able to finish fifth and sixth after a close battle with Tom Chilton who eventually was classified seventh, becoming the first Ford driver to score WTCC points.
His team-mate James Nash was less lucky, retiring just after the start when he was collected by Mehdi Bennani. Nash will start from pole in today's second race. Tom Coronel's hopes of a good result vanished when he was sent into a spin by Alex MacDowall; however the Dutchman did not give up and recovered to eight.
Key moments
Start – Menu takes the lead from Huff and Muller, while Oriola overtakes Coronel for
fourth
Lap 1 – Bennani hits Nash at Turn 1, both retire
Lap 1 – MacDowall misses the braking point at Turn 5 and collects Coronel, both rejoin
Lap 2 – Safety car on track to recover Nash's cars
Lap 3 – the race resumes, Tutumlu hits the wall at Turn 4
Lap 4 – Chilton overtakes D'Aste for fifth
Lap 5 – Monteiro pits with gearbox problems
Lap 7 – Di Sabatino and Dudukalo make contact at Turn 15
Lap 8 – Boardman, Cerqui, MacDowall and Barlesi fight for 12th position
Lap 10 – Cerqui spins at Turn 1
Lap 10 – D'Aste overtakes Chilton for fifth
Lap 11 – Engstler overtakes Chilton for sixth
Lap 11 – Coronel overtakes Michelisz for eighth
Withdrawals
J. Nash: race incident; M. Bennani: race incident; I. Tutumlu: race incident; C. Ng:
engine; Monteiro DNC: transmission.
RACE 2 – CHEVROLET TRIO IN REVERSE ORDER
The Chevrolet drivers encored the 1-2-3 finish in the second race; however this time they were classified in reverse order compared to Race 1: Yvan Muller won from Rob Huff and Alain Menu.
Despite starting from seventh, nine and tenth on the grid, the Cruze cars had no problems in recovering to fill the podium positions once again. Their superiority on the straight lines of Marrakech was overwhelming and the Muller-Huff-Menu express had no problems in overtaking the competitors one by one, lap after lap.
The rest of the field had to be contented to fight for positions from fourth onwards. And eventually Tom Coronel emerged as the best of the rest one more time, beating Yokohama Trophy winner Stefano D'Aste by inches.
Like in today's first race, one of the Ford cars scored points. This time thanks to James Nash, who even managed to take the lead for a few laps before being swallowed up by the Chevrolet men. And things for Team Aon could have even better without a technical problem that stopped Tom Chilton on his way to finish in
the points again.
Key moments
Start – Monteiro and Chilton make contact, while Nash takes the lead from Engstler and Coronel
Lap 1 – Nash complete Ford's very first WTCC lap in the lead
Lap 1 – Muller, Huff and Menu overtake MacDowall who was sixth
Lap 2 – Muller, Huff and Menu overtake D'Aste who was fifth
Lap 3 – Muller, Huff and Menu overtake Monteiro who was fourth and Coronel who was third
Lap 4 – Muller overtakes Engstler for second, they make contact; Huff overtakes Engstler for third
Lap 5 – Muller and Huff move up to first and second overtaking Nash
Lap 6 – Menu overtakes Nash for third; Coronel overtakes Engstler for fifth
Lap 7 – D'Aste and Oriola overtake Engstler who was sixth
Lap 8 – Chilton retires with turbo problems
Lap 9 – Nash drops to sixth behind Coronel and D'Aste
Withdrawals
I. Tutumlu: DNS; T. Boardman: DNS; G. Tarquini: suspension; A. MacDowall:
driveshaft; A. Cerqui: driveshaft; N. Michelisz: suspension; T. Chilton: turbo.
FLASH NEWS
NASH INHERITED POLE FOR SECOND RACE
For the first time a Ford car started from pole position in a WTCC race. It happened today, on the grid for the second race at Marrakech.
Team Aon's James Nash who had qualified 11th yesterday, was promoted to 10 after Gabriele Tarquini had his lap times disallowed because his car was found underweight during the technical checks. And because the reverse grid for the second race is based on the final result of Q2, Nash also inherited pole position.
As for Tarquini, the Stewards revised their decision and decided to disallow only the lap times he set in Q2. This resulted in the Italian driver taking the start from 12thposition instead that from the back of the grid.
RACE 2 PENALTY FOR DI SABATINO
Bamboo-engineering's Pasquale Di Sabatino received a 30-second time penalty in the second race that dropped him down from 12th to 15th in the overall classification and also cost him three points in the Yokohama Trophy.
The Italian drivers was punished by the Stewards for repeatedly cutting the chicanes; he had already received a warning for the same reason during Race1.
THE WORD TO THE WINNERS
Alain Menu (Race 1 winner):
"Everything worked just like I hoped it would. Obviously yesterday's pole position made things easier. What I had to do was taking a good start and then avoiding mistakes. I managed to do so and I'm quite pleased because
Chevrolet finished 1-2-3. I did create a gap on the first laps, though it was not on purpose. I was not pushing to the limit, but Rob was under pressure from Yvan and Oriola and this did not help him to keep in touch."
Yvan Muller (Race 2 winner):
"Again we had the best car on the track in the weekend. I am very pleased with this victory, because starting from seventh on the grid I did not expect to finish better than between fourth and sixth. I would be happy with that. I was especially fast between turns 1 and 2. There you have to sacrifice the first corner to be faster in the second. I overtook most of the other drivers there."