Blancpain Sprint & Blancpain Endurance 2014
Encouraged by the phenomenal success of the Blancpain Endurance Series, which has rapidly become a global reference for GT racing, world-renowned Swiss watch maker Blancpain and the SRO Motorsports Group today announce that they have reached an agreement to extend their partnership to the Sprint series, previously promoted as the FIA GT Series.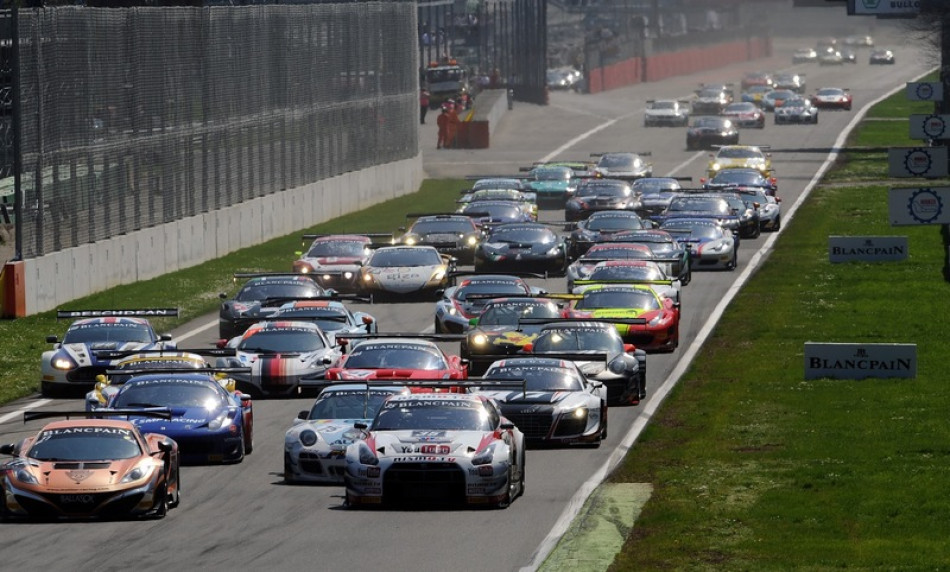 The Blancpain Sprint will be run over seven events with two races of one hour per event and the calendar is as follows:
• April 18th – 21st : Coupes de Pâques, Nogaro, France
• May 17th – 18th : Brands Hatch, Great Britain
• July 4th – 6th : Zandvoort , the Netherlands
• August 22nd – 24th : Slovakia Ring, Slovakia*
• September 5th – 7th : Algarve, Portugal
• September 27th – 28th or October 4th – 5th : Navarra , Spain
• November 1st – 2nd : Baku World Challenge, Azerbaijan**

It will distribute one of the most generous prize funds in European racing, with 100,000 euros available at each European race, in addition to the generous prize money of 175,000 euros awarded at the Baku World Challenge**. Particular emphasis will be placed on the promotion of future talents, with a significant part of the fund allocated to pairs of young drivers.

Blancpain Endurance and Blancpain Sprint will keep their separate classifications and award separate titles, but they will also be joined together through a Blancpain GT Series titles for teams and drivers, for those in a position to compete in both. An additional allocation of 100,000 euros, in addition to the Pirelli GT Trophy, valued at 140,000 euros in kind, will reinforce the attractiveness of the joint package. A very significant reduction in entry fees will be granted to teams competing in both on a full-season basis.

The calendar for the Blancpain Endurance is confirmed as follows :
• April 12th – 13th : Monza, 3 hours, Italy
• May 24th – 25th : Silverstone, 3 hours , Great Britain
• June 28th – 29th : Paul Ricard, 3 hours, France
• July 23rd – 27th : Total 24 Hours of Spa, Belgium
• September 20th – 21st : Nürburgring, 1000 km, Germany

The joint promotion of Blancpain GT Sprint and Endurance will allow for further progress in TV distribution, the details of which will be communicated in December.

The Blancpain GT Series will continue under its contract with Pirelli. In consideration for the budget of the teams, the number of sets of new tyres per Sprint event will be reduced to four.

Stephane Ratel, founder and CEO of SRO Motorsports Group:

"Bringing our exciting Sprint series, which will display its full potential at the Baku World Challenge next week, under the Blancpain banner, was a logical step forward in order to enhance the promotion of GT racing in Europe. As SRO, we are proud to be the first promoter to introduce such a level of financial rewards in GT Racing to promote talented young drivers and to increase our Series' professionalisation.
"We hope that many young drivers will take this route and thereby follow in the footsteps of Frédéric Makowiecki, Maxime Martin, Maximilian Buhk and the most talented graduates from the Nissan GT Academy among many others, in their promising professional careers. Nevertheless, the multi-category series, allowing the full diversity ranging from true gentlemen drivers to top pros, should remain the DNA of GT racing.

"I would like to express my gratitude to the President of Blancpain, Marc A. Hayek and the Vice President Alain Delamuraz for their support, both over the past three years and going forwards. To be associated with a company that shares so many of the values of GT racing, from tradition to innovation, is a privilege."

Marc A. Hayek, President and CEO of Blancpain:
"After three exciting years, during which the name Blancpain has firmly established itself in GT racing, I am pleased to extend our partnership to the exciting Sprint format and thereby contribute towards creating this new Series. There can be no better proof of my support than to announce that, with my team-mate Peter Kox, we are happy to be the first to confirm our entry in the new Blancpain Sprint.
"We are looking forward to the new season, where we trust we will enjoy the diversity and a fair fight on the track, in an environment which respects competition. We are convinced that this powerful combination of Sprint and Endurance, with the support of Blancpain, will soon become the absolute reference in the world of GT Racing."

* pending circuit homologation
** pending promoter agreement