Big Belgian Crowd witness Victory for new Audi R18 Ultra
A large crowd of 31,000 braved the typically changeable Spa weather to see the WEC 6 Hours of Spa-Francorchamps and were treated to a great race and the first race and first victory for the new Audi R18 Ultra, a worthy successor to its distant ancestor the R8.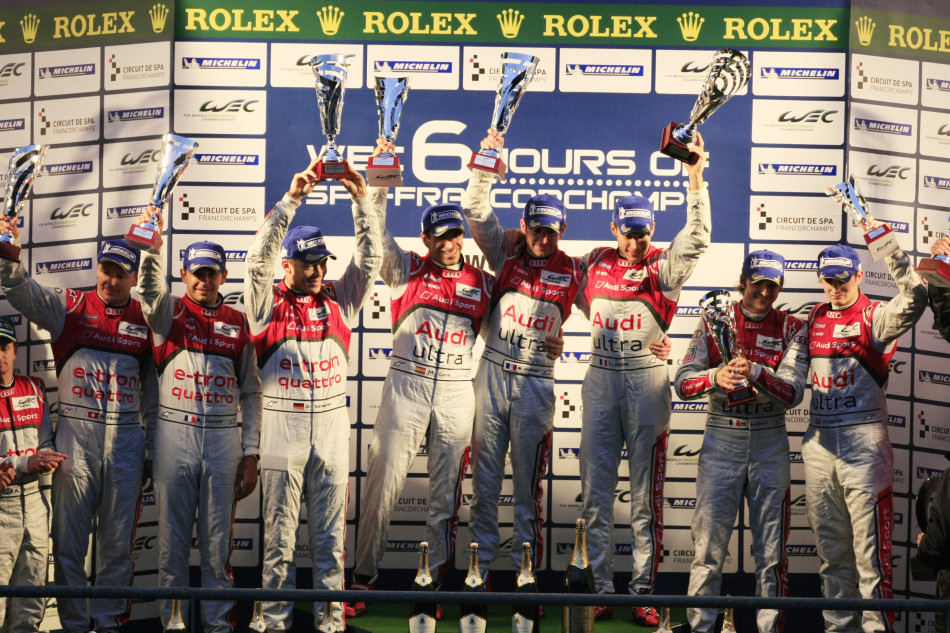 Romain Dumas, who won the 24 Hours of Spa in 2003 and 2010, Loic Duval, who won the 12 Hours of Sebring in 2011 and Marc Gené, who won the 24 Hours of Le Mans in 2009, led much of the race to clinch a victory for the first time together as a driver crew.
The last hour was relatively calm, drivers were careful to stay on the track and pass the chequered flag, but that did not prevent Marcel Fässler from setting the fastest lap with the Audi #1 twenty minutes before the end of the race, a few minutes after an unexpected pitstop due to a puncture. The Audi #2 was served with a stop and go for non-compliance with the refueling procedure and finished the race behind the #4 Auto Sport North America R18 ultra. Behind the Audi #3, #1, #4 and #2, the two Lola-Toyotas of Rebellion Racing finished one behind the other in fifth and sixth places.
No change at the top of the LMP2, LMGTE Pro and LMGTE Am: the final ranking reflected the standings after five hours of racing. The Zytek-Nissan #38 of Jota in LMP2, which finished just 6 seconds ahead of the nr25 ADR-Delta Oreca Nissan after a late stop go penalty for exceeding the pitlane limit. The Porsche #77 of Felbermayr-Proton in LMGTE Pro clinched victory by just 0.6 seconds over the #51 AF Corse Ferrari at the chequered flag. The Porsche #67 of IMSA Performance Matmut Porsche claimed a double GTE win for the German manufacturer, finishingwhere they started 6 hours earlier at the front of the LMGTE Am field.
"This weekend has been a big success and the FIA World Endurance Championship provided visitors to Spa with some fantastic racing," said Gerard Neveu, the CEO of the FIA WEC. "Spectators were also entertained by a variety of other activities around the circuit that provided everyone with a value for money day out for the whole family. I'd like to thank everyone involved, the drivers, the teams, the sponsors and partners."
Round 3 of the FIA World Endurance Championship will take place at the world famous 24 Heures Du Mans on the 16/17 June.