Belgian GP : Grosjean banned, Maldonado penalty
A chaotic start to the Belgian Grand Prix led to a busy evening for the FIA stewards.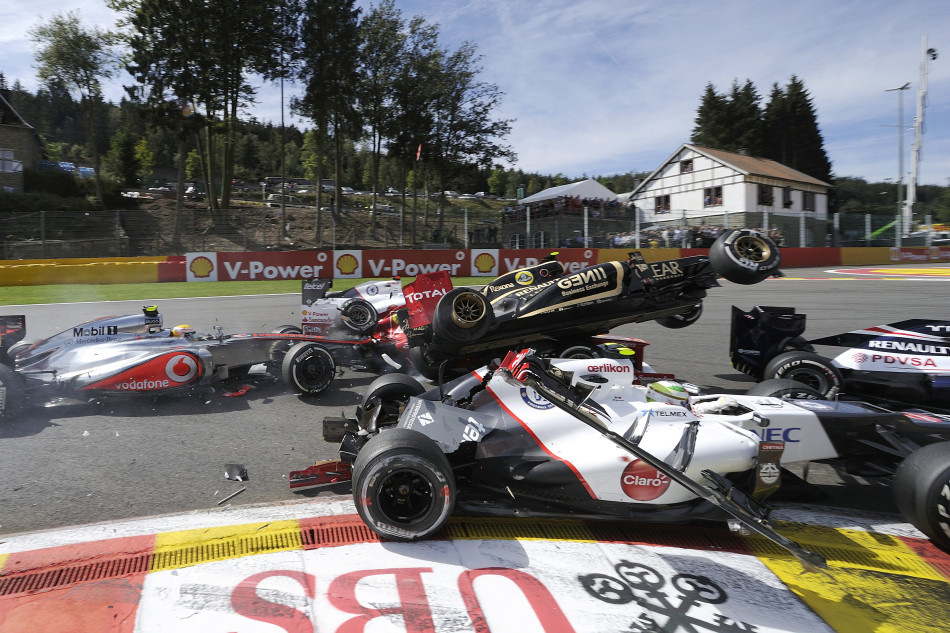 As has often been the case down the years, the La Source hairping was the scene of a major first-lap incident that took four leading cars out of the Belgian Grand Prix, damaged at least two more, and caused the race to run behind the Safety Car until the beginning of lap five.
  
The incident appeared to start when Romain Grosjean, starting eighth, moved across to the inside of the track and collided with Lewis Hamilton, who starting seventh. The pair stayed tangled and ran into the leaders who were braking for the hairpin. Championship leader Fernando Alonso, who started fifth, took a heavy hit, as did Sergio Pérez, who had started fourth. 
 
After the race, stewards determined Grosjean had breached Article 16.1(d), Article 18.1 of the FIA Formula One Sporting Regulations and Article 2(e) of Chapter IV Appendix L of the FIA International Sporting Code. He has been issued with one race ban and a fine of €50,000.
  
"When your life is all about racing, not being allowed to attend an event is probably one of the worst experiences you can go through. That said, I do respect the verdict of the Stewards," said Grosjean after the verdict. "I got a good start… and was heading into the first corner when the rear of my car made contact with the front of Lewis [Hamilton]'s. I honestly thought I was ahead of him and there was enough room for both cars; I didn't deliberately try to squeeze him or anything like that. This first corner situation obviously isn't what anyone would want to happen and thankfully no-one was hurt in the incident. I wish to apologise to the drivers who were involved and to their fans. I can only say that today is part of a process that will make me a better driver."
 
Along with the four drivers forced into retirement, the melée also caused damage to the cars of Kamui Kobayashi and Pastor Maldonado. Maldonado, however, had made a jump-start for which he will be penalised five places at the next race. The Venezuelan, having pitted and rejoined at the back of the field, was involved in a collision with Timo Glock which put the Williams driver out of the race. Maldonado, determined to be at fault for causing the collision, was given another five-place penalty on top of the one already levied. 
 
The stewards also fined Caterham €10,000 for an unsafe release on Heikki Kovalainen's car, but decided to take no further action when examining a Red Bull Racing release of Mark Webber, and an incident involving Michael Schumacher and Sebastian Vettel at the pitlane entrance.