Bamber storms to championship lead after dominant weekend
Porsche Carrera Cup Asia – Round 7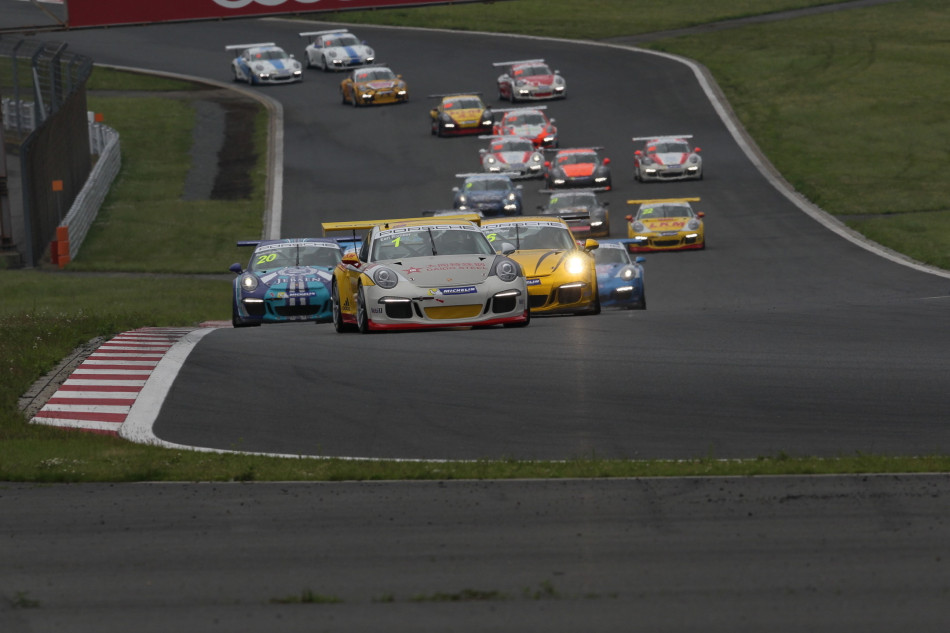 LKM Racing's Earl Bamber dominated Round 7 of the Porsche Carrera Cup Asia today, with a commanding run from pole to chequered flag at Japan's Fuji International Speedway. Second across the line after the 15-lap race for the second time this weekend was Porsche Holding's Martin Ragginger, but once again the Austrian was handed a time penalty for another coming together with the luckless Alexandre Imperatori of PICC Team StarChase. That gave Team Jebsen's Rodolfo Avila second place after the talented Macau driver had brilliantly fought off an unremitting challenge from Ragginger in third until a tangle with a back marker on the final lap saw him forfeit the position and cross the line third.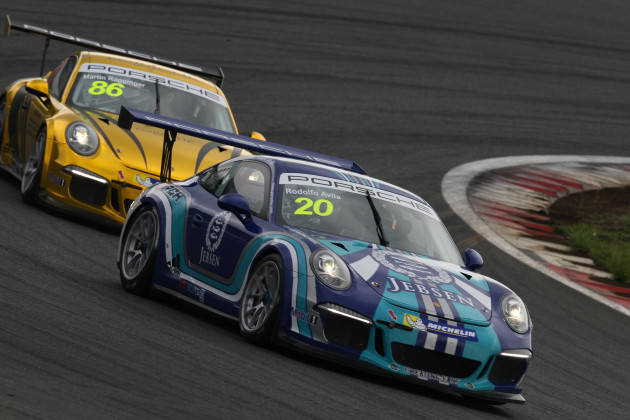 Third on the result sheet was Team C&D's Jason Zhang Zhi Qiang, demonstrating how the new China Junior Development Programme is paying rich dividends for its drivers.
The Round 7 Class B victory went to Japan's Hiroshi Hamaguchi, taking over driving duties at Clearwater Racing from regular driver Mok Weng Sun for the Fuji weekend. Second was Dorr Havelock Racing's Yuey Tan after a flawless drive, w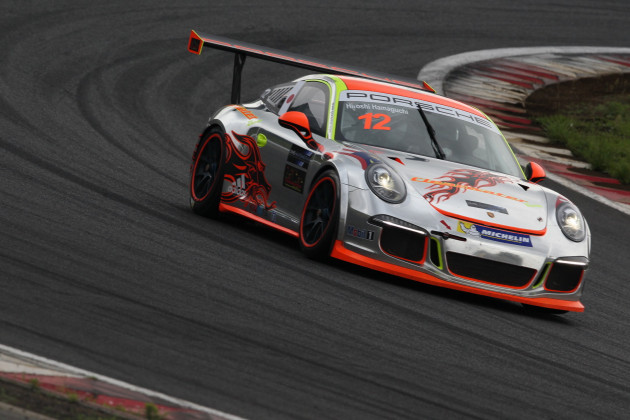 ith OpenRoad Racing's Francis Tjia in third.
Bamber's fourth victory of the season puts him at the top of the overall championship leaderboard, eight points clear of Ragginger in second, and 15 points clear of Imperatori in third. Nexus Racing's Alif Hamdan retains his lead in Class B, despite retiring before the start of Round 7 with a broken driveshaft on the formation lap. Francis Tjia of OpenRoad Racing lies second, just two points adrift, with Dorr Havelock Racing's Yuey Tan in third.
Said Bamber: "We've had a brilliant weekend in Fuji. It didn't start the best, but we finished exactly where we wanted. Now I can't wait for Malaysia, my home race, in August. This track is really amazing and it has been a privilege to be able to drive here in the dry. Japan really turned on the weather for us today."
Avila was understandably crestfallen after the podium ceremony, just minutes before Ragginger's penalty elevated him back to second, the position he had fought so hard to keep in the race: "It's not what we expected. We knew we had the pace here especially in the dry. In the first race, at the first corner I was a passenger and got taken out. I lost a lot of time but managed to finish fifth. This race was disappointing, especially as I was fighting so hard, pushing so hard. I knew Earl was gone but I was comfortably keeping Ragginger behind me until the last lap, at Turn 6 where a back marker turned in on me. We touched and I spun. I have to say though that I have fallen in love with this track and today I really felt I was in the zone and consistent in terms of lap times. The whole experience of being in Japan, the food the people, has all been spectacular and I hope one day we can come back."
For Tan it was a good day at the 'office', and he joined the chorus of praise for the circuit and the country: "This was a really good race, nice and clean from start to finish. I got off the line very nicely, and managed to close in on Hiroshi for a few laps. After a while the tyres were going off a bit so I decided to play it a little bit safe and collect the points. It was fantastic to be in the dry, incredible scenery, clear skies, and corners that are real fast. It's always nice as a driver to be on the limit and load up the car, and it's been so great to have that race car feeling."
Bamber got away well from pole, with Ragginger, Imperatori and Avila packed nose-to-tail in the high-speed charge off the grid. As Bamber set about pulling out a gap, behind him Ragginger and Imperatori were engaged in a furious battle for position and, for the second time in as many races, the PICC Team StarChase driver was forced off, rejoining down the order and immediately embarking upon what was to be an epic comeback. Avila, meanwhile, seized the moment, diving past and up to second.
Ragginger then came under a spirited attack from Jason Zhang before closing in on Avila and piling on the pressure.
Next, all eyes were fixed on 2013 Class B champion Egidio Perfetti of Mentos Racing and Budweiser Team Absolute Racing's Tung Ho-Pin of China. With neither giving any quarter, the pair battled nose-to-tail and door-to-door in a white knuckle battle for fifth position.
Imperatori meanwhile was on his charge back up through the order, eventually diving past William Bamber after a thrilling dual and then temporarily being held at bay by Hamaguchi who defended well. There was no stopping the 2012 champion though.
Three laps from the flag and there was no let-up in tension, with Perfetti and Tung frequently two-abreast and still managing to close in on Jason Zhang despite their cat-and-mouse fight. Suddenly though, Imperatori appeared in their mirrors, diving first past Perfetti and then Tung on his furious charge through the field. 
Up ahead Avila continued to withstand everything Ragginger could find to rattle the Macau driver, putting in lap after lap of precise, controlled driving while remaining right on the limits. On the final lap though, all Avila's efforts were apparently for naught when he was hit by a back marker while passing, allowing Ragginger to storm by to cross the line second.
The Japan debut of the Porsche Carrera Cup Asia was nothing short of spectacular, with some of the most exciting racing in the series' 12-season history all played out amidst the dramatic setting of the iconic Fuji International Speedway. To a man, all the drivers were unanimous in their praise of the exception organisation of the Japanese circuit, the fantastically challenging track, and the warm welcome all received.
The Porsche Carrera Cup Asia begins the second half of its 2014 season at Malaysia's Sepang International Circuit with Rounds 7 and 8 to be held on August 15-17.
Porsche Carrera Cup Asia – Round 7
Results Round 7
| | | | | | |
| --- | --- | --- | --- | --- | --- |
| Pos | No | Driver/Nationality | Class | Entrant/Nationality | Time |
| 1 | 1 | Earl BAMBER (NZL) |   | LKM Racing (MAS) | 26:06.419 |
| 2 | 20 | Rodolfo AVILA (MAC) |   | Team Jebsen (HKG) | +20.212 |
| 3 | 66 | Jason ZHANG Zhi Qiang (CHN) |   | Team C&D (CHN) | +24.058 |
| 4 | 99 | Alexandre IMPERATORI (HKG) |   | PICC Team StarChase (CHN) | +26.576 |
| | | | | | |
| --- | --- | --- | --- | --- | --- |
| 5 | 58 | TUNG Ho-Pin (CHN) |   | Budweiser Team Absolute Racing (HKG) | +27.930 |
| 6 | 88 | Egidio PERFETTI (SIN) |   | Mentos Racing (SIN) | +28.735 |
| 7 | 8 | Ro.C. Skyangel (SIN) |   | Team Yongda Dongfang (CHN) | +29.886 |
| 8 | 22 | *William Bamber (NZL) |   | LKM Racing (HKG) | +36.269 |
| 9 | 12 | *Hiroshi HAMAGUCHI (JPN) | B | Clearwater Racing (SIN) | +41.807 |
| 10 | 5 | Yuey TAN (SIN) | B | Dorr Havelock Racing (SIN) | +46.102 |
| 11 | 11 | Ringo CHONG (SIN) |   | Team Kangshun (CHN) | +48.819 |
| 12 | 21 | Francis TJIA (HKG) | B | OpenRoad Racing (HKG) | +53.220 |
| 13 | **86 | Martin RAGGINGER (AUT) |   | Team Porsche Holding (CHN) | 26:17.191+45sec |
| 14 | 16 | Wayne SHEN (HKG) | B | Modena Motorsports (HKG) | +56.177 |
| 15 | 9 | LI Chao (CHN) |   | Team Betterlife (CHN) | +1:03.191 |
| 16 | 98 | Henri RICHARD (USA) | B | Silicon Tech Racing LLP (USA) | +1:13.073 |
| 17 | 28 | John SHEN (HKG) | B | Modena Motorsports (HKG) | +1:18.528 |
| 18 | 33 | Samson CHAN (HKG) | B | Samson CHAN (HKG) | +1:20.894 |
| 19 | 68 | MAK Hing Tak (HKG) | B | Kamlung Racing (HKG) | 1 Lap |
| 20 | **77 | Jacky YEUNG (HKG) | B | Tiger Racing Team (HKG) | 1 Lap |
| 21 | 3 | *Marcel TJIA (SIN) | B | OpenRoad Racing (HKG) | 1 Lap |
| 22 | 2 | Kenneth LAU (HKG) | B | Prince Racing Hong Kong (HKG) | 1 Lap |
| 23 | 6 | *John WONG (HKG) | B | John Wong (HKG) | 1 Lap |
| - | 55 | ZHANG Da Sheng (CHN) |   | Zheng Tong Auto (CHN) | N/C |
| - | 72 | Alif HAMDAN (MAS) | B | Nexus Racing (MAS) | N/C |
| - | 18 | ZHANG Zhen Dong (CHN) |   | Team Basetex (CHN) | N/C |
| - | 51 | Johnson HUANG (TPE) | B | Team BC (TPE) | N/C |
| - | **7 | BAO Jin Long (CHN) |   | Team Synsanly (CHN) | N/C |
*Non series registered
Fastest Lap: Earl Bamber/LKM Racing/1:43.804/158.248km/h
Overall Provisional Points after Round 7 (top 5)
| | | | | |
| --- | --- | --- | --- | --- |
| Pos | Comp No | Driver | Entrant | Points |
| 1 | 1 | Earl Bamber | LKM Racing | 99 |
| 2 | 86 | Martin Ragginger | Team Porsche Holding | 91 |
| 3 | 99 | Alexandre Imperatori | PICC Team StarChase | 84 |
| 4 | 58 | Tung Ho-Pin | Budweiser Team Absolute Racing | 76 |
| 5 | 20 | Rodolfo Avila | Team Jebsen | 68 |
Class B
| | | | | |
| --- | --- | --- | --- | --- |
| Pos | Comp No | Driver | Entrant | Points |
| 1 | 72 | Alif Hamdan | Nexus Racing | 100 |
| 2 | 21 | Francis Tjia | OpenRoad Racing | 98 |
| 3 | 5 | Yuey Tan | Dorr Havelock Racing | 93 |
| 4 | 28 | John Shen | Modena Motorsport | 59 |
| 5 | 16 | Wayne Shen | Modena Motorsports | 56 |