Bamber seizes pole after tense qualifying
Porsche SC Global Carrera Cup Asia – Singapore 2013, September 20-22, 2013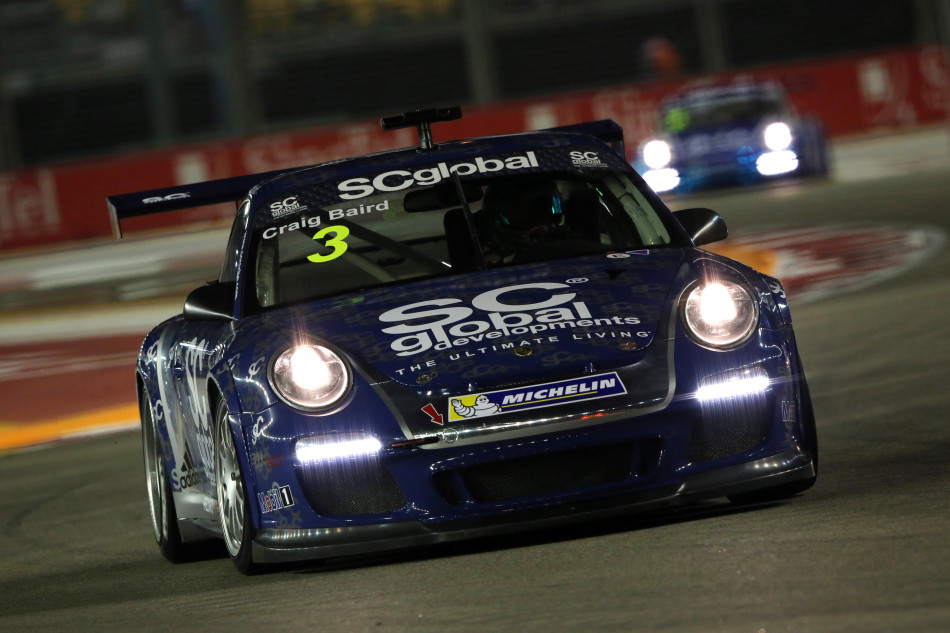 Porsche Carrera Cup Asia championship leader Earl Bamber of Nexus Racing snatched pole position for the Porsche SC Global Carrera Cup Asia – Singapore 2013 under the sparkling lights of the Lion City in the 30-minute nighttime qualifying session at the 2013 FORMULA 1 SINGTEL SINGPORE GRAND PRIX.
Joining Bamber, who is racing this weekend in Michelin livery, on the front row of the grid for Sunday's 12 lap thriller will be SC Global Racing's Craig Baird, a fellow New Zealander and winner of the race last year.  Reigning champion Alexandre Imperatori of PICC Team StarChase and 2013 title contender and pole man in Singapore last year, Team Eagle's Martin Ragginger, make up the second row of the grid.
Bamber is the only series driver so far to lap the 5.073km Marina Bay street circuit in less than two minutes and 20 seconds, but so close were the times that the top seven drivers were all within a single second of each other.
Said Bamber: "It was a really intense session. We had a little problem at the start and had to rectify it so it was a good turnaround by the team. We had to start from the back and we were lucky to get in a couple of good, clear laps. I knew the first set of tyres was not going to be enough and I knew I had to go out early in case there was a yellow. I improved our time just ahead of the yellow flags. It's great we can get a pole position and start on pole for the Singapore Grand Prix."
Baird, who is back with the Porsche Carrera Cup Asia for the first time since his victory in Singapore last year, was full of praise for the young pretender: "It was close [tonight] and it was close in practice as well. Congratulations to Earl, a young driver, leading the championship, good for him and good for New Zealand. When you're second, you're always looking at what can be better. The car is fine. At the end of qualifying, I was a bit rough around some of the edges and not piecing my best seconds together."
Fastest out on track in Class B was Team Mentos' Egidio Perfetti, who has dominated the category this season.  Perfetti lives in Singapore, so his home race holds a special significance:  "It was a lot of fun out there. Qualifying at night is really enjoyable and to have pole here on my home grand prix is nice too."
Second quickest of the non-professional drivers was OpenRoad Racing's Francis Tjia of Hong Kong, with Malaysia's Alif Hamdan of Nexus Racing third.  Singapore's Ringo Chong of Team Kangshun, who was 16th in the order behind fellow countryman Yuey Tan of Dorr McElrea Racing, was later handed a three grid position penalty for track limit infringements.
First to top the timing sheets at the start of the session was Macau driver Rodolfo Avila of Team Jebsen, with Budweiser Kamlung Racing's Tung Ho-Pin of China right behind.  However, it wasn't long before Bamber shot to the top of the order for the first time, grabbing provisional pole.  Imperatori dramatically snatched it back only seconds later after completing a blinding lap, but still only going five thousandths of a second quicker than Bamber.
After the fleet of Porsche 911 GT3 Cup cars had pitted for fresh Michelin tyres mid-way through the session, Baird was on the limit, leaping up the order from seventh to third, then going two better to take provisional pole.  Bamber responded with his impressive pole-setting lap of two minutes 19.955 seconds.  When series newcomer Mario Farnbacher, who had put in a strong performance on his Porsche Carrera Cup Asia debut with Team Betterlife to go eighth fastest at one stage, stopped on the side of the track, and Modena Motorsport's John Shen hit a barrier, the yellow flags came out and Bamber sealed pole position.
With the eyes of the world focused on Singapore this weekend, the 25-strong field will not disappoint as they battle for glory on the Marina Bay Circuit in the Porsche SC Global Carrera Cup Asia – Singapore 2013.