Bamber and Hamdan take victory apiece in Malaysian thriller
Reigning Porsche Carrera Cup Asia champion Earl Bamber and talented Malaysian Alif Hamdan took a win apiece in the opening round of the season today, held as part of the Malaysian F1 GP.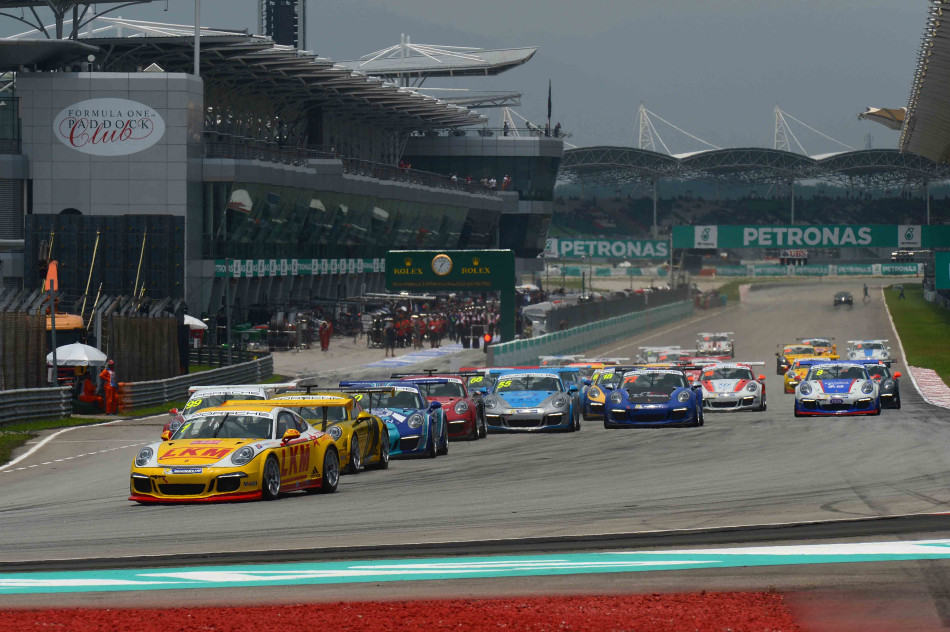 Twenty three-year-old Bamber, racing for LKM Racing, converted his pole position to snatch overall victory from Austrian Martin Ragginger of Team Porsche Holding, crossing the line more than three seconds ahead.  PICC Team StarChase ace Alexandre Imperatori joined the trio for the 10-lap sprint, having survived an early tangle with Team Jebsen's Rodolfo Avila. While Ragginger had the consolation of receiving his second place trophy from 'Sherlock' star Benedict Cumberbatch, Imperatori set the fastest lap of the race.
While the three fought for overall victory in the sweltering Malaysian heat, local hero Team Nexus Racing's Alif Hamdan capitalized on his impressive Class B pole position and sixth overall in qualifying, to take the first class win of the season in style.  Second in Class B was OpenRoad Racing's Francis Tjia, followed by series returnee Mok Weng Sun of Clearwater Racing who grabbed the final podium place from Dorr Havelock Racing's Yuey Tan on the final lap.  
While the 10 laps of the 5.54km circuit were action-packed throughout, two drivers stole the limelight.  In a remarkable jump in form, Zheng Tong Auto's Zhang Da Sheng challenged seasoned driver Tung Ho-Pin for fourth all the way to the chequered flag.
With all the drivers starting their first race in the new Porsche 911 GT3 Cup (Type 991), all 28 cars roared off the grid, dicing for position into Turn 1 as the 2014 Porsche Carrera Cup Asia season got underway.  While Bamber got away well, with Ragginger immediately giving chase, Imperatori came under pressure from a hard-charging Avila.  With the Team Jebsen trying to go around the outside, the pair made contact and the Macau driver spun out.  Imperatori recovered immediately, hunting down the leading pair.
Hamdan meanwhile hadn't got the best getaway, losing places to the three Zhangs: Zhang Da Sheng, Team C&D's Jason Zhang Zhi Qiang and series newcomer Zhang Zhen Dong of Team Basetex.  The three Chinese youngsters acquitted themselves superbly, demonstrating the benefit of the expert tuition they have been receiving under the new Chinese driver development programme from Porsche instructor Sascha Maassen.
Said Bamber, who immediately headed off for Porsche Mobil 1 Supercup testing in Barcelona:  "It was a challenge to hold off Martin [Ragginger] at the start, but by lap six we could pull away a bit.  It was just a matter of keeping my eyes forward, even though there was a big glaring gold car behind me!  It's going to be close all year. I've had a bit more testing, but the others for sure are going to catch up."
Ragginger meanwhile was philosophical, vowing to close the gap to Bamber and focusing on championship points:  "Our aim was as many points as possible in the first race as we have to get more used to the new car.  It's very difficult to overtake as the cars are so equal.  All three of us had good pace, and I knew with no mistakes Alex wouldn't be able to catch me.  But we definitely have to work to catch up."
Imperatori, too, knew the three were evenly matched in terms of pace:  "I didn't get a great first start in the new car – a good initial take-off and then I got bogged down.  Rodolfo tried to go on the outside but didn't give me room and there was a little contact.  I had the same pace as Martin and Earl, but it's difficult to pass which is testament to the level of this championship. I pushed very hard on the last lap but Martin defended very well."
For Hamdan, once again his pre-season hard work had paid off, with a faultless run to the first Class B victory of the season:  "I learned how to drive here at Sepang, and I'm pretty sure I've been working harder than anyone in my class. Our expectation for this season is top five at the end of the year, so we're really looking forward to Shanghai."
Zhang Da Sheng was thrilled to have made such great strides in the opening round: "Everyone was very nervous today, and the start was very important.  I got a good start and held my position, trying to fix what I did wrong in qualifying.  I did better, but it's still not enough for me.  Ho-Pin is very fast, and the whole race was really exciting.  He has speed and experience, and I tried to stay with him and overtake but I wasn't successful."
After a superb start to the 12th Porsche Carrera Cup Asia season, the 28 talented drivers next travel to the Shanghai International Circuit for the Formula 1 support race, the second of two which race on the same programme as the pinnacle of international motorsport.  From April 18 to 20, the battle for the two coveted championship titles will resume.
Round 1 - Results
| | | | | | |
| --- | --- | --- | --- | --- | --- |
| Pos | No | Driver/Nationality | Class | Entrant/Nationality | Time |
| 1 | 1 | Earl BAMBER (NZL) |   | LKM Racing Team (HKG) | 21:57.761 |
| 2 | 86 | Martin RAGGINGER (AUT) |   | Team Porsche Holding (CHN) | +3.280 |
| 3 | 99 | Alexandre IMPERATORI (HKG) |   | PICC Team StarChase (CHN) | +3.706 |
| 4 | 58 | TUNG Ho-Pin (CHN) |   | Budweiser Team Absolute Racing (CHN) | +13.799 |
| 5 | 55 | ZHANG Da Sheng (CHN) |   | Zheng Tong Auto (CHN) | +14.547 |
| 6 | 66 | Jason ZHANG Zhi Qiang (CHN) |   | Team C&D (CHN) | +15.018 |
| 7 | 18 | ZHANG Zhen Dong (CHN) |   | Team Basetex (CHN) | +19.427 |
| 8 | 72 | Alif HAMDAN (MAS) | B | Nexus Racing (MAS) | +19.955 |
| 9 | 8 | Ro.C. Skyangel (SIN) |   | Team Yongda Dongfang (CHN) | +21.556 |
| 10 | 88 | Egidio PERFETTI (SIN) |   | Mentos Racing Team (SIN) | +24.323 |
| 11 | 11 | Ringo CHONG (SIN) |   | Team Kangshun (CHN) | +36.668 |
| 12 | 9 | Li Chao (CHN) |   | Team Betterlife (CHN) | +47.292 |
| 13 | 21 | Francis TJIA (HKG) | B | OpenRoad Racing Team (HKG) | +49.742 |
| 14 | 12 | MOK Weng Sun (SIN) | B | Clearwater Racing (SIN) | +60.373 |
| 15 | 22 | SIU Yuk Lung (HKG) | B | LKM Racing Team (HKG) | +61.284 |
| 16 | 28 | John SHEN (HKG) | B | Modena Motorsports (HKG) | +69.326 |
| 17 | 68 | MAK Hing Tak (HKG) | B | Kamlung Racing (HKG) | +69.334 |
| 18 | 5 | Yuey TAN (SIN) | B | Dorr Havelock Racing (SIN) | +70.156 |
| 19 | 77 | Jacky YEUNG (HKG) | B | Tiger Racing Team (HKG) | +74.219 |
| 20 | 2 | Kenneth LAU (HKG) | B | Prince Racing Hong Kong (HKG) | +81.706 |
| 21 | 16 | Wayne SHEN (HKG) | B | Modena Motorsports (HKG) | +91.819 |
| 22 | 51 | Johnson HUANG (TPE) | B | BC Racing Team (TPE) | +92.661 |
| | | | | | |
| --- | --- | --- | --- | --- | --- |
| 23 | 3 | Michael S. (INA) | B | OpenRoad Racing Team | +93.639 |
| 24 | 6 | *Daniel BILSKI (HKG) | B | Daniel Bilski (HKG) | +113.746 |
| 25 | 98 | Henri RICHARD (USA) | B | Silicon Tech Racing LLC (USA) | +84.992 |
| - | 7 | BAO Jin Long (CHN) |   | Team Synsanly (CHN) | DNF |
| - | 33 | Samson CHAN (HKG) | B | Samson CHAN (HKG) | 1 Lap |
| - | 20 | Rodolfo AVILA (MAC) |   | Team Jebsen (HKG) | DNF |
*   Non series registered
*   Car 98 – 30 second time penalty – Causing a collision (Stewards decision No. 4)
     Fastest Lap: Alexandre Imperatori/PICC Team StarChase/2:10.531/Lap2/152.874kph
Overall Points after Round 1 (top 5)
| | | | | |
| --- | --- | --- | --- | --- |
| Pos | Comp No | Driver | Entrant | Points |
| 1 | 1 | Earl Bamber | LKM Racing | 21 |
| 2 | 86 | Martin Ragginger | Team Porsche Holding | 18 |
| 3 | 99 | Alexandre Imperatori | PICC Team StarChase | 16 |
| 4 | 58 | Tung Ho-Pin | Budweiser Team Absolute Racing | 14 |
| 5 | 55 | Zhang Da Sheng | Zheng Tong Auto | 12 |
Class B
| | | | | |
| --- | --- | --- | --- | --- |
| Pos | Comp No | Driver | Entrant | Points |
| 1 | 72 | Alif Hamdan | Nexus Racing | 21 |
| 2 | 21 | Francis Tjia | OpenRoad Racing | 18 |
| 3 | 12 | Mok Weng Sun | Clearwater Racing | 16 |
| 4 | 22 | Siu Yuk Lung | LKM Racing | 14 |
| 5 | 28 | John Shen | Modena Motorsports | 12 |