Autocross - French star Pepujol takes home ground advantage at Saint Georges de Montaigu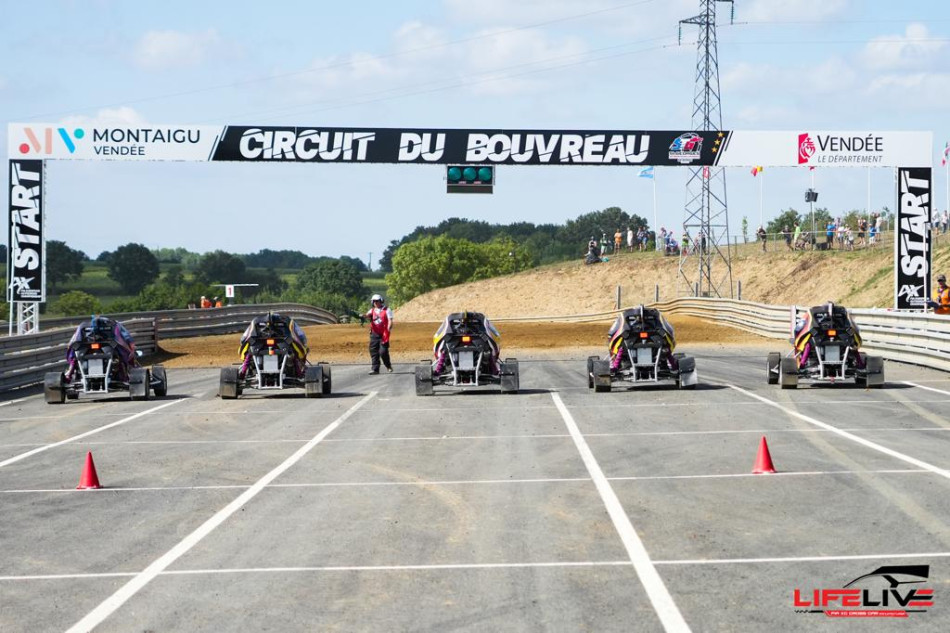 Huge and passionate crowds for the first day of FIA European Autocross and Cross Car action in France
Etan Pepejoul claims victory in the first heat of the weekend
Championship leader Emilien Allart loses time and starts from penultimate row for second heat
The second round of the 2023 FIA Cross Car Academy Trophy got underway at Saint Georges de Montaigu on Saturday, supporting the FIA European Autocross Championship at the popular venue in the Pays de la Loire.
The series, which began its third season at the Matschenberg Offroad Arena in Germany last month, is open to young drivers aged from 13 to 16 years who hope to progress towards a career in rally, rallycross or autocross competition. With a field of identically-prepared LifeLive TN5 buggies provided by the Belgian team run by Yannick Neuville, the drivers are supported by their national sanctioning body for the five-round series.
In practice, points leader Emilien Allart from Belgium set the pace for the first session, with fellow countryman Jordan Genten just 0.216 seconds behind him around the 930-metre hillside track. Pepujol was third by a margin of just 0.028s with Italy's Matteo Bernini the only other driver to break the 46-second barrier.
The second practice session was topped by Allart from Pepujol, Bernini and Genten, putting the two Belgians and the Frenchman on the front row of the grid for the first heat on aggregate time, with Bernini joined by Spain's Diego Martinez Gonzalez on the second row.
The third row saw Belgium's Lucas Cartelle line up alongside Monegasque driver Tomas Pregliasco and Argentinean Juan Manuel Grigera. Another Belgian, Marius Debuisson, was joined by Italy's Alexander Karim Mancusi on the final row.
At the start of the first heat, Allart got the worst start of the front three drivers, allowing Pepujol through into the lead with Genten second. Behind the leaders, there was disaster for Pregiasco and Grigera as they collided halfway round the first lap, their cars being too entangled to continue.
In his efforts to find a way around Genten, Allart suffered a puncture and dropped to the back of the field, putting him on the penultimate row of the grid for the second of three heats early on Sunday morning. When the three heat races are complete, the grid will re-form based on their total race time for what promises to be an all-action final in front of a capacity crowd.
Elsewhere on the racecard, the Cross Car Championship saw 2022 FIA Cross Car Academy Trophy champion Miguel Gayoso Vazquez once again put in a mature performance in the first qualifying heat, ending up in fourth place behind his illustrious LifeLive team-mate, David Méat, with local hero Vincent Priat taking the win from fellow countryman Kévin Belleville.
French joy continued as Malone Feuillade claimed victory in the Junior Buggy class and Thomas Christol topped the Buggy 1600 runners. In the 800hp Super Buggy class, defending champion Petr Nikodem flew the flag for Czechia by taking a hard-fought victory to open his weekend's campaign.
The action continues on Sunday with the second and third round heats, semi-finals and finals across all classes.