AUTO #31 - Creating a safe race strategy
From the highest levels of racing to grassroots competition, motor sport is back in action. But none of it would have been possible without a concerted effort by the FIA and its partners to establish a comprehensive set of guidelines that provide for racing in a post-COVID-19 world. AUTO looks the protocols that have allowed motor sport to fire up safely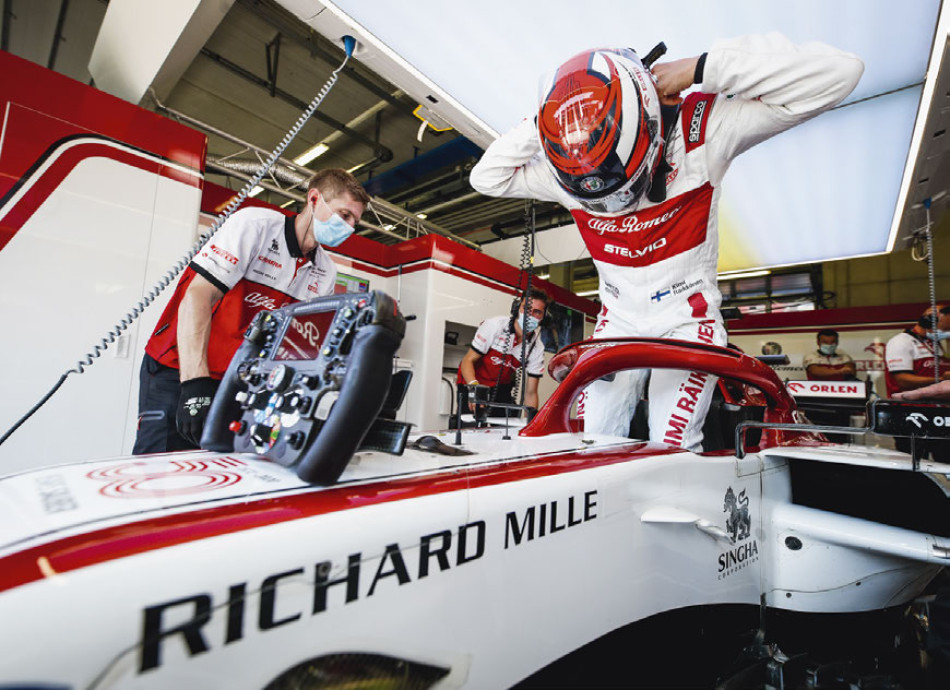 The cancellation of the FIA Formula 1 Australian Grand Prix in March, following a positive COVID-19 test for a member of the McLaren team, marked a watershed moment for motor sport in 2020. Over the following weeks, as the pandemic began its inexorable spread, an unprecedented domino effect took hold that led to an almost complete cessation of motor sport activity around the world.
As lockdown measures worldwide grew in number and severity, doubts remained as to whether an entire year of competition would need to be abandoned. But even as the crisis escalated plans to return to racing were already taking shape – with the formulation of a comprehensive set of guidelines designed to restart the engines of motor sport.
Developed in collaboration with FIA Member Clubs, governments, and the World Health Organization (WHO) and published in June, the FIA's Return to Motorsport Guidelines have been designed to assess the feasibility of hosting motor sport events safely in what is considered to be a 'mass-gathering' situation during a pandemic.
"It was three or four very difficult months because Coronavirus is still circulating," says Professor Gérard Saillant, President of the FIA's Medical Commission. "For the FIA, it was quite a big challenge, but we changed the impossible to possible due to the fantastic job by the FIA Safety Team, technical department, and everyone who was involved."
Dr Pau Mota, FIA Head of Medical and Rescue, explains that work on the guidelines began soon after the cancellation of the first F1 grand prix.
"It's been a huge amount of work. We started right after Melbourne," he says. "The first thing we did was start contacting other sporting federations, beginning with FIFA, to see what they were doing to get back to sport and we quickly realised that we were facing a different problem to football in that motor sport, and Formula 1 in particular, is more of an Olympic-style [international] event. An F1 race, even without spectators, and a double header of races in a single territory, involves approximately 2,500 people on-event, the vast majority of them coming from abroad. It's like a small Olympic games. Therefore we turned to the International Olympic Committee and we also got in touch with the World Health Organization, as they were working on the comeback of the Olympics in Tokyo at the time, which they eventually gave up. But we started working together to get our top championship, Formula 1, back racing."
For Adam Baker, Head of the FIA's Safety Department, the guidelines' goals revolve around a quartet of key aims.
"We want to prevent any infection to any attendees on-event, but most importantly we want to avoid any indirect harm to the wider community as a result of a motor sport event being held," he says. "To do that we have four main objectives: to help stakeholders run a mass-gathering event within the laws of the country; to provide health guidance for those stakeholders; to identify and share best practice, as the pandemic situation changes all the time and we need to continually update the protocols; and finally, how to manage a positive COVID-19 case."
An early consideration involved the assessment of risk in staging an event and ensuring that a secure environment could be established. In that regard the FIA turned to Peter Drennan, former Under-Secretary-General for Safety and Security at the United Nations.
"The goal was to assess the environment [in Formula 1], the level of risk and then bring in a systematic way of examining all the things you need to do to stage a grand prix and look at where the vulnerabilities exist. Finally, we needed to assess the most likely outcomes and the impact of those," he says of the security aspects of events.
"One of the really important aspects was that the WHO developed guidelines for mass gatherings including a risk framework, a mitigation framework, and a decision-making framework. Those formed the fundamentals. After that it was about establishing a crisis response framework – you prepare and plan, then you respond, you recover and eventually review, because there is always learning from experience."
PLANS PUT IN ACTION
In order to ensure the robustness of any stakeholder's response to staging an event during the pandemic, the guidelines act as a reference point of relevant information for motor sport organisers and, through the provision of risk and transmission mitigation measures as well as a framework for meeting government and local health regulations, are designed to allow stakeholders to host events safely. Key deliverables within the guidelines include: a standardised COVID-19 risk assessment template for use by key stakeholders; universal minimum risk mitigation strategies; the expectation that each stakeholder develops and implements a documented plan for their particular role/function at each event; a review, and where required, modified rules and regulations applicable to the sport and risk environment, and a mechanism by which governments and regulatory authorities are empowered to support the resumption of motor sport within their jurisdiction.
Once the guidelines were formulated, the next step, says Baker, was to frame a COVID-19 code of conduct for those taking part in an event, which on June 19 was approved by the World Motor Sport Council as an appendix to the International Sporting Code of the FIA.
"The Code of Conduct defines the responsibilities for event attendees and provides an enforceable legal framework to facilitate action by the FIA against anyone not applying the required COVID-19 mitigation measures," he says. "It extends the regulatory authority of the FIA to everyone attending the event in relation to COVID-19 mitigation measures and it also establishes a structure on-site, grouping attendees so they can be represented collectively by organisations, companies and other entities."
The acid test for the guidelines came just 112 days after F1's Melbourne cancellation with the delayed start of the 2020 season at the Austrian Grand Prix in Spielberg. There, ahead of qualifying for the opening race of the F1 season, and the first major motor sport event in more than three months, the FIA and Formula 1 reported that in the seven days leading up to the event more than 4,000 COVID-19 tests had been undertaken on F1 personnel. Not one returned positive.
"You can see that everyone is taking the guidelines seriously, doing the things they should do and there was compliance at all levels quite quickly," says Peter Drennan. "Whether it was that there is a culture of performance and safety connected to F1, I'm not sure, though I'm sure it played a part, but ultimately it worked because it was so important and everyone understood that we need to get it right."
FIA President Jean Todt, in Austria, was similarly impressed with the protocols and their application.
"What has been achieved is amazing. There has been fantastic coordination between the FIA team and the Formula 1 group, along with a very strong contribution from the teams," he said. "It is pleasing and rewarding. It is in stormy seas that you see how solid are the people, not when you have success but when it is tough. How the sport has dealt with the virus has been excellent."
Read the full Auto 31 here