This page contains archived information and may not display perfectly
AUTO #29 - Global Ambitions
The FIA World Cup for Cross Country Rallies is bringing in new rules and events as it sets the stage to become the next FIA world championship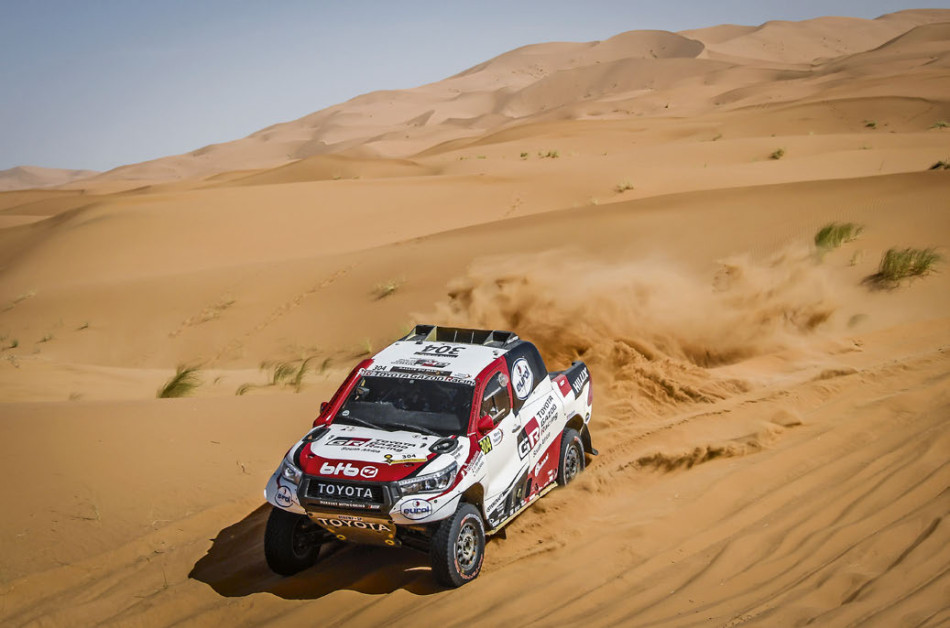 Whether drifting over the stony tracks of Morocco, cresting the sand dunes of Abu Dhabi, or watching the sun setting on the Kazakhstan landscape, there is one thing for sure: no other motor sport series brings you right into the heart of the most beautiful race locations like the FIA World Cup for Cross Country Rallies.
The series not only fuels fierce competition but also pushes man and machine to their collective limits over the most diverse and challenging terrain. It is possible that some fans have not heard of this daring discipline, but with new regulations and exciting new locations joining the calendar in 2020 it is aiming to drift into mainstream motor sport with style.
Last season, history was made when husband-and-wife duo Stéphane and Andrea Peterhansel became the first married couple to take the title.  
They raced hard throughout the four rounds to secure their cup victory in the last stage of the final event ahead of Nasser Al-Attiyah and Mathieu Baumel by just three points.
With such tight competition throughout the season, the series should arguably be getting more coverage and attention, and that is exactly what the new President of the FIA Cross Country Rally Commission Jutta Kleinschmidt intends to achieve. A Dakar Rally winner herself, Kleinschmidt aims to propel the World Cup forward, with the ultimate aim for the series to become a recognised world championship. 
"We are focusing on the future, what we can improve and what is necessary to make this sport great," says Kleinschmidt. "The technical and sporting regulations have been completely revised and a lot of changes will be implemented in 2020. Next year, we will continue to improve in all areas and push hard to be ready for the new world championship in 2021."
SHOWING THE WAY
A demonstration of the series' ambitions is the introduction of the Silk Way Rally for the first time. A Marathon 8,000km event, it will bring the World Cup into a new market, appealing to Asian viewers, and also become attractive to sponsors as the race crosses through several countries.
"It's important to get a Marathon event as usually we are racing for five days," says Kleinschmidt. "Cross Country has become known because people love adventure. Every single race day is a great challenge. It's very important that we keep and expand this kind of spirit. In addition, people still want to see really special and beautiful landscapes, and this is what you can see in Cross Country. Especially when you cross continents like the Silk Way Rally does."
The World Cup is not a series that just any event can be added to, especially as it strives to meet the requirements to be made a world championship by 2021. Even with nine years of rally-event experience, the Silk Way had to prove its worth before it was added for next season.
"We have the experience and the knowledge, and we have shown our capacity to create a big event with many challenging aspects, such as safety, logistic, crossing countries and customs," explains Frédéric Lequien, Deputy Director of the Silk Way Rally. "On the sporting side, the Silk Way has been won by the greatest champions. Every year, top teams and pilots come to compete. I guess it was kind of a win-win situation with the FIA, and we are so proud to be in the 2020 World Cup."
Lequien believes that his event can match the World Cup's ambitions. "Being part of the FIA World Cup is a new step for us. We strongly believe in the potential of this sport. If both the FIA and organisers work well together, we can do something absolutely great."
Despite having global events and impressive competition, the World Cup currently suffers from a lack of media coverage. Integrating big events like the Silk Way Rally and having champions from other racing disciplines enter in races, such as two-time Formula 1 World Champion Fernando Alonso, who participated in the 2019 finale in Morocco, helps give the sport a needed boost.
"Television is very important and particularly today when we are using video. We use the latest technology to capture the story and the dramas of the competition," says Lequien. "We do put these videos in front of the eyes of the viewers using our large global network of television channels and on social media. In the last two years, we have managed to grow our visibility on traditional television, expanding from coverage on 60 television channels worldwide to 78 channels. The Silk Way Rally is now available to watch in five of the seven continents.
"Of course, we know that the television market is changing – now viewers want to watch their popular sport on their phones, tablets and laptops. So we are also focusing on those developing platforms by sharing coverage also  on social media."
Kleinschmidt is only too aware of this changing media landscape. "I think it's much more important today to have more audience on digital channels, a bit like the example of the FIA World Rally Championship [WRC]," she says. "WRC is not really one broadcast channel, it's more broadcasts on national channels, but they have an OTT platform called WRC+. This broadcasts the whole event live and I think this is more what you're looking for in the future. The future audience likes to follow the sport live on mobile devices instead of sitting in front of the  TV at a certain time."
To help further increase worldwide media coverage, the FIA has decided to choose a promoter for the new world championship in 2021. An invitation to tender was published in November 2019.
YOUTH APPEAL
Future innovations hold the key to success according to Kleinschmidt, and this reflects in the proposed new direction of the series in 2020 and beyond. In the 2019 season there was a split into two different World Cups, with a second one for 
Bajas, which are shorter events that last no longer than three days and are aimed at attracting younger competitors in particular.
One of the most exciting directions next year is its focus on helping young racers get a foot in the door of the racing series. The 2020 season sees a new World Cup title introduced for series Side by Side Vehicles (SSVs). This group is aimed at younger racers as an entry point into the series, with the aim to keep costs as low as possible through new technical regulations.
"Up to now we do not have an affordable entry level," says Kleinschmidt. "But we need young new talents as they will be the stars of tomorrow. When young drivers enter into Cross Country sport, they usually have to buy a driver seat from a team, either by having the budget themselves or getting it through private sponsors. But finding big budgets is usually very difficult, especially if you are still unknown. Therefore, it is extremely important to have an affordable entry level.
"Through this new SSV category young talents can show that they are good and they deserve publicity. This will make it possible to find sponsors and move up to the next level."
By breeding its own future stars, the series hopes to increase interest among the younger generation. Two world-class manufacturers have already seen the potential of this new class, with Yamaha and BRP-CanAm confirming that they will enter cars. 
There are also plans to develop a new prototype truck regulation ready to be integrated into the series in 2021, when it aims to be classed as a world championship.
This is the first overhaul of the regulations that the World Cup has seen in many years and looks to be having a positive impact on the discipline as a whole. The rules will look very different for 2020 as the series gets a top-down redesign.
As Kleinschmidt says: "It's a mixture of lack of publicity and expensive entry level which has hindered the World Cup in the past, and we aim to change both for the future."
EYES FORWARD
To promote the interest of manufacturers in the future, it is necessary to evaluate which new technologies could be integrated into Cross Country rallying.
"The automotive industry is facing major changes," says Kleinschmidt. "Manufacturers  have to develop more environmentally-friendly technologies and are very interested in fuel cell electric vehicles (FCEV) in addition to battery electric vehicles (BEV).
"We can see great potential for Cross Country in fuel cell technology. There are already teams that have shown an interest in building an FCEV for Cross Country rallies. It is very important that we provide a technical regulation as soon as possible to include this kind of car."
Clearly, Kleinschmidt envisages a bright future as she looks to improve on every element of the series, from regulations and competitors to media and technology. With the German at the helm, Cross Country is set for a thrilling ride. 
Read the full AUTO #29 Magazine here.