AUTO #24 is available
Dear reader,
The cover story of this edition of AUTO features Felipe CALDERON, the former President of Mexico and the new president of the FIA ENVIRONMENT AND SUSTAINABILITY COMMISSION.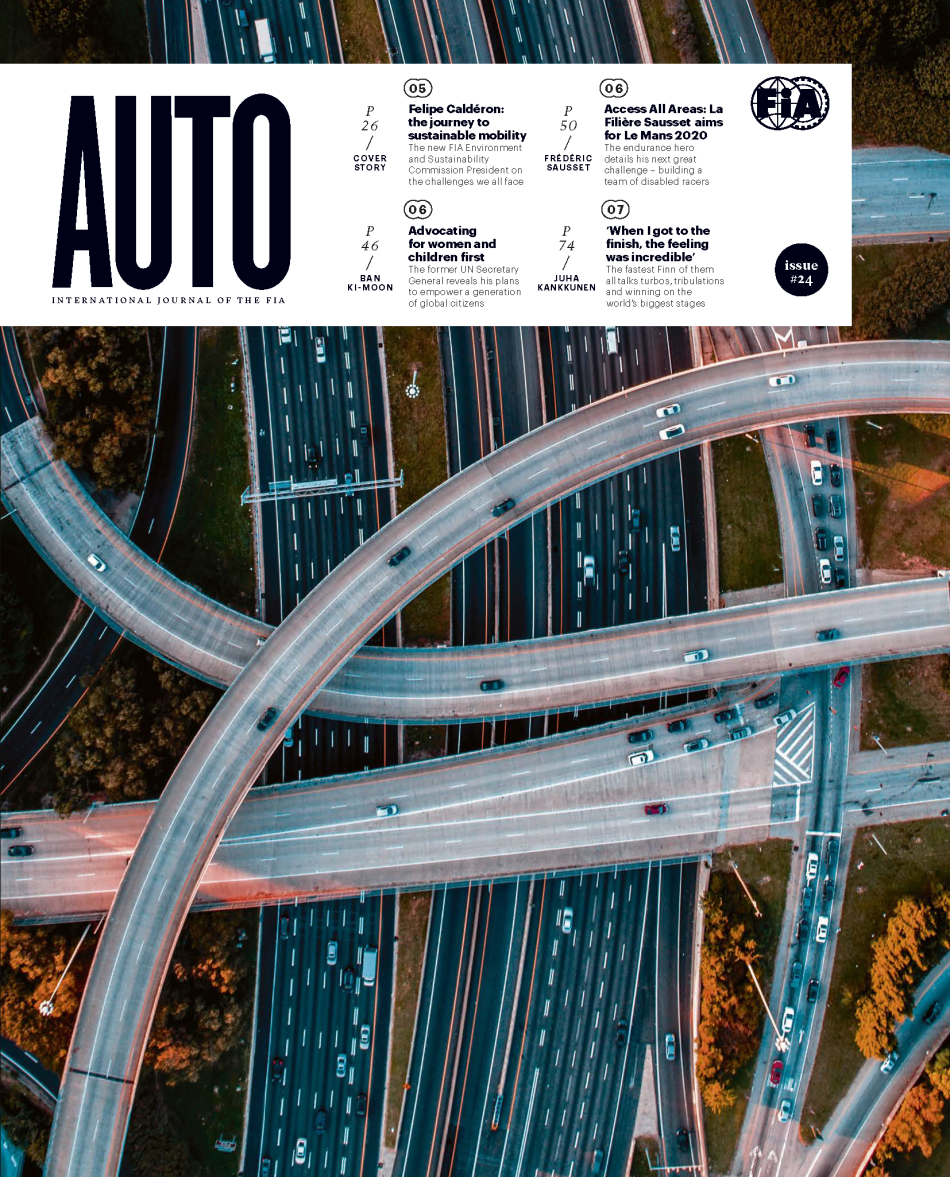 In this role, he has joined us in working towards a future where mobility and motor sport will be genuinely sustainable, all over the world. In an exclusive interview conducted during the recent FIA MOBILITY CONFERENCE in Montevideo, he explained how this goal is achievable, not just in theory but in practical terms. We also bring you two more interesting interviews with political personalities from the world stage: FORMUER SECRETARY-GENERAL OF THE UNITED NATIONS BAN KI-MOON and EUROPEAN COMMISSIONER FOR TRANSPORT, VIOLETA BULC.
Driver safety is a priority for the FIA and the HALO DEVICE is an important step forward. It generated much discussion when it was first introduced, but today it is considered essential and the facts are there to prove it. In this edition of Auto we have a detailed analysis of TADASUKE MAKINO's accident in the F2 race at Barcelona, as well as the still vivid memory of CHARLES LECLERC's crash in the Belgian F1 Grand Prix, from which the talented youngster emerged unscathed.
Motor sport is becoming ever more achievable for those with disabilities and, once again, this has been demonstrated by the hugely courageous F€REDERIC SAUSSETŽŽ. Having amazed everyone by taking part in the Le Mans 24 Hours in 2016, this year he took on another incredible challenge, creating a team of disabled drivers to take part in a full season of endurance racing. Elsewhere, our series of pro¦les of the major players in the motor industry continues with a profile of HIROTO SAIKAWA, President and CEO of Nissan, the car firm that, more than any other, has put the electrification of its range at the centre of its long-term development plan. In the history section, we have a profile of rally great JUHA KANKKUNEN, who shared some of his most memorable moments with us.
Finally, the country chosen in the section devoted to the FIA family is THE NETHERLANDS.
I hope you find this issue interesting and, as ever, if you have any suggestions on how we can make it even better, please let us know.
Enjoy the read,
Jean Todt, FIA President
Click here to read AUTO #24