Audi, Oak, Aston and Porsche lead their classes
24 Heures du Mans - 12 hour report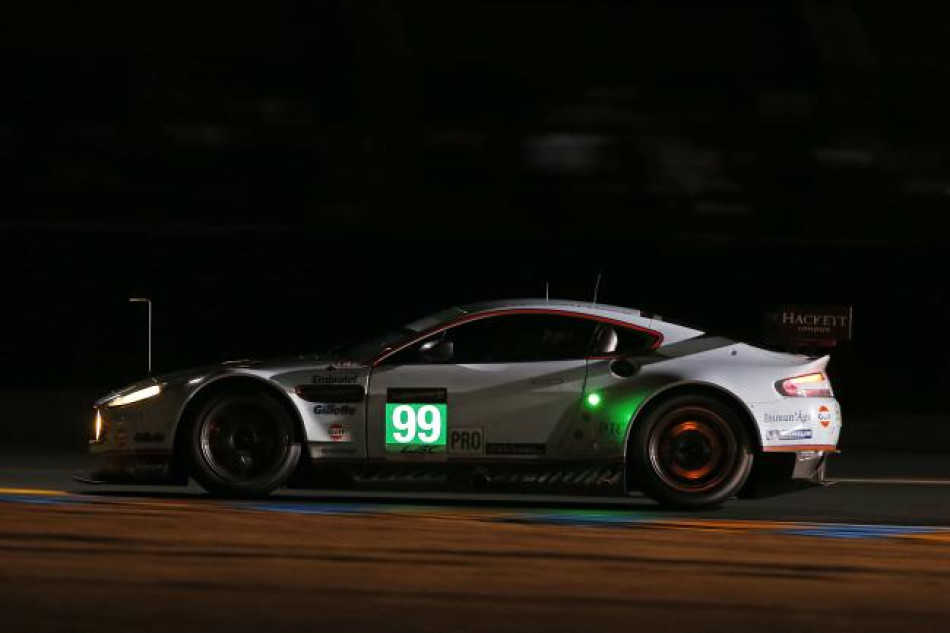 As the clock ticked over to the half way mark, the No.2 Audi R18 e-tron quattro of Allan McNish heads the field, one lap ahead of the No. 8 Toyota TS030 Hybrid of Anthony Davidson who, in turn, is 17 seconds ahead of the No.7 Toyota of Nicolas Lapierre.  The No.1 is staging a fight back to reclaim lost ground after its delays earlier.
The race so far has been subject to seven safety car interventions, the most recent starting just at the second half of the race begins.  It will be another long spell behind the three safety cars as barrier repairs are being carried out.
Despite a Stop and Go Penalty for speeding in the pit lane the No.13 Rebellion Racing Lola Toyota of Congfu Cheng holds the lead in the LMP1 Privateer class, three laps ahead of its sister No.12 car which lost time in the pits for a change of front bodywork.  It is now in 6th place ahead of the No.21 Strakka Racing HPD.
In LMP2 the No.24 OAK Racing Morgan Nissan of Brundle-Pla-Heinemeier Hansson leads the class from the No.35 sister OAK car and the No.42 Greaves Motorsport Zytek Nissan of Mardenborough-Krumm-Ordonez.  The No.30 HVM Status Lola Judd suffered a heavy accident in the Porsche Curves shortly in the final 30 minutes before the half way point; driver Tony Burgess was fortunate to walk away from the car and has suffered bruising but has been taken to the local hospital for precautionary checks.
Aston Martin Racing and Porsche are continuing to battle it out in LMGTE Pro, with the No.99 Aston Vantage GTE of Bell-Makowiecki-Senna and the No.92 Porsche 911 RSR of Dumas-Lieb-Lietz now the only two on the same lap.  One lap behind them is the No.97 Aston Martin and the No.91 Porsche plus the No.51 Ferrari 458 Italia.
LMGTE Am has lost two of its Ferraris, the No.57 Krohn Racing being a retirement after its earlier accident – the end to a torrid week here at Le Mans for the FIA WEC entrant.  Several Porsches have led the class before ceding the place to rivals for spins, and the No.76 IMSA Performance Matmut Porsche of Narac-Bourret-Vernay is now installed at the head of the class in front of the AF Corse Ferraris No.61 and No.55.
Sprinkles of rain continue to fall intermittently and the race moves, with heavy hearts, into Sunday.
Fiona Miller