Audi grabs pole as title rivals struggle
Laurens Vanthoor and debutant Adam Carroll in the Belgian Audi Club Team WRT Audi R8 No.32 grabbed pole position in an eventful Qualifying session in the championship title-decider at Donington Park.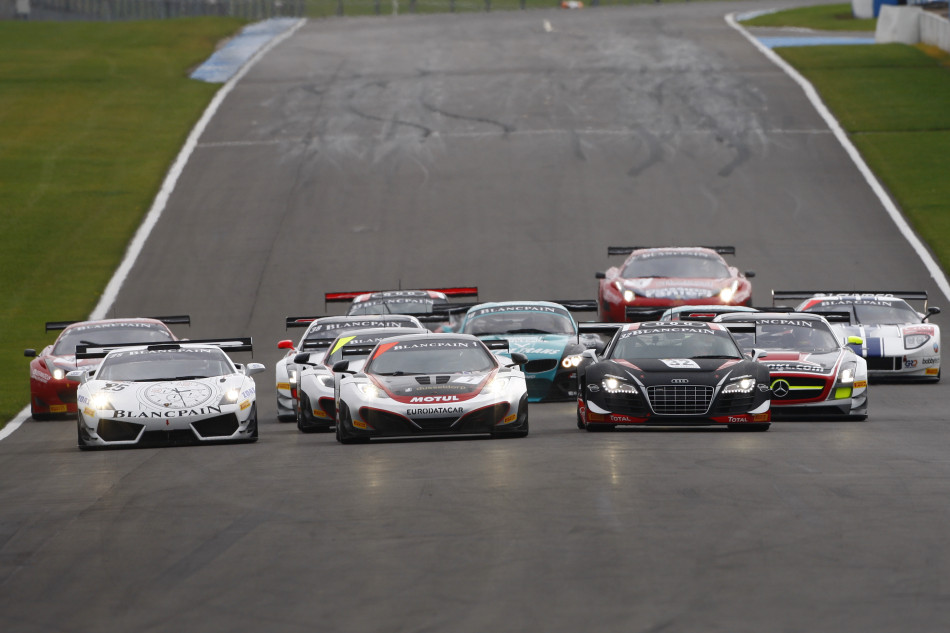 Vanthoor produced a best lap of 1:27.746 in the Q3 shoot-out despite limited running due to a hydraulic problem in Q1.
"There's not much to say about Q1 because we only managed to get one lap in, there was a problem with the car," the Belgian said.
"We had a good session, everything went well and the car was good. It was the last qualifying session of the year and our first pole for WRT this year so were happy."
Carroll did his bit in Q2 with the second fastest time. "I was P2 in my session which I'm happy about," the Northern Irishman said.
"It's very close, very competitive out there. We've got to try and win this afternoon's race now."
Second was Hexis Racing McLaren's Fred Makowiecki (FRA) and Stef Dusseldorp (NLD) with a lap of 1:27.870. The pair still have a mathematical chance of the drivers' title but Dusseldorp is realistic enough to know that the odds are heavily against that happening.
"It's not very likely for us to win the title here this weekend but all we can do is our best. We will try to win both races today and tomorrow and that's the maximum we can do," Dusseldorp said.
Dutchman Peter Kox and Slovakia's Stefan Rosina, the Qualifying Race winners from the previous round at Nurburgring, qualified the Reiter Lamborghini third in 1:27.970.
"We are in a good position to start for this afternoon's race. We'll push hard and see what we can do," he said.
"The car is feeling OK and this circuit is good for it. We'll aim to get the pit stops right, that'll give us a good chance. So I'm looking forward to it."
Qualifying was notable for the mixed fortunes of the leading contenders for the drivers' title.
For the championship leaders Marc Basseng and Markus Winkelhock in the All-Inkl.com Münnich Motorsport SLS AMG No.38 it was a tale of woe.
Having progressed to Q2, the pair failed to make it into the Q3 shootout and will start the Qualifying Race this afternoon from 10th place.
Winkelhock had two spins on his two remaining timed laps in Q2 and struggled to a time of 1:28.660.
The Mercedes team reported problems in getting heat into the tyres around the technical east midlands circuit.
Meanwhile, their closest challengers Michael Bartels (DEU) and Yelmer Buurman (NLD) in the No.18 Vita4One Racing BMW Z4 will start from seventh position.
Basseng and Winkelhock (143 points) hold a one-point lead over Bartels and Buurman (142) in the drivers' title battle.
The session, held in cold, cloudy conditions with the with air temperature barely above 9C, was momentarily red-flagged soon after the start after a power failure in the area.
The Qualifying Race starts at 14:45 today.