Audi drivers crowned champions while Toyota win in Shanghai
Toyota Racing utterly dominated today's 6 Hours of Shanghai, the eighth and final round of the 2012 FIA World Endurance Championship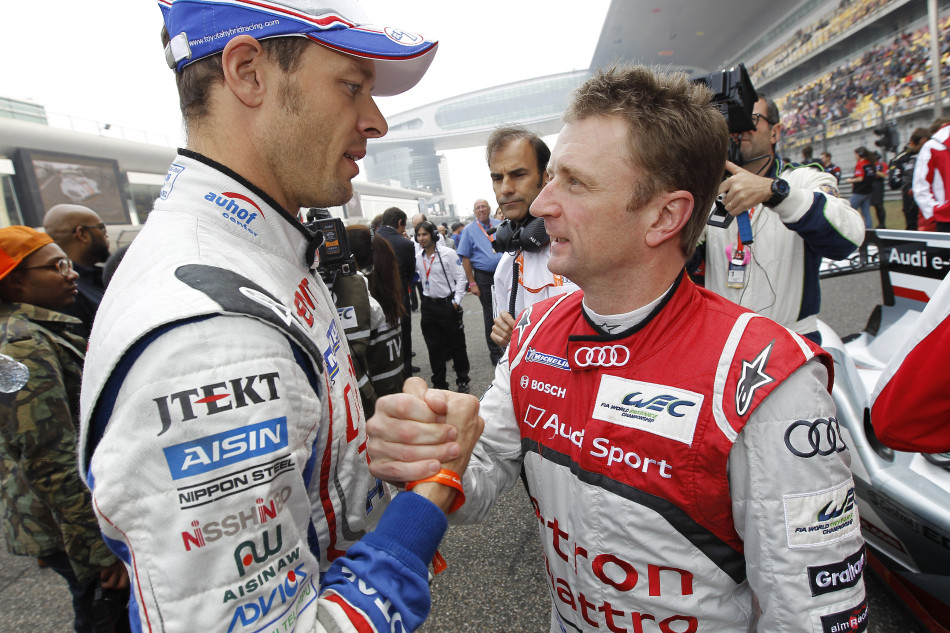 Alex Wurz and Nicolas Lapierre finished half a lap ahead of the No.2 Audi R18 e-tron quattro of Allan McNish and Tom Kristensen having led the way from the start.
However, it was also a day of celebration and smiles in the Audi garage. By crossing the finish line in third place, André Lotterer, Benoît Tréluyer and Marcel Fässler scored enough points to capture the World Drivers' Championship – the first for this new FIA championship.  The trio made history in June by becoming the first hybrid powered car to win the 24 Hours of Le Mans, and followed this with two further wins at the 6 Hours of Silverstone and 6 Hours of Bahrain.
The No.7 Toyota TS030 Hybrid's victory in China was its third of the season, and the result confirms a remarkable debut season for the Japanese manufacturer.  In just six races they have secured three wins, and raised the bar in terms of performance – 2013 already promises to be even more exciting! Just as Toyota today had a faultless race, so did Audi and nothing should be taken away from their 2012 season, as demonstrated by them sealing the LMP1 Manufacturers' World Championship title as early as August.
Alex Wurz, Toyota Racing: "It was a good race for us and a 100% perfect race weekend; from Friday onwards every step we have taken has been correct. That was the absolute maximum and it was good enough to win. Maybe it looked easy on TV but Nicolas and I gave it everything. These races are never simple but we were very determined to win this race for TOYOTA and give everyone extra motivation over the winter. I really enjoyed it today and I couldn't wish for a better team-mate, although of course we missed Kazuki this weekend. It has been a terrific season for us. At the beginning we had some emotional and performance ups and downs but we improved every day and with every step. That is what counts and that's why we ended the season as race winners."
Nicolas Lapierre, Toyota Racing: "We had a really good weekend; after first practice we have been fastest in all sessions. The car was great and we pushed throughout the race. Everyone at TOYOTA Racing did a fantastic job today. It has been a pleasure to be part of this team and a pleasure to share the drive with Alex, and also Kazuki when he has been with us. Everything has got better and better as the season has gone on. At the beginning we had a new car, new engine, new hybrid system and new team from all over the world. It could have been difficult but it has been a great team effort and we have had a superb second half of the season. The pace we have shown is very encouraging for next year but we will have to work very hard this winter because Audi will try to respond, that's for sure."
LMP1
1   7    Toyota Racing                Wurz / Lapierre                         Toyota TS030 - Hybrid            6:01'29.292      
2   2   Audi Sport Team Joest   Kristensen / McNish                  Audi R18 e-tron quattro           58.570
3   1   Audi Sport Team Joest   Tréluyer / Fässler / Lotterer        Audi R18 e-tron quattro           1'42.814
4   13  Rebellion Racing             Cheng / Belicchi / Prima            Lola B12/60 Coupé - Toyota    6 Laps
5   22  JRM                              Brabham/Chandhok/Dumbreck   HPD ARX 03a - Honda           6 Laps
6   21  Strakka Racing               Leventis / Watts / Kane              HPD ARX 03a - Honda          9 Laps
Marcel Fässler (Audi R18 e-tron quattro #1): "I'd like to thank Audi very much because without this brand I could have never experienced a success like this. I've got tremendous team-mates and a top-flight team. The title means incredibly much to me. It's a great feeling to be World Champion."
André Lotterer (Audi R18 e-tron quattro #1): "Winning Le Mans and the World Champion's title together is simply brilliant. And I'm happy to be able to share this success with Marcel and Ben. The three of us are really good friends. A huge thank you goes to Audi and to our team. Our car was always superb. Unfortunately, we didn't manage to take victory today but after winning the title we can be very pleased."
Benoît Tréluyer (Audi R18 e-tron quattro #1): "I'm more than happy after this great season. The World Champion's title is a nice chapter in a driver's biography. I want to thank Audi very much for the good season."
While there was laughter and champagne at one end of the pit lane, there was heartbreak and tears at the other.  LMP1 Privateer champions Rebellion Racing were on course to finish fourth overall with their No.12 Lola-Toyota entry of Nicolas Prost and Neel Jani, the duo having taken the lead after the third lap of the race.  Instead, there was dismay as the car ground to a halt with just eight minutes of the race to run and Prost and Jani had to watch a third place overall in the Drivers' Championship slip through their fingers.  There was some consolation for the Swiss team as their second, No.13 entry was promoted to first among the Private teams, the only Chinese driver in the field Cong Fu 'Frankie' Cheng standing proudly on the podium alongside his team mates Andrea Belicchi and Harold Primat.
Behind them were the two HPD ARX 03a Hondas of JRM and Strakka Racing.  JRM's Karun Chandhok, David Brabham and Peter Dumbreck recovered from contact which meant the rear bodywork of the HPD had to be replaced during a pit stop, and they were just 8 seconds behind the Rebellion Lola at the chequered flag.  Strakka's Nick Leventis, Danny Watts and Jonny Kane were a further three laps back after a faltering race.
The No.25 ADR-Delta team took their second consecutive victory and their fourth of the year – a huge achievement for the small, privately-funded British team which vaulted them ahead of Pecom Racing into second place in the final classification for the FIA Endurance Trophy for LMP2 teams.  ADR's driver line up of Tor Graves and John Martin, joined in Shanghai by Matthias Beche, took control of the class early in the race and had a steady run to the finish.  Behind them were the No.44 Starworks Motorsport HPD ARX 03b, the class champions, and the No.24 OAK Racing Morgan Nissan, both of which overcame minor issues to finish on the podium.
The 25,000 Chinese visitors over the first 6 Hours of Shanghai weekend were treated to their first Le Mans experience and the next visit on the 10th November 2013 will undoubtably see even more fans travelling to the Shanghai International Circuit next year.
Fiona Miller