Audi and G-Drive Oreca pole positions
6 Hours of Sao Paulo - LMP1 and LMP2 Qualifying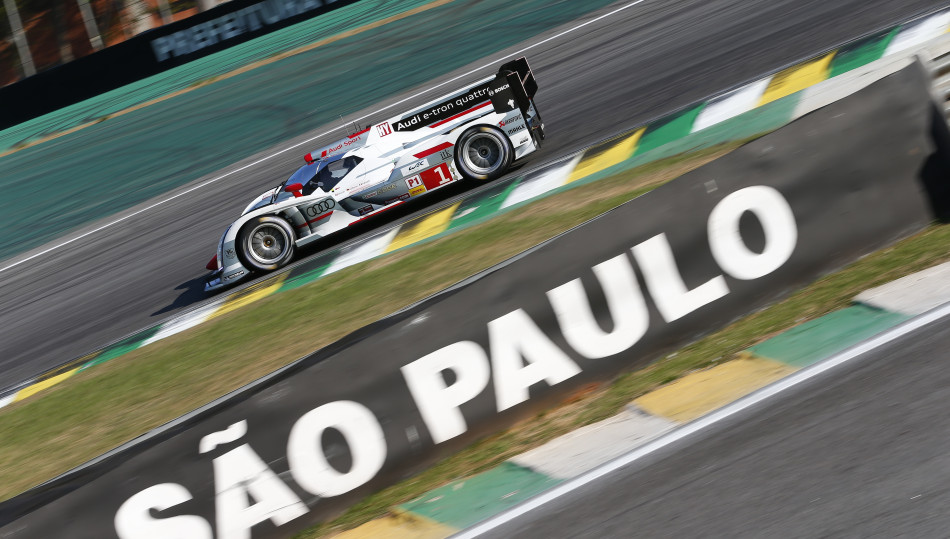 The qualifying session for the 6 Hours of Sao Paulo was a nail-biting affair with World Champions Benoit Tréluyer and Marcel Fässler claiming the top spot for tomorrow's race, just five hundredths of a second ahead of Tom Kristensen and Loic Duval in the championship leading no2 Audi.  Kristensen had a spin towards the end of the session in Turn 2 but the Dane kept the car on track and recovered to continue his challenge for pole. 
The nr8 Toyota TS030 Hybrid of Anthony Davidson and Sebastien Buemi finished 3rd but, with just two tenths of a second off pole, there is definitely all to play for and the Japanese manufacturer will be looking to repeat last year's success in Brazil which saw them take their first of three wins in the World Endurance Championship.
The sole LMP1 Privateer entry from Rebellion Racing saw Nicolas Prost and Nick Heidfeld finish 2.3 seconds behind the leading Audi but the drivers set a consistent pace during their qualifying runs and the team is confident that it is in a good position to pick up a podium finish, should one of the three works cars have a problem.
In LMP2 the nr26 G-Drive Oreca–Nissan of John Martin and Mike Conway took the pole by 0.5 seconds which, by the class standard, is a significant gap over the nr49 Pecom Racing Oreca-Nissan of Nicolas Minassian and Pierre Kaffer. The Le Mans-winning nr35 OAK Racing Morgan-Nissan will start tomorrow's race in 3rd place, the average lap time for two drivers being 0.9 seconds behind the lead car.  There was disappointment for the nr25 Delta-ADR Oreca Nissan of Robbie Kerr and James Walker as a puncture in the pits meant the car was stranded and unable to complete the four laps and will have to start at the back of the LMP2 grid.
Three minutes from the end of qualifying the red flags had to be shown when a small hot air balloon, trailing what looked to be a flag, flew in from outside the circuit, coming from the city of Sao Paulo, and landed on the track near the finish line.  The session was quickly restarted after the track was cleared.
The scene is now set  for an exciting second edition of the 6 Hours of Sao Paulo with the race due to start at midday in Brazil (10:00 US CT / 16:00 UK / 17:00 Europe).