This page contains archived information and may not display perfectly
Aston Martin sweep the board in LMGTE qualifying at Silverstone
The early morning rain has now cleared and the sunshine made a welcome reappearance at the Silverstone International Circuit in Northamptonshire, UK for the first WEC LMGTE qualifying session of the 2015 season.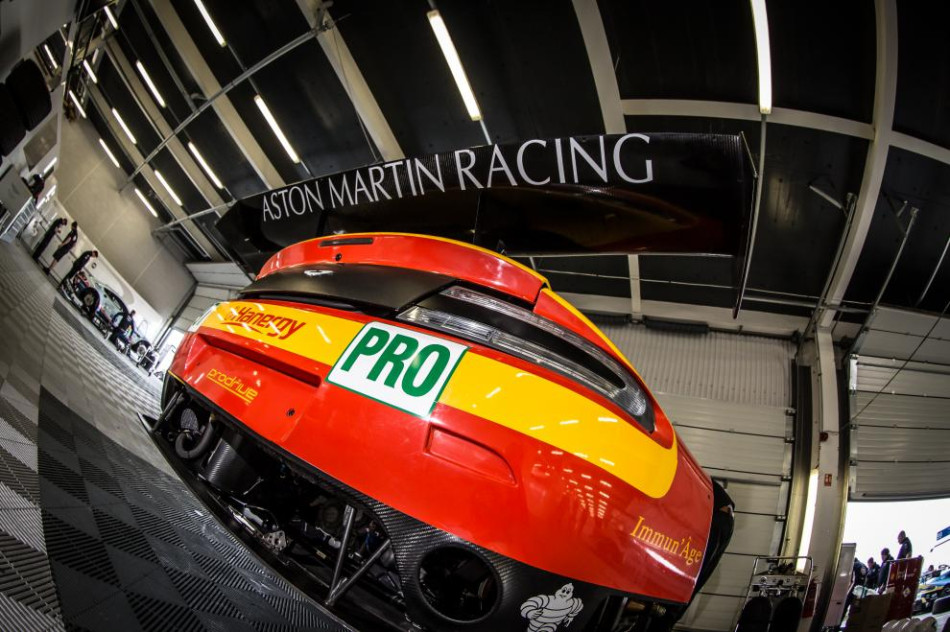 Aston Martin Racing continued its strong performance and claimed a sweep of pole positions in both the LMGTE Pro and Am classes, dominating the former by filling the first three places.  The new regulations for 2015 are that the two nominated drivers from each team must set at least one timed lap each, and the average of the two best lap times will serve as the reference time for establishing the grid.
The Danish duo of Nicki Thiim and Marco Sørensen set the best average time of 1:59.970 in the No.95 Aston Martin Vantage V8 to claim their first pole position of the year, 0.205s ahead of the No.99 of Richie Stanaway and Fernando Rees.  Aston Martin Racing stalwarts Darren Turner and Stefan Mücke were third in class with a combined average of 2:00.333. 
The lead No.51 AF Corse Ferrari 458 Italia of Bruni and Vilander split the two Porsche Team Manthey 911 RSRs, the Italian-Finnish pairing being just 0.05s adrift of the No.91 Porsche of Christensen and Lietz.
Aston Martin Racing's successful day extended equally to the LMGTE Am class with the No.98 Aston Martin Racing Vantage V8 of Pedro Lamy and Paul Dalla Lana leading the way.  Their pole-winning average time was 2:01.998, almost a full second ahead of the No.50 Larbre Competition Chevrolet Corvette C7 which came through the field in the second half of the session to claim second spot.  Gianluca Roda and Paolo Ruberti were at the wheel of the American muscle car in qualifying.
Third in the Pro-Am class was the No.88 Abu Dhabi-Proton Racing Porsche 911 RSR of Klaus Bachler and Khaled Al Qubaisi, a strong showing from the entry with a best average time 2:03.134.
The next time all WEC cars will be back on track is for tomorrow's 6 Hours of Silverstone, the opening round of the 2015 WEC.  It promises to be an exciting and action-packed race – don't miss a minute! 
Marco Sørensen: "I'm really happy that we were able to put the car on pole in my first WEC event and the team's first race in the GTE Pro category."
Nicki Thiim: "What a way to start in a new catergory?! I'm really proud to be in the GTE Pro class of the WEC, this really is where the best in the business compete so to be on pole is fantastic.
Pedro Lamy: "Silverstone is a great circuit and it's fantastic to be on pole for the first race of the new WEC season."
Paul Dalla Lana: "It's the first time I've qualified the car, so I'm pleased with the result. The car felt good, it had loads of grip and I felt I could really push – this is testament to the hard work of the team."