Aston and Ferrari on pole
6 Hours of Sao Paulo LMGTE Qualifying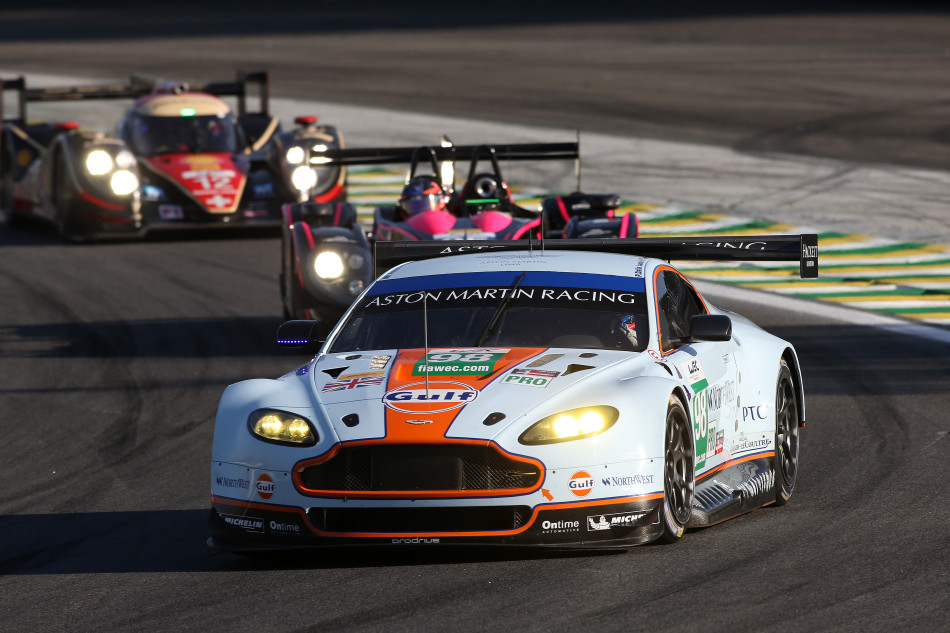 Olá from the Autodromo Carlos Pace, e bem vindos from the qualifying session for the LMGTE Pro and Am categories. The 25-minute session took place in warm sunshine and ambient temperatures of 27oC and it was a very tight in terms of lap times in both Pro and Am.  Just 0.24 seconds separated the top five in the Pro class, while 0.45 seconds split the top five cars in the Am field.
Aston Martin Racing maintained its dominance in Brazil and claimed pole position in the factory-led Pro class, but it didn't go to the No.97 which has so far led each session here in Sao Paulo.  Young New Zealander Richie Stanaway and Portuguese driver Pedro Lamy shook up the order and set a pole position time of 1:33.340 after the two fastest laps of each driver were combined and averaged.  It is the first GT pole position for Stanaway.
The No.98 Vantage will have the No.92 Porsche AG Team Manthey 911 RSR of Marc Lieb and Richard Lietz alongside it on the LMGTE grid, the German duo having an averaged lap time of 1:33.461.  The Porsche factory drivers left it late in the session to set their times, and did just enough to clinch second place in class as there is a scant two hundredths of a second separating the Porsche and the third placed No.97, the Aston Martin Vantage of Darren Turner and Stefan Mücke.   Their time of 1:33.483 was a tenth of a second ahead of the fastest of the Ferraris, the No.71 AF Corse entry of Toni Vilander and Kamui Kobayashi.
Ferrari claimed the upper hand in the LMGTE Am category, and it was also a first pole position for the No.61 AF Corse crew of Matt Griffin, Marco Cioci and Jack Gerber.  The combined average time of the Italian and Irish drivers was 1:34.577, just one hundredth of a second ahead of the hitherto dominant No.95 Aston Martin Vantage of Thiim-Nygaard-Poulsen.  Third in the category was the No.81 8Star Motorsports Ferrari 458 entry of Potolicchio-Aguas-Rigon with a fastest combined lap of 1:34.616.
The next time the cars will be re-assembled on the grid will be for the start of the 6 Hours of Sao Paulo, the fourth round of the 2013 FIA World Endurance Championship which begins at 12 noon tomorrow local time.