24 Heures backs Road Safety
The FIA's Action for Road Safety campaign travelled to the 80th round of the 24 Heures du Mans this weekend to raise awareness of the safer driving message.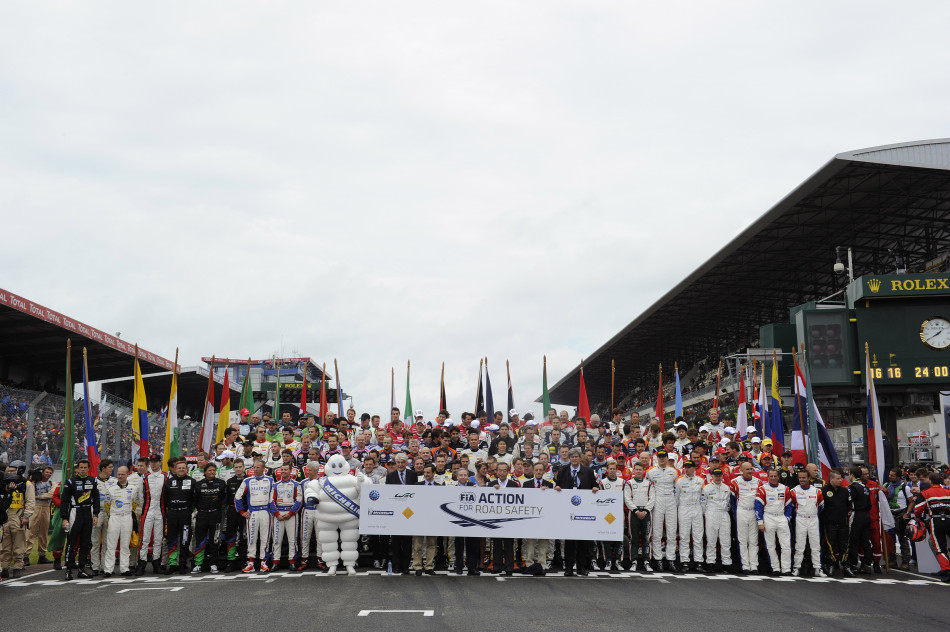 Building on the tremendous support received from drivers in the FIA's F1, WRC, WTCC, GT1 and WEC championships, the federation's Action for Road Safety campaign received the endorsements of the 168 drivers taking part in the 24 Heures du Mans as they stood shoulder to shoulder for a special group photograph with FIA President Jean Todt . The photo, which also featured the newly elected Automobile Club de l'Ouest's President Pierre Fillon and FIA Endurance Commission's President Sir Lindsay Owen Jones and the FIA's Golden Rules for Safer Motoring was later distributed to race goers.
Reinforcing their commitment to improving road safety within the framework of the FIA's Action for Road Safety campaign Michelin and the ACO worked with the Action for Road Safety team to distribute 50,000 tyre tread depth gauges to the public.  Building on twelve months of activities to raise awareness of safer motoring, the FIA Action for Road Safety's presence at the 24 Heures du Mans highlighted the importance of drivers ensuring that their tyres are in good condition, and called on race goers to support the campaign which aims to save 5 million lives on roads around the world.
The 24 Heures du Mans' Circuit de la Sarthe proudly displayed the campaign's logo over the race weekend which was seen by some 240,000 spectators.