This page contains archived information and may not display perfectly
2015 F1 Italian Grand Prix - Saturday Post Qualifying Press Conference
Transcript of the Saturday Post Qualifying Press Conference organised by the FIA for the 2015 Italian Grand Prix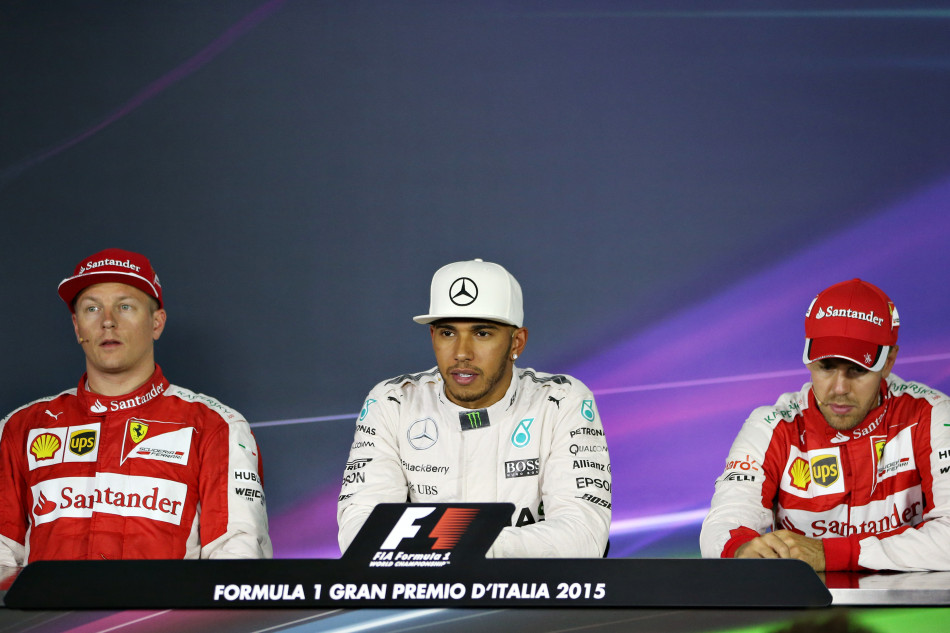 DRIVERS
1 – Lewis HAMILTON (Mercedes)
2 – Kimi RÄIKKÖNEN (Ferrari)
3 – Sebastian VETTEL (Ferrari)
TV UNILATERAL
Lewis, seven in a row this season, not been done before by you and two laps good enough for pole in the end. So you felt you had everybody at arms length and was it good to spoil Ferrari's party today?
Lewis HAMILTON: Firstly, the weather's been good so. No, these guys did a very good job; they were very close. So it's nice to see we have a good fight. But today, the car has been feeling good all weekend and the engineers and mechanics have done a fantastic job on both sides of the garage. Big thanks to the guys back at the factory who made improvements to the reliability of the engine and then to bring that here, that's a good step for us there. Just really happy, obviously. I don't really know what to say… my Spa lap was better!
OK. Coming to you Kimi, fantastic second in qualifying and quite a turnaround, it has to be said, from 12 months ago for you and Ferrari, very close to Mercedes, as Lewis said. You've got to be pleased with your own performance and that of your team?
Kimi RÄIKKÖNEN: Yeah, I think if we look now we probably surprised ourselves a little bit. We expected a strong weekend but we knew that this place is not our strongest probably, so in the end the car turned out to be pretty good in qualifying conditions; we had many good laps. It's been a while, so it's nice to be here, especially [at] the home race for us. It's probably our best qualifying this year as a team. We try to give [it] another good go tomorrow and give a good result, not just for ourselves but for our fans and all the Ferrari people behind us.
Well, Sebastian, Kimi mentioned the fans there, a tremendous response from them whenever both of you went out on the race track, so maybe a word from you about that. And also, are you all surprised at the result, not only the team, but you and Kimi relative to each other and your thoughts on the race tomorrow?
Sebastian VETTEL: Yeah, first of all, I think it's a fantastic result – second and third – and very close to Lewis, I think that's the main positive of the day, which makes us confident for tomorrow. As Kimi touched on, it's our home race, so it's really something special every time you drive past, it's the first time for me obviously in red, and to get all the support, to see all the tifosi standing up, waving the flags and just jumping on the grandstands, up and down, yeah, it makes you definitely feel different to let's say other races I've done before. So I'm trying to take it all in and enjoy the day as well tomorrow and hopefully we can both be on the podium tomorrow…. Sorry Lewis, but I wouldn't mind if you are not on the podium; you can be but if we are both ahead of you that would obviously a dream coming true. I think dreaming is allowed but nevertheless you have to be realistic. I think it's going to be a tough race tomorrow. These guys have got some serious pace in the race, as we've found out many times this year. Nevertheless we try to fight and do everything we can. We've got the people behind us; so let's see what we can do.
Thank you. Coming back to you Lewis, one possible note of concern: before qualifying your team-mate Nico Rosberg having to change from the new-spec engine you've been using back to the old specification engine. Are there any concerns for yourself, with your engine, going into tomorrow's grand prix?
LH: As far as I'm aware, no, but I don't really know what was the issue. But the guys in the garage did an amazing job to change the engine in the short space of time that they had and hopefully we can still bag some points for the team tomorrow.
PRESS CONFERENCE
Lewis, it may surprise you to learn that pole position here, in this century, since the year 2000, is more statistically important than even in Monaco, 12 of the races so far this century have been won from pole here, only 10 in Monaco. Your thoughts on starting there and also, as Sebastian touched on there in the unilaterals, that you have got pretty prodigious race pace as we saw in free practice two?
LH: Well, I mean pole is… it's always a great feeling getting pole, as Sebastian knows, and it's the same with Kimi. I think I've had a couple of poles here, but not always… I think last year was not such an easy getaway but it didn't t mean I could not win the race. There's a long way down to turn one, these guys are good off the line, so we'll try to do our best tomorrow but, yes, our race pace has tended to be quite strong. I hope we see that tomorrow. I don't mean to take away Sebastian's dreams but I have dreams also!
And you and Kimi both got through Q1 without using a set of soft tyres as well didn't you. Kimi, just touching on what Lewis just said there. It is a long run down to turn one, this is the second grand prix with the new rules on starts, so presumably any loss off the line is going to be really amplified by the time you get to turn one, so you're obviously eyeing that as a key opportunity to challenge for the lead straight away.
KR: Obviously, but I think in every circuit is more or less different length of straights to the first corner but any small issue you are always going to lose place, even if it's long or short run. But I think it helps here. Hopefully we make let's say a normal start and at least stay where we are but it's going to help us at least during the first corners; it can easily be a mess when you are in the mid-pack and you almost have to stop sometimes. Hopefully we make a normal start and go from there and you know see what we can do. I expect it to not be an easy race but usually we're more confident for the race than for qualifying, so hopefully it's the same thing for tomorrow, so see what happens, to do our best and hopefully get a good result.
Coming back to you Sebastian, you talked a moment ago about the fans and the atmosphere here at the autodrome. But what about the atmosphere here in the garage? You've got Mr Marchionne here, you've got various members of the Ferrari family as well, how has the atmosphere been in the Ferrari garage, your first time at Monza as a Ferrari driver?
SV: When you start the session you more or less run through the motions, so that's a good thing, obviously it's a different race for us, it's our home grand prix, there's a lot of people watching, a lot of people cheering us on in the grandstands but also in the garage. Obviously that's good for us, an extra support, and I think we saw a very, very controlled and professional qualifying from the team inside the garage. I don't think there was any reason to panic. Also, we kept our head down and did our job. I think that's the most impressive we can deliver inside the garage. It's not a secret that we're not yet where we want to be, but I think today we're a bit closer, so we need to make sure we keep making those steps to please not just the people on the grandstand but also in the garage.
QUESTIONS FROM THE FLOOR
Q: (Heikki Kulta – Turun Sanomat) Kimi, as a Ferrari driver in Monza you are the first time in the front row. How much that means personally to you?
KR: I think it's a while that I've been in the front row – eight, ten years probably! But I think, what does it mean, I'm very happy for it obviously, and I'm happy for all the people who are supporting us and our team but, you know, the biggest thing is that much less troubles in the first corner if you make, let's say, a normal start. It gives us a good chance for the race and obvious we have to do a good job in the race but it gives us a better chance for having a good result. It's nice to get it right once in a while. It's been a while so, especially here in the home grand prix of Ferrari, so let's hope it brings us also a good result tomorrow.
Q: (Joonas Partanen - Iltalheti) We say you talking after the qualifying session before you came here, from the TV. Can you tell us what you were talking about?
SV: Yeah, we were waiting for Lewis. I think he was trying to finish his hair.
LH: I was!
Q: (Peter Farkas – Auto Motor) Again, Seb and Kimi. Did you expect to be so close to the quickest Mercedes today – especially after yesterday when the different was quite big? And could you please explain what you did since yesterday to turn the situation around? How confident were you that it would be possible?
KR: Like I said earlier, in a way is a bit surprised that we were this strong comparing to the Mercedes but, y'know, we made some small improvements and obviously people always talk so much about Fridays. It's a Friday: you do whatever you want. It's not about the laptimes. And worse, you don't know what the others are doing. So, it's pointless to say, 'oh, we were bad yesterday'. We just did our stuff what we normally do. In the end, if you end up first or tenth, makes no difference if you know what you've been doing. So, we've been just… improve a bit the car and drove a bit better than yesterday. Yesterday I didn't feel I was driving very well and then it turned out to be in qualifying it all worked out well for us. Obviously we're still not happy, we're second and third but I think it's a place where we expected it to be a bit more difficult because the circuit layout. So it was a bit surprise but a nice one and I think things have been working well.
Anything to add, Sebastian?
SV: Nothing to add.
Q: (Andrea Cremonesi - La Gazzetta dello Sport) Question for Lewis. Lewis, are you cautious tomorrow you can achieve a lot of points for the championship. It can be a crucial race and the other thing is that you are the only handicap between a Ferrari victory here – do you expect a difficult Sunday with the tifosi tomorrow?
LH: Going into any race you always want to get as many points as you can and you're always hoping there's an opportunity to gain more than the usual – but honestly I'm hoping that Nico pulls through and we both can do a good job and naturally we both want to finish ahead of the Ferraris here. That's always good to do on their home turf if possible and obviously for the championship. I think I've generally had a lot of support here for the last couple of years. Naturally the majority of the fans are going to want the reds to win but as long as there in this position I'm sure they'll still be happy. 
Q: (Livio Oricchio – GloboEsporte) To both Ferrari drivers, considering the analysis of the long runs you did yesterday with both kinds of tyres and also this morning, and comparing with what we saw from Mercedes, what is a realistic prediction for the race?
KR: Like I've said already, we will try to do our best and see where we end up. Obviously we want to at least keep the places that we have right now but the main aim is to try to win races and that's why we are here. But it's pointless to start guessing where we're going to end up.
Q: (Luigi Perna – La Gazzetta dello Sport) Seb and Kimi; what was the secret of this qualifying compared to the others this season and compared to yesterday's performance; was it Marchionne boost or something else maybe?
SV: No, I think generally we obviously try to make steps forward every race so naturally you have some small bits and pieces, trying to help the performance overall so we did for here but nothing special, just for the race, here, just because it's our home race. I think we learned a lot in Spa, Spa is similar conditions to here in terms of downforce. We were both probably not that happy with the balance of the car. I think we found a better balance and the car kept coming to us this weekend. I think that's the biggest reason why the gap is smaller than usual, plus you never know what other people are doing. Maybe they were struggling or maybe Lewis was not as happy as he usually is. In the end, it doesn't matter. We had a very very good session. We've qualified second and third because we were second and third quickest today and the rest we will see tomorrow. 
Q: (Andrea Cremonesi – La Gazzetta dello Sport) Lewis, about the race pace on Friday and how is the situation with the medium? Do you feel the car better with the medium or with the soft tyres?
LH: Yeah, the medium tyres actually feel better for me on the long runs. On the long runs we did on them, they felt quite solid, no big issues. I would say that with the softer tyre it's the same as it is everywhere: you get more degradation on the softer one but they both felt pretty good.
Q: (Nicolangelo Cioppi – Il Cittadino Canadase) Sebastian and Kimi, do you think it's possible from third place and second place for Kimi to win the race tomorrow here in Monza like in 2008. I was here in 2008 and I enjoyed it with you, even if it was raining like crazy.
SV: Well, I think there's always a chance. Obviously in 2008 I was on pole, didn't manage that today but I think since it's dry tomorrow, I think we have much better chances this year than I would have had in dry conditions in 2008. So the bottom line is I think it's always possible, it's always possible to have a surprise. I think we had some surprises this year so we like surprises and if we can surprise tomorrow then it would be a nice surprise.
KR: Who knows? Like I said, we try our best and hopefully achieve a great result and try to win if possible. It would be great to have a good result for the team.
Q: (Heikki Kulta – Turun Sanomat) Kimi, you managed to beat Sebastian by five hundredths of a second. Where did you take that?
KR: I don't know. I haven't seen the data so somewhere, doesn't matter where it was. I gained on my previous best in the last corner. It doesn't matter to me where it happens.