2013 International Series recognized by the FIA
Superstars World are number one on smart TV cooperation with netrange make SWR-run championship the first Motorsports series with a dedicated smart TV application.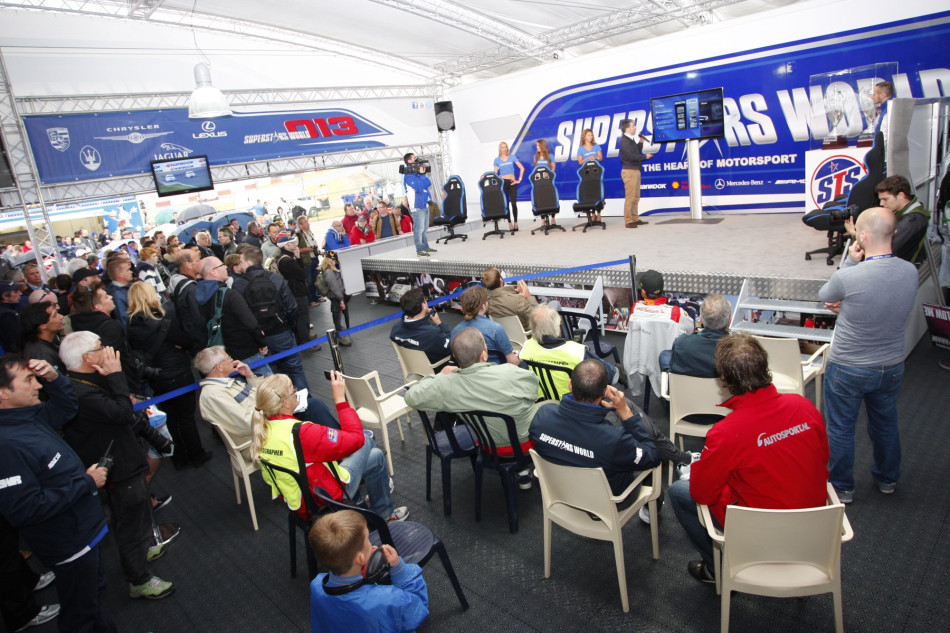 LAUNCH EVENT IN ZOLDER (BELGIUM) ON JUNE 23RD

Zolder (B), June 24th, 2013

Motorsport fans around the world officially have reason to be happy. Within a launch ceremony in Zolder on Sunday, 23 June, the SUPERSTARS WORLD Smart TV application has officially gone live.

The launch marks the first time that a motorsports series is represented on Smart TV with a dedicated application. Powered by leading Smart TV developer NetRange, the app provides petrolheads with a steady dose of premium racing action – 24/7 and right in their living rooms. In a presentation at the Belgian round of the SUPERSTARS WORLD, the app was unveiled by Vincenzo Lamaro, Managing Director of SWR, Jan Wendt, Managing Director of NetRange, and Thorsten Schroeder, Senior Vice President of _wige MEDIA as marketing partner of SUPERSTARS WORLD.

"We are happy to provide our fans with another opportunity to experience the fascination of the SUPERSTARS WORLD," said Managing Director of SWR Vincenzo Lamaro. "Our goal is to deliver top racing entertainment, so we naturally embrace new ways to interact with our fans and followers."

The multi-platform application developed by NetRange can be selected from the pre-installed Smart TV portal. It is available in 69 countries world-wide on Smart TV devices and set-top boxes with a NetRange portal such as Loewe, Sharp and TCL Thomson.

"I am a great fan of motorsports myself. Together with SWR and _wige, NetRange created a unique content proposition. The new Smart TV media industry offers a wide range of opportunities for sports rights holders and we are very happy that SWR and _wige partnered with us in order to make these great racing series available for fans around the globe," comments Jan Wendt, Managing Director of NetRange.

The promising cooperation between SWR and NetRange has been initiated by _wige MEDIA. As marketing and distribution partner of the SUPERSTARS WORLD since 2010, the German media agency oversees the series' international TV and moving image coverage.

"The media landscape is continuously changing, and so is the way people consume media and where they look for content. In this context, Smart TV represents a key future technology," added Senior Vice President of _wige MEDIA Thorsten Schroeder. "We feel that the cooperation between the SUPERSTARS WORLD and NetRange – both innovative and visionary leaders – can only be great news for motorsport fans."

The SUPERSTARS WORLD Smart TV application includes on demand highlights from each round of the SUPERSTARS INTERNATIONAL SERIES and GTSPRINT, with live streaming and other formats to be added from 2014. The launch of the SUPERSTARS WORLD Smart TV application is aimed at expanding and improving the worldwide TV distribution of SUPERSTARS and GTSPRINT, which already covers 195 territories (61 in full live) through 210 different broadcasters, for a potential reach of 1.4 billion spectators.