2012 GT1 World Champions Celebrated At Istanbul Gala
The 2012 FIA GT1 World Champions received their title trophies and the plaudits of the international motor sport community at the annual FIA Prize-Giving Gala, held in Istanbul this evening.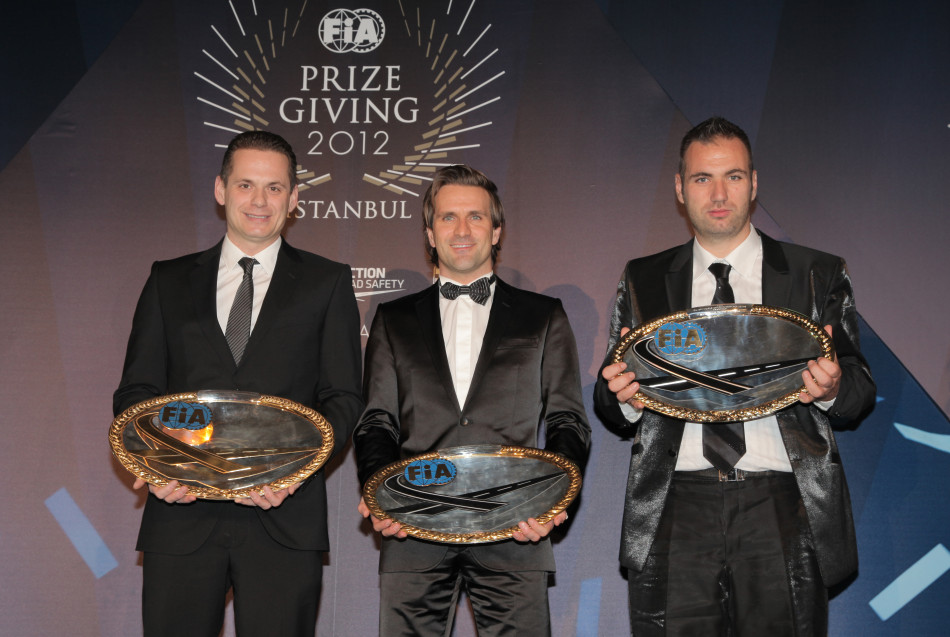 German duo, Marc Basseng and Markus Winkelhock proudly accepted the awards after their consistency and battling spirit secured their drivers' title triumph in the ALL-INKL.COM Münnich Motorsport-run Mercedes SLS AMG GT3 model. They took a remarkable 10 top-three finishes in the 18-race Championship, outscoring their nearest rivals by just a single point. Indeed, just one point separated the top three finishers in one of the closest seasons in GT history.
As always it was a year of high intensity action in the FIA GT1 World Championship in 2012. Represented by the GT1 teams were some of the world's most iconic automotive and motorsport brand names, including; Mercedes-Benz, BMW, Porsche, Audi, Ferrari, Lamborghini, Aston Martin, Ford and McLaren. 
In a season that saw seven different winners, representing seven brands, the ALL-INKL.COM Münnich Motorsport team finished every race in the points, with Nicky Pastorelli and Thomas Jäger playing a significant role in claiming the prestigious team title.
The delighted champion driver Marc Basseng, said: "I am very proud of the team, and of myself and my team-mate Markus. Our attitude to the races was to be patient, consistent and for the team to do the fastest pit stops, which they did. These ingredients were what allowed us to secure the 2012 titles. This showed the good performance we have had all season, scoring points at every race. We are very proud to be here to accept the awards and to represent the FIA GT1 World Championship."
Runners-up in the FIA GT Championship in 2012 after taking five victories was Frederic Makowiecki (FRA) and Stef Dusseldorp (NLD) in the Hexis Racing-run McLaren MP4/12C. On the same points, but placing third due to the number of wins, was the Vita4one Racing Team BMW Z4 of Michael Bartels (DEU) and Yelmer Buurman (NLD). They were challenging for the drivers title during the final dramatic race at Donington Park but were eliminated after a controversial accident with the eventual champions.
Note to Editors:
Imagery can be downloaded from: http://www.fiaimages.com/
-------------------------------------------------------------------------------------------------------------------------------------------------
LES CHAMPIONS DU MONDE DE GT1 2012 RECOMPENSES AU GALA
Les Champions du Monde de GT1 de la FIA 2012 ont reçu leurs trophées sous les applaudissements de la communauté internationale du sport automobile lors du Gala annuel de Remise des Prix de la FIA, qui s'est déroulé à Istanbul ce soir.
Le duo allemand formé de Marc Basseng et Markus Winkelhock était heureux et fier de cette distinction qui récompense la ténacité et la combativité déployées pour décrocher le titre pilotes au volant du modèle SLS AMG GT3 Mercedes de ALL-INKL.COM Münnich Motorsport. L'équipage a obtenu un score remarquable de 10 podiums sur les 18 courses du Championnat, devançant ses rivaux immédiats d'un point seulement. De fait, un seul point séparait les trois premiers à l'issue d'une saison qui fut l'une des plus compétitives de l'histoire du GT.
2012 a été une nouvelle année intense pour le Championnat du Monde de GT1 de la FIA. Les équipes de GT1 représentaient des marques parmi les plus légendaires de l'automobile et du sport automobile telles que Mercedes-Benz, BMW, Porsche, Audi, Ferrari, Lamborghini, Aston Martin, Ford et McLaren. 
Au cours d'une saison qui a vu sept vainqueurs différents représentant sept marques, l'équipe ALL-INKL.COM Münnich Motorsport a terminé chaque course dans les points, Nicky Pastorelli et Thomas Jäger jouant eux aussi un rôle déterminant dans la quête du prestigieux titre pour équipe.
Le champion Marc Basseng a déclaré : "Je suis très fier de l'équipe, de mon équipier Markus et de moi-même. Notre objectif en course était d'être patients, réguliers et, pour l'équipe, de réaliser les arrêts aux stands les plus rapides, ce qu'elle a fait. Ce sont tous ces ingrédients qui nous ont permis de remporter les titres 2012. Nous avons réalisé de bonnes performances tout au long de la saison, en marquant des points à chaque course. Nous sommes très heureux d'être ici pour recevoir les trophées et de représenter le Championnat du Monde de GT1 de la FIA."
Se sont classés deuxièmes au Championnat GT de la FIA 2012 avec cinq victoires Frederic Makowiecki (FRA) et Stef Dusseldorp (NLD) à bord de la McLaren MP4/12C de Hexis Racing. Avec le même nombre de points, mais à la troisième place en raison du nombre de victoires, on trouve l'équipe Vita4one Racing Team BMW Z4 composée de Michael Bartels (DEU) et Yelmer Buurman (NLD). Les deux pilotes ont même lutté pour le titre pilotes durant la finale spectaculaire à Donington Park mais ont été éliminés après un accrochage controversé avec le duo finalement sacré champion.
Note aux Rédacteurs en chef :
Les photos peuvent être téléchargées depuis l'adresse : http://www.fiaimages.com/