This page contains archived information and may not display perfectly
WRC - Rally Italia Sardegna - Press Conference
Transcript of the pre-event Press Conference organised by the FIA for the 2019 Rally Italia Sardegna.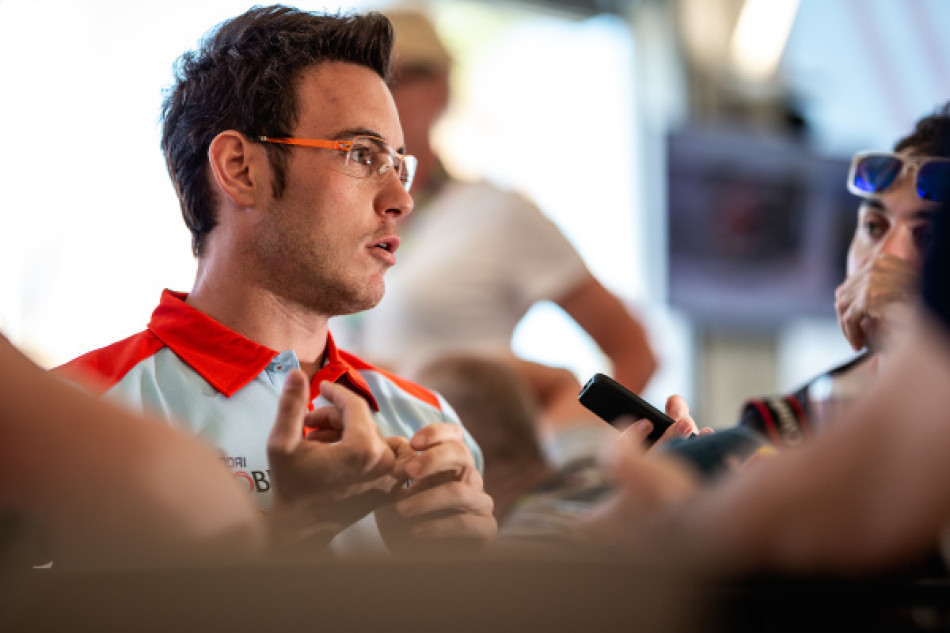 FIA WORLD RALLY CHAMPIONSHIP
Present:
Thierry Neuville (BEL), Hyundai Shell Mobis World Rally Team
Kris Meeke (GBR) Toyota Gazoo Racing World Rally Team
Teemu Suninen (FIN), M-Sport Ford World Rally Team
Esapekka Lappi (FIN), Citroën Total World Rally Team

Q
Thierry Neuville, we cannot come to this event and not reflect back on last season and the epic battle that played out on the final day. Do you think it will be a good battle again?
Thierry Neuville: It was definitely a good battle last year! If we could get such an intense battle this weekend, we will definitively go for it. I had exciting times here in Sardinia and I think we can expect similar times this weekend. It is going to be a tough event for everybody, but an interesting one, because we have to fight for the championship. We have a good road position on Friday, so we're definitively going for all or nothing. The fight is going to be intense, also for the three title contenders, we will see the match in the front.
Q:
The weather conditions this time are very different from last year: very dry. Have the stages changed in nature compared to last year?
TN: I think the weather conditions are a bit better this year, so there should be less cleaning than in the past, but still we are going to struggle - the first car especially. We have the advantage on my main contenders, that's why I need to be focused on the tyres and try to be faster than them. With a good tyre strategy, we should be able to have a good pace and maybe a better road position for Saturday.
Q:
Kris Meeke, Sardinia hasn't changed much since last year, but of course we did not see you here last year. The itinerary has not changed much, how are you feeling heading into this one?
Kris Meeke: Yes, like you said I was not here last year, it was also not part of my program in 2016… Recent experience I haven't so much on this island… I am familiar with it, I've been here in my days competing in the FIA Junior World Rally Championship, but these stages around Alghero I haven't done so many times. This is one event I think over the years that would be a little more difficult for me in terms of experience but… I come from Portugal where I made a mistake in the last stage, it was a moment, ok, but we have to think positive. Portugal was probably my strongest event in a long time, we just try to continue with that rhythm and take the positive from Portugal and try to implement this here. But, as I said, my experience here on these roads is not so great. But still, we are in the middle of the pack on Friday… You don't only have to be clean here on Friday, you have to be clean throughout the rally. There are many little places and corners, we know we have to be tidy all the way though.
Q:
You talked about the positive which certainly were your pace in Portugal. You said you felt confortable on hard compound tyres, how much of tyres is it going to be, let's say, a bit of a head ache this weekend, trying to get which compound is right between the medium and the hard?
KM: Yes, it's a challenge… I was not here last year, but obviously I followed, I've read all the information... With these temperatures, I think for me the choice moves from the afternoon loop to the morning loop. For the guys at the front it's quite simple, they can go with the softer option in the morning, but even if you are starting towards the back of the top-ten in the morning, it's going to be difficult to carry a full set of medium. So I think I will have this decision to make in the morning. I think that in the afternoon, it will be quite clear, but the morning is where the decision will need to be made.
Q:
Esapekka Lappi, Meeke mentioned mistakes that he made in Portugal, similar to you on the final day after what had been a strong performance from you in your Citroën. You told me afterwards that you felt under major pressure to deliver a result. Now that we've had two weeks since that event, do you still fill that way or has it eased a little?
Esapekka Lappi: Everybody knows – or they can guess - for sure, that it hasn't gone away. After what happened on Sunday, it is still the same pressure, or even more. It's not been the year for me, I haven't really delivered anything, so I would like to finally try to deliver something back for the team.
Q:
Similar to Kris, the positive was your pace. We saw the "old Esapekka Lappi" come back in Portugal. Are you happy with the changes that have been made to the car, the times were coming through, that's a good positive moving forward?
EP: Clearly, we had quite a strong Saturday. Also on the Friday, the speed was not really bad, so we need to take the positive from Portugal. This rally has been quite good in the past two years, so it's good to be here.
Q:
Can you describe the change that has happened with the car that is making you more confident?
EP: We changed a lot, we increased the locking on the front, quite a big amount actually. And that was the key.
Q:
Teemu Suninen, we see big changes for you heading into this event with a new co-driver on board in the shape of the very experienced Jarmo Lehtinen, who used to sit alongside Mikko Hirvonen. Firstly, why the change?
TS: I have to say that, during this season, I still felt like a quite unexperienced driver. It's great to have some expert that can give you some tips. Good experience for me, I want to be a kind of student, the guy who is learning. At this point of my career, I have to learn as much as possible.
 
Q:
So have you noticed a change already? Are you feeling maybe more confident, even after Shakedown with Jarmo alongside you?
TS: Yes, I feel more confident now, but still it is not easy to change co-driver because the voices are different etc so I need to get used to it. At Shakedown, the feeling was good, but we know Shakedown is a different story from the rally.
Q:
What's the hope and the objective this weekend for Mr.Suninen and Mr. Lehtinen now?
TS: We saw something in Portugal, like Friday we were fighting for third position. Fighting then for second… So we will try to do something similar. But of course, it is going to be difficult with these guys. It's going to be a tight fight and the Friday is the really important day in regards to the starting position for the next days.
Q:
You mentioned me earlier there is a little age difference between you and Jarmo. You are 25, so he is double your age. But he told me today that even though he is older than your dad, your taste in music is pretty similar, so the road section should be ok, right?
TS: Yes that's true! Actually I have never seen that one man that can get twenty years younger in one day just by getting back in a rally car! He is still a young boy, very interested in rally!

FIA WRC 2 PRO CHAMPIONSHIP
Present:
Kalle Rovanperä (FIN), Škoda Motorsport
Mads Østberg (NOR), Citroën Total
Q:
Kalle Rovanperä, we saw a great run of events in FIA WRC 2 Pro, great run of success so far, but now we switched base in Sardinia – a really tough event, very quick… How are you feeling about your chances this week?
Kalle Rovanperä: It has been going really well in the previous events. It's the first time in this rough event, so we will see how it goes. If I can be gentle enough with the car and tyres, hopefully we won't have any problems. But it is going to be quite difficult on these stages because it is really narrow and tricky. And I think I don't have much experience on narrow roads.
Q:
Do you think you can be gentle on the car?
KR: I'll try but I don't know.
Q:
From what you have seen out on the recce, how much of a challenge do you feel it is going to be for you?
KR: It is going to be really tricky because I am used to wider and flowing stages. Here it's all the time tricky and narrow, so you have to be really precise with your notes and you don't have too much space to do any mistakes or anything. So it will be a quite tricky one.
Q:
How do you feel it went on Shakedown this morning?
KR: Shakedown was good, there was more grip than expected, so if it is like that in the rally, it is going to be quite enjoyable to drive.
Q:
Mads Østberg, the man who has a lot of experience here in Sardinia, we saw you complete the event fifth overall last year. We saw you in Portugal a couple of weeks ago with a few dramas for you out of your control as well… Are you confident that you are going to go in this rally problem-free?
Mads Østberg: We are trying to improve. All the season, I think we caught out with problems we should not have had, it's been the same for the last few rallies, actually. I think we tried to sort them out. The issues in Portugal came from the punctures, we thought that they came from the fault on the side of the rim. We have new rims on the way, so Citroën did a good job to re-design them and try to produce the rims. That's the biggest improvement that we have from Portugal and hopefully new rims can keep us out of trouble and then we can be fast.
Q:
Can they make it for tonight if they are still on the way?
MO: I have no idea. Italians are quite fast, I see them driving around on their small Fiats, sideways on the roads, so hopefully there is some crazy local with his little Punto with rims for me!
Q:
You have great experience on this island, taking good results in the years. Tell me what you have to do to get good results because it is a rough rally, but it's also exceptionally quick. How do you handle that balance?
MO: It's quite a big switch from the first to the second pass. The rally is really nice on the first pass because the stages are fast and flowing and you can compare it to a lot of other rallies, but it develops a lot from the second pass, where it gets really rough. The tyre wear is high and you have to be careful of your tyres and try to stay out of punctures, that's the key, especially now in FIA WRC 2 with slightly softer tyre which puncture more easily than what I am used to. My pace-notes are different from the past.
FIA WRC 2 CHAMPIONSHIP
Present:
Fabio Andolfi (ITA)
Nikolay Gryazin (RUS)
Q:
Fabio Andolfi, it's a home event for you but firstly, it was a different co-driver for you on the first run of Shakedown today, with America Cup's helmsman Jimmy Spithill - how was that and did he enjoy it?
Fabio Andolfi: This morning the first pass of the Shakedown with Jimmy without my notes was a little difficult for me, but it was ok.
Q:
Talk to me about your expectations. You've won here in FIA WRC 3 but not in FIA WRC 2, what are you hoping for here, Fabio?
FA: To win!
Q:
Were you happy with the car this morning at Shakedown when your co-driver Simone Scattolin was in the car?
FA: Yes, we are happy. The car is working well, we did two test days in May and the Monday test was ok. And my feeling with the car is good.
 
Q:
Nikolay Gryazin, we saw you competing in Portugal, we saw good pace coming from you there and you mentioned you wanted more. Are you happy with your performance in Portugal?
Nikolay Gryazin: Sure. This is my first time in FIA WRC 2, it's about acknowledging these roads and gaining experience with that. For sure I want to try to improve and find the speed, so we work a lot, and I hope to improve in each race. But for sure this year it is not easy to go fast because there are too many kilometres in one rally, you just need to be confident. So this is why our strategy is to push in places where you can and in some difficult places be careful. And the point is to finish and get experience in this rally.
Q:
Every rally is a new experience for you, what do you think about the Sardinian stages when you saw them on the recce?
NG: It is not usual. In some places it's tough, in some places rough, there are many stones, I think on the second pass all rocks are sideways, it's a little scary for punctures and it's possible to make mistakes like to go off road. It is not easy, you really need to be very precise.
FIA JUNIOR WRC CHAMPIONSHIP
Present:
Julius Tannert (DEU)
Enrico Oldrati (ITA)
Q:
Last time we saw you guys was in Corsica, it seems a long time ago. Julius, you took the last FIA Junior WRC win in Corsica, what about the feeling coming here to Sardinia, are you confident?
Julius Tannert: For sure. After the win in Corsica, we are confident and we have high motivation. We had a big push from this result and we are back in the game for the championship, so this gives us extra-energy to fight here for good results.
Q:
The championship is really interesting right now. Such a strong mix of drivers... How much do you risk out there, Julius, especially on the opening day?
JT: I think with our cars, it is really hard on these stages. The guys in front of us change the road conditions for us and then we come with our small Fiestas, so it's really hard for us. The thing is to survive over the three days and I think, if you push from the beginning of the three days, you won't see the finish line. So you have to be clever to find the right speed for the car on this road.
Q:
Are you a clever driver?
JT: I hope so, I can tell you on Sunday.
Q:
Enrico Oldrati, the Italian round of the FIA WRC is home for you. In the FIA Junior WRC category this weekend, how confident are you of taking a good result? What are your hopes?
Enrico Oldrati: Well, quite a lot. Because it's my home rally and for sure, I want to do well. For sure it will be a tough rally for us but we will try to be clever and we will see how it goes.
 
Q:
Looking back on this season so far, how would you rate your performance and how happy have you been with what you delivered?
EO: I can be happy because I got quite a few points compared to last year, I am not ready to fight for the podium but it is ok because I am here to get experience, so we will see after this race how it will be for us.
Q:
What is your plan moving forward?
EO: For sure my year will be next year, so we will see if I can get the right pace, even if it will be difficult. I just started last year in rally, so we will see.