WIM - FIA WOMEN IN MOTORSPORT COMMISSION SUPPORTS GIRLS IN THE VOLANT WINFIELD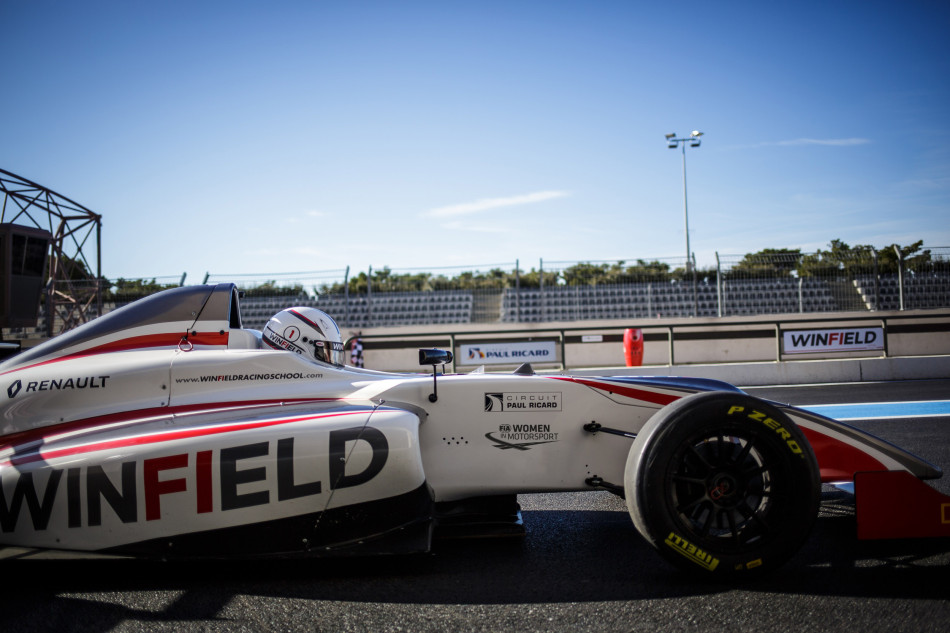 The FIA Women in Motorsport Commission has pledged to support one of three female drivers selected to participate in the 2019 Volant Winfield (23-25 February), a single-seater talent training and selection programme organised by the France-based Winfield Racing School. Eighteen young boys and girls between the ages of 14 and 17 years will come together at the Circuit Paul Ricard where they will be trained and evaluated on a number of different on and off-track activities before an outright victor is selected to win a season's racing in the 2019 French FIA F4 Championship. Regardless of the outcome, the FIA Women in Motorsport Commission together with Winfield Racing School have guaranteed to support the most deserving female driver through a three-day programme of race preparation and F4 testing with the school and the FFSA Academy at Paul Ricard.
"I remember Winfield Racing School from my early days in motor sport and the significance it had for up and coming drivers," commented Michèle Mouton, President of the FIA Women in Motorsport Commission. "It is important the girls are evaluated alongside the boys, giving a true indication of their performance level, so we are happy to support this type of initiative and potentially give one of the girls an additional chance to show her potential in a single-seater race car."
The girls participating - none of whom has yet competed in a full season in any single-seater category - are:
Tara Eichenberger, Switzerland, aged 16
Emily Linscott, Great Britain, aged 16
Doriane Pin, France, aged 15
The Winfield Racing School has a long and illustrious history in motor sport and more than 30,000 aspiring racers from around the world have passed through the school in a bid to win the coveted Volant Winfield that rewards the best talent of each year with a full season in competition. The early careers of more than 30 Formula One drivers, two of whom went on to win five times the World Championship, started here, underlining the significance of this single-seater training programme and selection.
"The spirit of the Volant Winfield is not only based on technical skills and performance but also on sporting fairness, merit and respect for rules and traditional values; principles advocated by the FIA as the regulator of global motor sport," commented Anne-Charlotte Remy, Winfield Racing School Managing Director. "The three-day programme is intense and, in addition to driving, the participants will go through physical and mental assessments and media training, as well as benefitting from workshops hosted by industry experts in the fields of regulations, engineering, tyre management and vehicle dynamics."
The outright winner - boy or girl - selected by a jury comprising some influential people in the industry, will receive an exceptional opportunity to compete in a full season of competition in the seven-round French FIA F4 Championship. As part of its mission to encourage young females in the sport, the FIA Women in Motorsport Commission has also pledged to support the most promising and deserving girl, should she not be the overall winner. One full day of race preparation, including simulator work, physical and mental tuition and coaching with Winfield Racing School will be followed by two official Formula 4 test days with the FFSA Academy at the Paul Ricard Circuit.
Cathy Muller, who sits on the FIA Women in Motorsport Commission as its Detection Cell Manager, won the Volant Elf-Winfield, as it was then known, back in 1981 and competed in the Championnat de France de Formule Renault where she finished eighth overall.