Who will claim the FIA Rally Star MENA final prize?
The focus of the first FIA Rally Star Training Season switches to the Yas Marina Circuit in Abu Dhabi where the Middle East and North African Final winner will be crowned this weekend.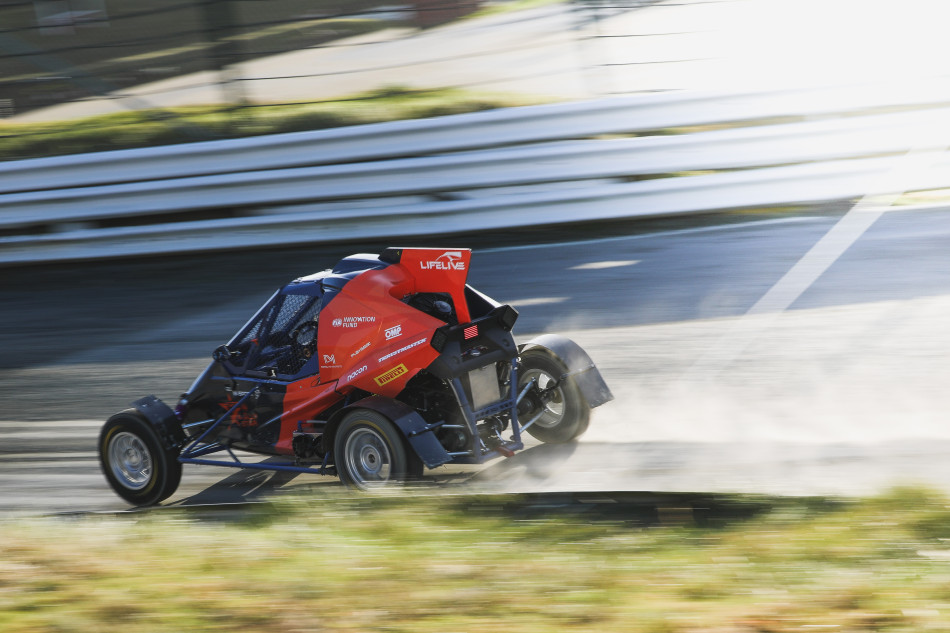 From March 18-20, the United Arab Emirates will host the FIA Rally Star Middle East and North African Final using purpose-built stage layouts located within the state-of-the-art Abu Dhabi Grand Prix venue.

Candidates from 9 countries within the region, dreaming of one day competing in the FIA World Rally Championship, will go for a life-changing opportunity by undertaking a series of timed tests and assessments. The results will be used to determine who will join FIA Rally Star European Final winner, Estonia's Romet Jürgenson, in the inaugural FIA Rally Star Training Season in 2023.

In total, 24 candidates will contest the FIA Rally Star Middle East and North African Final having qualified via Digital or Slalom Challenges held virtually within their country or online, or as a wildcard nominated by a National Sporting Authority (ASN).

The FIA Rally Star Middle East and North African is the second of six FIA Rally Star Continental Finals in 2022. The results of the Continental Finals decide six of the seven FIA Rally Star Team members for 2023 with the seventh member coming from an all-female final contested later this year by the best-performing woman in each of the six Continental Finals. The European Final was held at the Estering in Germany in January.

WHAT'S UP FOR GRABS AT YAS MARINA?
Whoever wins the FIA Rally Star Middle East and North African Final will have the honour of representing the region in the 2023 FIA Rally Star Training Season. As well as six rallies in an M-Sport Ford Fiesta Rally3, the Training Season package includes physical and intellectual assessment, driver coaching and testing. The aim is to equip the successful contestants with the attributes they need as they attempt to secure a drive in the FIA World Rally Championship in the future.

THEN WHAT HAPPENS?
At the end of 2023, the best four FIA Rally Star Team members are rewarded with a season in the FIA Junior WRC Championship in 2024. For 2025, three drivers go forward into a second Junior WRC season. And if one of the FIA Rally Star Team members wins the title, they secure a WRC2 campaign in a Rally2 car for 2026 with a Rally1 drive their next target.

Apart from any initial registration fee to take part in a national selection event, plus travel costs to and from national selections and the Continental Final, all other costs are covered by the FIA with support from the FIA Innovation Fund together with the FIA Rally Star partners. The partners are M-Sport, Pirelli, the FIA World Rally Championship, Nacon, Thrustmaster, Playseat, Digital Motorsports, OMP and LifeLive. 

Taking into consideration the Training Season in 2023, plus two years in the Junior WRC, that essentially means three seasons of rallying free of charge for three drivers. Furthermore, all FIA Rally Star Team members will benefit considerably in terms of the experience and skills gained in 2023, plus the opportunity to showcase their ability to media outlets and potential sponsors and partners, rally teams and car manufacturers.

FIA RALLY STAR MENA CONTINENTAL FINAL: HOW IT WORKS
The FIA Rally Star Middle East and North African Final is held over three days of intense competition (March 18-20) at the Yas Marina Circuit in Abu Dhabi.

Day one (Friday March 18): The FIA Rally Star Middle East and Northern African Final participants are split into groups for Stage 1. After they have completed one reconnaissance run over the stage, which will be approximately 750-900 metres in length, they will get two timed training runs in the Pirelli-equipped TN5 Cross Car from FIA World Rally Championship driver Thierry Neuville's LifeLive organisation. 

Day two (Saturday March 19): All Stage 1 drivers will continue to Stage 2. Following one reconnaissance run, the drivers, in groups of four and sharing two identical TN5 Cross Cars, will tackle a course approximately 1800 metres long. The starting order will then be reversed for a second round of runs with the times of both the first and second runs being added together to determine the classification of each Group. The fastest two drivers from each Group will qualify for Stage 3. The two fastest drivers relative to the average of the two fastest in their Group will also qualify for Stage 3. In the event of no women qualifying for Stage 3, the Jury will decide the driver who will qualify for the all-female Final later this year by taking into account their Stage 2 performances. The Jury may also consider other criteria or results of various assessments when making their decision. 

Digital Challenge offers additional chance of progression
A modified version of Nacon's WRC 9 game will be used for the Digital Challenge, which provides an alternative method for reaching Stage 3 for drivers eliminated after Stage 2.

Day three (Sunday March 20): A layout measuring approximately 2700 metres will provide the challenge for Stage 3. Following reconnaissance, the 12 participants will complete two timed runs before the stage is reversed for the third and final run. The fitness levels of all divers will be assessed during Stage 3 through running sessions and reflex tests. The results of the physical assessment, plus the Stage 3 classification, will be used to decide the winner, although the Jury may consider using other methods to determine the driver qualifying for the FIA Rally Star Training Season and the Women's Final held later in the year. 

Deciding the winner is a carefully considered process
The winners will be announced at 18h30 local time on Sunday March 20 after all drivers have been interviewed by the Jury. The FIA Rally Star Middle East and North African Final is closed to spectators.

THE FIA RALLY STAR EUROPEAN FINAL JURY
A five-person Jury will preside over the FIA Rally Star European Final consisting of:

Pernilla Solberg (Chairwoman member): An ex-class-winning rally driver, Solberg is the wife of 2003 FIA WRC champion Petter Solberg and mother of WRC driver Oliver Solberg.
Terenzio Testoni (Jury Member): Pirelli's Rally Activity Manager, Testoni is vastly experienced in working with young drivers and helping to guide their careers.
Gus Greensmith (Jury Member): M-Sport Ford factory driver in the FIA World Rally Championship from Great-Britain.
David Terrien (Jury Member): French racing driver who competed at international level but now makes coaching young karters his focus.
Maciej Woda (Jury Member): Woda heads up M-Sport Poland, the company behind the Ford Fiesta Rally3 and Rally4 cars. He also oversees the successful running of the FIA Junior WRC.

In addition, Patrik Hallberg from Sweden, who was selected as the Reserve Driver at the FIA Rally Star European Final, will also attend as the Driver Advisor.

WHO'S TAKING PART?
The 24 FIA Rally Star Middle East and North African Final participants include three #RallyAtHome Challenge winners (from a total of 4500 entrants), 10 who secured their place through a Digital Challenge during a national selection event, six who were successful in Slalom Challenge events held by ASNs and five who have been selected as wildcards. There are 21 male and three female finalists. The seven national selection events organised by ASNs in five countries attracted 100 contenders.

The following countries will be represented in the FIA Rally Star European Final:

- Cyprus
- Egypt
- Iraq
- Israel
- Jordan
- Lebanon
- Oman
- Qatar
- UAE

WHAT THEY SAID
Jérôme Roussel, FIA Rally Star Project Leader: "Following the success of the FIA Rally Star European Final, we're all set for the FIA Rally Star Middle East and North African Final. We have a very good gravel stage prepared at the Yas Marina Circuit and can count on an experienced jury including Pernilla Solberg once again. We will also have the support of David Terrien, a former karting champion who is working in the Middle East and giving advice and training to young karters. The ASNs have been busy organising their detection programmes and we are pleased with the level of interest. We now look forward to discovering who will represent the MENA region in the FIA Rally Star Training Season."

Izz Bustami, FIA Rally Star Jordan Project Lead: "Desert Fox Racing is the online racing community of Jordan and the Middle East and we have worked together with Jordan Motorsport, the ASN, to support the new generation to become tomorrow's professional motorsport athletes. Today's generation don't really have the funding and support to do motorsport, but this programme will boost the presence of motorsport in Jordan and this means a lot to us. The generation of today know digital racing but not so much actual racing so, for our selections, everyone who participated in the Digital Challenge also qualified for the Slalom Challenge and we are sending six candidates to the Final. We want our candidates to go there just focusing on the event itself, we are covering all the travel expenses so they just have to go there and drive."

Khalid bin Sulayem, President of the Emirates Motorsports Organization (EMSO): "We are delighted to host the Middle East and North African FIA Rally Star final in the United Arab Emirates at the Yas Marina circuit complex. Our mission is to develop motor sport at both national and international level and rally has always occupied an important place in our country's motor sport heritage. Last week some of the world's best cross-country competitors were celebrated here during the Abu Dhabi Desert Challenge, round two of the FIA World Rally-Raid Championship, and now the focus turns to grassroots rallying and the next generation of champions in the discipline. This event will be a great opportunity for young men and women to showcase their talent and compete for the chance to advance to the next level. I'd like to warmly welcome the clubs from the MENA region joining us this weekend and to their national candidates, and thank the FIA for the possibility to host this continental final."

In the spotlight: Moath Alshishani, 24, Jordan
What are your views on the FIA Rally Star project?
"I'm very excited for this project; giving opportunities to people to show their skills is always a good thing. And the project is long term, so it gives a good amount of time to be prepared and ready to be a professional rally driver."
Where does your interest in motorsport come from?
"My father was a mechanic, so I spent a lot of time with cars, playing with model cars and video games. And my brother always took me with him to the speed tests and hillclimbs in Jordan. That is what made me passionate about motorsport."
What will be your approach to the FIA Rally Star MENA Final?
"I want to widen my knowledge in motorsport, learn it from the professionals and do as best as I can with no mistakes. Hopefully I can take the first place and win."

In the spotlight: Gal Dror, 21, Israel
You qualified for the FIA Rally Star MENA Final through the #RallyAtHome Digital Challenge. What did it feel like when you realised you would be taking part?
"I felt extremely happy because I knew that after trying to qualify for eight months I finally did it and I will have a real opportunity to fulfil my life dream. I have been following rallying for 15 years and I have a big passion for cars and rallying."
You are clearly a talented driver in the virtual world but how much driving experience do you have in the real world?
"I don't have so much experience. I have done a bit of four-stroke karting and one test day in a cross car but that's all the real driving experience I have. But I am preparing the best I can and I am determined to make the most of this incredible opportunity I have been given to represent my country in this prestigious competition."
Who are your motorsport heroes?
"Sébastien Loeb is my hero in Rallying and my favourite driver in general. It's fair to say he is a big inspiration for me and I can only begin to imagine what it would be like to one day compete in the World Rally Championship and just experience a fraction of what he has. I am also a fan of Fernando Alonso, a very talented and versatile driver."

In the spotlight: Lana Ibdah, 23, United Arab Emirates
Can you explain how you qualified for the FIA Rally Star MENA Final?
"I qualified by scoring high results for the UAE National Final and UAE FIA Rally Star. Hopefully I will be representing UAE in FIA Rally Star."
How proud are you to be representing your country?
"I'm absolutely proud to be doing what I've been reaching to do. Representing my country in the MENA Final is a very proud moment as it also gives me the greatest stage to prove my performance and myself."
What would winning the Final mean to you?
"Winning the final will mean a lot to me especially with the support of my family and friends. Winning might open more paths to the industry I have a passion for because reaching the goal to change what you are doing to match the passion is a true success."

In the spotlight: Hazem Zaki, 20, Egypt
Why did you decide to enter the FIA Rally Star competition?
"I have always been a fan of motorsport and I have a very strong passion around driving and competing at the highest level. Throughout the last couple of years, I have been getting involved in most of the Esports races in our region and performing well. Around a year ago me and three others were selected from a group of more than 1000 after an intense competition that lasted for four months to find young talent in our region. I've never stopped looking for opportunities that will hopefully take my racing to the next level."
How are you preparing for the FIA Rally Star Middle East and North African Final?
"I've been training with a professional coach. The training focuses on physical stamina and endurance through a lot of running and cycling. I've been doing a lot of karting and sim racing with the goal of getting used to the pressures that come and to build my confidence."
What do you think you can achieve in the Final in Abu Dhabi?
"I truly believe that opportunities like these don't come around often. Throughout the past couple of years, I have proven that I am one of the best drivers in the region. Hopefully I am fully prepared to win, while also enjoying every moment of the competition."

INTRODUCING THE PIRELLI-EQUIPPED TN5 CROSS CAR
The TN5 Cross Car from Thierry Neuville's LifeLive organisation is used by all drivers tackling the timed stages. The Cross Car (XC) category is off-road motorsport's equivalent to karting. XCs are accessible and affordable single-seaters using a tubular spaceframe chassis powered by a motorcycle engine and provide young drivers with the opportunity to build their skills on gravel before they are old enough to hold a driving licence. Pirelli will fit all TN5 XCs with a tyre designed for use on historic-specification cars to meet the unique requirements of the cars, while ensuring rally-level grip and performance. 

COMING SOON
Following the FIA Rally Star Middle East and North African Final, the Zwartkops Raceway in Pretoria, South Africa, will host the FIA Rally Star African Final from May 27-29. Details of the upcoming Asia-Pacific, North American and South American Finals will be announced in due course along with updates on the arrangements for the Women's Final, which is due to be held in North America later this year. Maja Hallén Fellenius (Sweden) and Katie Milner (United Kingdom) qualified for the Women's Final as joint top female performers in the European Final.
More information on fiarallystar.com