Vettel: it was the toughest race of a tough season
Three-time world champlon admits Red Bull Racing RB8 did not suit his driving style all season.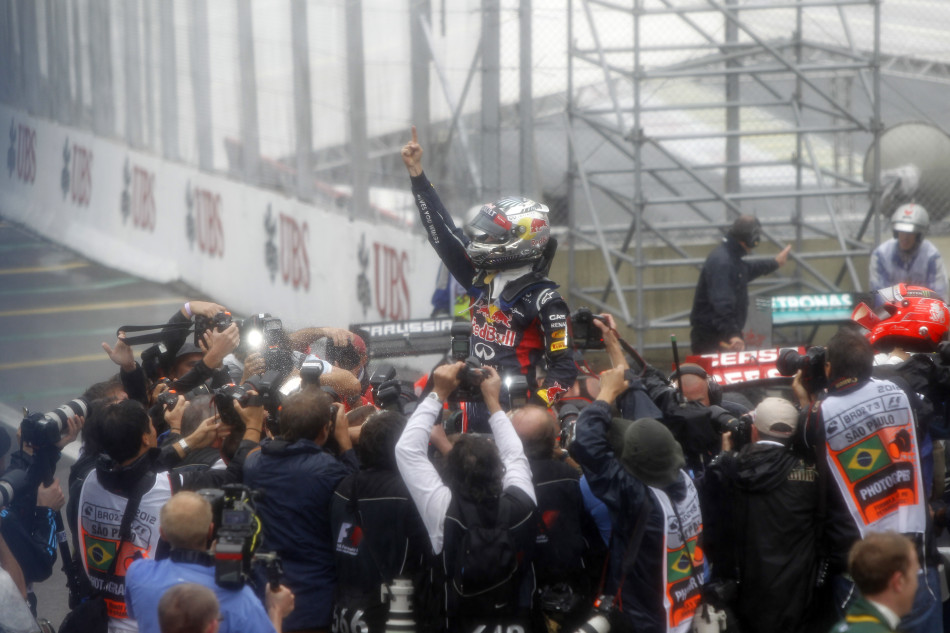 Newly-crowned Formula One world champion Sebastian Vettel has admitted Red Bull Racing's RB8 car was not to his liking all season and that the title-deciding Brazilian Grand Prix was his toughest race.
"I said it on the radio but you didn't hear but I said it was for sure the toughest race," he said of the rain-affected event at Interlagos in which he finished sixth. "Being in a situation to fight for the championship means you're not on holiday but just look at the stuff that went wrong.
I'm very happy with what
we have achieved so far
and I don't think this story
is over yet.
Sebastian Vettel
"It's hard enough if you lose radio communication for a start in these circumstances, because if there are any circumstances where you really need to talk, it's these," he added. "Then we got turned around, the car was damaged, we were dead last, we came back again. We had changeable conditions all the time and then we did a stop for nothing which only cost 20-22 seconds. We then had to come in again when it started to rain the lap after but still we finished sixth.
"Sixth is still a very good result. Some races this year we would have been happy to finish sixth, so we can be very happy with that, and obviously it happened to be the last race and the championship decider and it went in our favour, so not much more to say."
Commenting on a season in which he trailed title rival Fernando Alonso by 44 points at the half way stage and in which he recorded just one victory in the opening 10 races, Vettel said both he and the team had struggled with the RB8 throughout the campaign.
"Since the start of the season, we were fighting with the car," he said. "It wasn't similar to last year's. I couldn't use my tricks or my style to make it work and manipulate the car the way I liked. I didn't have enough rear stability mostly to work with the brakes and get the car into the corners, to the apex, the way I like.
"We tried everything and I think at some stage, we just did a step that was big enough and in the right direction," he added. "That allowed me to do more of what I like, so naturally it came in our direction."
With three titles under his belt, Vettel was asked if the next challenge would be to win a title with another team but the champion insisted he was happy with the Red Bull Racing.
"I have a contract until the end of 2014. I'm very happy with what we have achieved so far and I don't think this story is over yet," he said. "I'm very happy and extremely committed to give everything I have, also in the next years when I'm with them. At the moment, I don't see any point thinking about another team or something else. I'm extremely happy in the position I am.
"First of all I want to enjoy now," he added. "I'm very happy now and I want to have a good time with the guys now for tonight."