Rally Star Finalists Ready To Make Their WRC Dreams Come True
The stage is set for one of the most significant events in the search for a future FIA World Rally Championship winner at the Estering in Germany next week (January 28-30)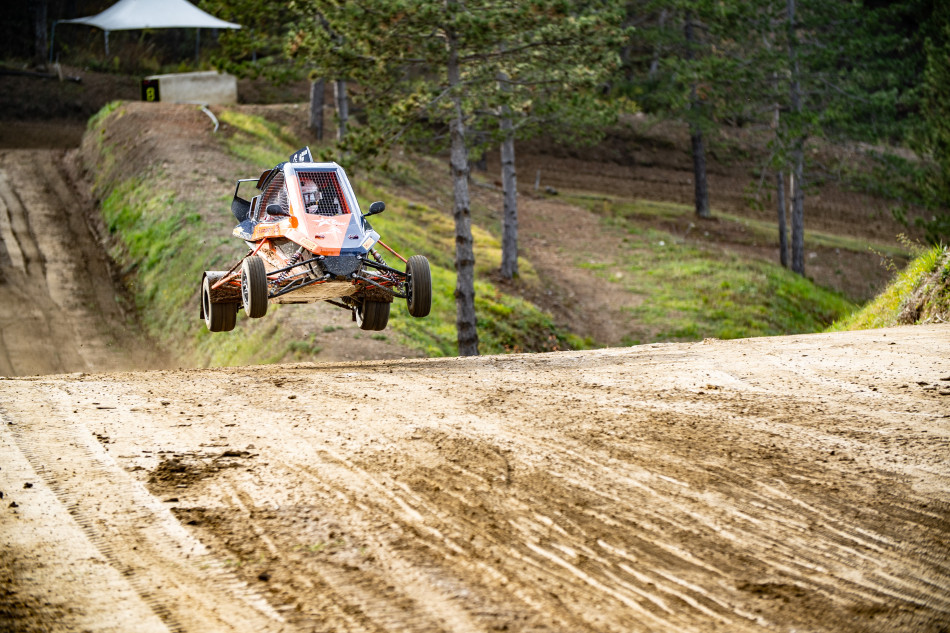 Eighty-nine young talents, including 14 women, from 22 nations will assemble in Buxtehude, near Hamburg, for the FIA Rally Star European Final with the winner given the opportunity to show they have what it takes to compete in the WRC within a single season of competition. 
While the majority of the contestants earned the right to represent their country in the FIA Rally Star European Final by excelling in Digital or Slalom Challenges during selection events organised by National Sporting Authorities (ASNs), other finalists came via the online #RallyAtHome Challenges or by being selected as wildcards based on their potential.
The FIA Rally Star European Final is the first of six FIA Rally Star Continental Finals in 2022. Results of the Continental Finals decide six of the seven FIA Rally Star Team members for 2023 with the seventh member coming from an all-female final contested later this year by the best-performing woman in each of the six Continental Finals. 
WHAT CAN BE WON AT ESTERING?
The winner of the FIA Rally Star European Final becomes Europe's representative in the 2023 FIA Rally Star Training Season. This includes six rallies in an M-Sport Ford Fiesta Rally3, plus physical and intellectual assessment, driver coaching and testing. The aim is to equip the successful contestants with the attributes they need as they attempt to secure a drive in the FIA World Rally Championship in the future.
THEN WHAT HAPPENS?
At the end of 2023, the best four FIA Rally Star Team members earn a season in the FIA Junior WRC Championship in 2024. For 2025, three drivers go forward into a second Junior WRC season. And if one of the FIA Rally Star Team members wins the title, they secure a WRC2 campaign in a Rally2 car for 2026 with a Rally1 drive their next target.
Apart from any initial registration fee to take part in a national selection event, plus travel costs to and from national selections and the Continental Final, all other costs will be covered by the FIA with support from the FIA Innovation Fund together with the FIA Rally Star partners. The partners are M-Sport, Pirelli, the FIA World Rally Championship, Nacon, Thrustmaster, Playseat, Digital Motorsports, OMP and LifeLive. 
Taking into consideration the Training Season in 2023, plus two years in the Junior WRC, that essentially means three seasons of rallying free of charge for three drivers. Furthermore, all FIA Rally Star Team members will benefit considerably in terms of the experience and skills gained in 2023, plus the opportunity to showcase their ability to media outlets and potential sponsors and partners, rally teams and car manufacturers.
FIA RALLY STAR EUROPEAN CONTINENTAL FINAL: HOW IT WORKS
The FIA Rally Star European Continental Final is held over three days of intense competition from January 28-30. All elements are held at the Estering rallycross track, which is located southwest of Hamburg in northern Germany.
Day one (Friday January 28): Drivers are split into groups with each driver having one reconnaissance run, plus three timed runs over Stage 1, which will measure approximately 750 metres in length.
Day two (Saturday January 29): The top three in each group after Stage 1 progress to Stage 2. Drivers are allowed to undertake a single reconnaissance run followed by two timed runs of the 2.0-kilometre test.
Digital Challenge offers opportunity to progress
Drivers not progressing after Stage 1 or Stage 2 can register for the Digital Challenge as a means of reaching the next stage of the competition. Candidates finishing in fourth or fifth in each group after Stage 1 or in positions 11 to 20th in the overall classification after Stage 2 can win one of the two remaining spots for day three. A modified version of Nacon's WRC 9 game will be used for the Digital Challenge.
Day three (Sunday January 30): Stage 3, measuring approximately 3.0 kilometres, is for the fastest two drivers from each group, plus the fastest two drivers not topping their group. They will be joined by the two winners of the Digital Challenge. Each driver has one reconnaissance run plus three timed passes through Stage 3.
Deciding the winner is a carefully considered process
Classifications are published after each stage with the final FIA Rally Star European Final classification based on these results plus other performances such as media interviews conducted during the event. These performances are considered by a five-person Jury, who decide the winner of the FIA Rally Star European Final, plus Europe's female nominee for the 2023 FIA Rally Star Team. The two winners are announced at the Estering on the evening of Sunday January 30. The FIA Rally Star European Final is closed to spectators, as strict COVID-19 protocol will be followed at the Estering.
THE FIA RALLY STAR EUROPEAN FINAL JURY
A five-person Jury will preside over the FIA Rally Star European Final consisting of:
Robert Reid (Chairman): Winner of the 2001 FIA World Rally Championship for Co-Drivers and newly appointed FIA Deputy President for Sport.
Thierry Neuville (Member): The Belgian has 15 WRC victories to his name and has been runner-up on five occasions. He is the founder of the LifeLive Cross Car company
Pernilla Solberg (Member): An ex-class-winning rally driver from the famous Walfridsson-Solberg family.
Terenzio Testoni (Member): Pirelli's Rally Activity Manager, Testoni is vastly experienced in working with young drivers and helping to guide their careers.
Malcolm Wilson MBE (Member): A former factory WRC driver, Wilson is the Managing Director of M-Sport, the driving force behind the FIA JWRC Championship.
In addition, former international rally driver Alexandre Bengué will attend the FIA Rally Star European Final as the Driving Advisor.
WHO'S TAKING PART?
The 89 FIA Rally Star European Final participants include 20 #RallyAtHome Challenge winners (from a total of 4,147 entrants), 27 who secured their place through a Digital Challenge during a national selection event, 26 who were successful in Slalom Challenge events held by ASNs and 18 who have been selected as wildcards. There are 75 male and 14 female finalists. The 42 national selection events organised by ASNs in 18 countries attracted 1,440 contenders.
The following countries will be represented in the FIA Rally Star European Final:
⦁ Andorra
⦁ Belgium
⦁ Czech Republic
⦁ Estonia
⦁ Finland
⦁ France
⦁ Georgia
⦁ Germany
⦁ Greece
⦁ Hungary
⦁ Ireland
⦁ Italy
⦁ Lithuania
⦁ Luxembourg
⦁ Netherlands
⦁ Poland
⦁ Portugal
⦁ Romania
⦁ Slovenia
⦁ Spain
⦁ Sweden
⦁ United Kingdom
WHAT THEY SAID
Jérôme Roussel, FIA Rally Star Project Leader: "We are delighted to be giving almost 90 drivers an incredible opportunity to showcase their talent and potential in a very competitive environment presided over by our expert Jury, headed by Robert Reid, the FIA Deputy President for Sport. We thank all the ASNs around Europe who arranged selection events and have also demonstrated their further commitment by helping their finalists get to Estering for what is the first of six FIA Rally Star Continental Finals. We would also like to show our appreciation to all those who attempted to qualify via the online #RallyAtHome Challenges. When we created FIA Rally Star, a firm objective was to unearth future WRC champions who previously only dreamed of driving a rally car. More than 5,500 hopefuls tried to reach the FIA Rally Star European Final, which is already an excellent way to measure the success of this vital initiative and gives us every reason to believe the remaining FIA Rally Star Continental Finals will attract a similar level of interest."
Philipp Ecker, Sport Development Consultant, Deutscher Motor Sport Bund, Germany: "Young talents are a very important topic for the DMSB, for which we – also together with our youth organisation dmsj – are making great efforts. The FIA Rally Star programme is a perfect fit for our own goals and an excellent tool due to its sophisticated system and international orientation. From the DMSB's point of view, the promotion of young talent is an important contribution to the sustainable future of motor sport and therefore part of our strategic considerations in this direction. Our impression of the German candidates is really good, many of them have the potential to become successful motor sport drivers. Whether it will be enough in competition with the European candidates remains to be seen. Of course, we hope that German drivers will also find themselves in the final round in Buxtehude and that one of them will also make the jump to the world championship. After all, the fans and organisers in Germany have been waiting for a long time for a worthy successor to follow in the footsteps of Walter Röhrl, Isolde Holderied or Jutta Kleinschmidt."
Marzena Jougounoux, FIA Club Correspondent, Polski Związek Motorowy, Poland: "FIA Rally Star is an innovative motor sport development programme which provides a great opportunity for talented enthusiasts, for whom professional starts have so far been only a dream. Regardless of the COVID-19 crisis, more than 150 people coming from all over the country took part in the Polish FIA Rally Star qualifications. The team is quite diversified but extremely talented: some of the drivers have more experience with karting, the others participated in amateur rallies, some others are focusing on the digital part of motor sport. PZM keeps fingers crossed for their highest success at the European Final but not only winning is important in such projects. Having the unique opportunity of experiencing the professional motor sport environment at an international level might also have an influence on their future careers. During the qualifications, the participants had a chance to discuss freely with project ambassadors: Gosia Rdest, the fastest Polish woman in racing and Kajetan Kajetanowicz, the three-time European rally champion. This opportunity served as a source of inspiration for their high aspirations."
In the spotlight: Alejandro Aroca, 24, Spain
You were the first driver to qualify for the FIA Rally Star European Final via a #RallyAtHomeChallenge. But what got you interested in the first place?
"It's one of the biggest opportunities the Esports rally community have had and I had to give it a try. It's going to be so exciting."
Having been successful competing virtually you now have to compete for real. How do you rate your chances?
"I know it's going to be really difficult, but I am also thinking about having fun and to record a really good YouTube video because I do this for a living and I know my audience is so excited. The cross cars seem really interesting and fun to drive, but the only experience I have in real life is my kart and in a Citroën Saxo race car."
How much would a career as a World Rally Championship driver mean to you?
"It is my ambition to drive a rally car for real even if I don't win the FIA Rally Star European Final. It's one of my objectives in my life that I earn enough money through my YouTube channel to start a career in rally. It would be great."
In the spotlight: Katie Milner, 22, United Kingdom
How have you prepared for the FIA Rally Star European Final?
"With Motorsport UK we have done two test days and also run through lots of different scenarios that could come up during the assessments. We also had some fitness sessions to make sure we are up to scratch."
Is winning a realistic target?
"I'd like to think so. I've not done a great deal driving cross cars but the whole idea of FIA Rally Star was to pluck someone out with not so much experience. Hopefully I can pull together all the experience I've got and come through."
If you did get all the way through to the Junior WRC, what would that mean to you?
"When I started competing rallying was always where I wanted to go but I ended up getting sidestepped into racing. But the WRC would definitely appeal, especially being a girl and the fact there hasn't been one for a long time from my country. It's time for more females to come to the floor and for me it's another challenge and something I always wanted to do but never really had the opportunity. I've got that opportunity now."
In the spotlight: Aistė Perminaitė, 25, Lithuania
What attracted you to FIA Rally Star?
"I've been participating in rally in Lithuania for two years and this gave me experience. I started in rear-wheel-drive BMW with no experience in karting so it has been hard but I have been able to progress way faster. I want to compete internationally and FIA Rally Star was the first project that gave me these thoughts and I feel way more confident."
How did you hear about FIA Rally Star and how did you qualify for the European Final?
"I participated in the Slalom Challenge organised by my ASN. I saw a poster when I was participating in a rallysprint event in Lithuania and it sounded like a really good project. After doing some online research I decided to apply."
What do you hope to achieve in Germany next week?
"I don't want to sound cocky, you know, but I hope to win. I have been checking out some of the opposition on Instagram and I see some people have more experience than me, but I am not losing my hopes. My advantage is my experience of rear-wheel drive and also riding a motorcycle. I hope these two things will combine well for me."
INTRODUCING THE PIRELLI-EQUIPPED TN5 CROSS CAR
The TN5 Cross Car from Thierry Neuville's LifeLive organisation is used by all drivers tackling the timed stages. The Cross Car (XC) category is off-road motor sport's equivalent to karting. XCs are accessible and affordable single-seaters using a tubular spaceframe chassis powered by a motorcycle engine and provide young drivers with the opportunity to build their skills on gravel before they are old enough to hold a driving licence. Pirelli will fit all TN5 XCs with a tyre designed for use on historic-specification cars to meet the unique requirements of the cars, while ensuring rally-level grip and performance.