Rally - FIA Rally Star in safe hands with OMP Racing and Bell Racing Helmets
FIA Rally Star is pleased to announce its partnership with OMP Racing and Bell Racing Helmets ahead of the global talent search for rallying's next best and brightest drivers.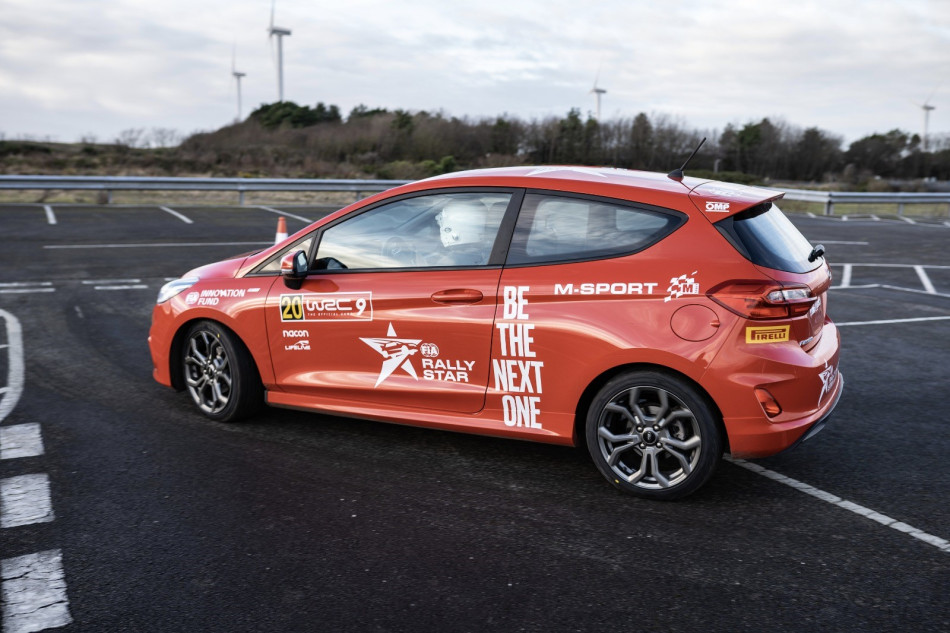 OMP Racing has been a world-leader in motor sport safety component design and manufacture since the company was established in 1973 in Genoa, Italy. In 2019, OMP acquired Bell Racing Helmets, a world-leading manufacturer of state-of-the-art head protection in motor sport.
 
The breadth of experience OMP in motor sport is unrivalled, seeing success in every decade of its involvement. The iconic black and yellow Italian logo has been part of some of the sport's biggest icons including Sébastien Ogier, Carlos Sainz, Ott Tänak, Juha Kankkunen, Didier Auriol and Tommi Mäkinen.
 
The partnership between FIA Rally Star and OMP is more than just a traditional branding exercise - every candidate participating in FIA Rally Star from the Continental Finals and onwards will be fully kitted out with OMP safety equipment: overalls, gloves, boots, and fireproof underwear. Similarly, the XC LifeLive TN5 and M-Sport Fiesta Rally3 used in the operation will be equipped by OMP. It underlines OMP's commitment to finding, supporting and protecting the next generation of drivers.
 
All drivers coming through FIA Rally Star detection programmes will also be outfitted with Bell Racing Helmets. Reinforcing its commitment to rallying and the future stars of the sport, Bell is launching a brand-new line of helmets in 2021, designed specifically for use in rallying.
 
Yves Matton, FIA Rally Director: "FIA Rally Star will seek out and select the most promising rally talents of the era from around the world to join the likes of Ott Tänak and Sébastien Ogier. Both of these FIA World Rally Champions have benefitted from programmes similar to FIA Rally Star earlier in their careers. It's a nod to history to see that these drivers have been also supported by OMP! As safety is at the core of everything the FIA undertakes, we are proud to receive the support of OMP Racing and Bell Helmets recognised worldwide for their expertise and experience."
 
Paolo Delprato, president and CEO of OMP: "We are delighted to be supporting FIA Rally Star as the official safety equipment supplier for driver protection. OMP and Bell are strong believers in providing opportunities to the next generation of drivers that show the most potential in order to ensure we find the next greats of our sport. The history speaks for itself when highlighting OMP and Bell's commitment to young drivers and we cannot wait to support more future champions with our world-leading safety equipment."
-------------------------------------------------------------------------------------------------------------------------------
FIA Rally Star entre de bonnes mains avec OMP Racing et Bell Racing Helmets
FIA Rally Star se réjouit d'annoncer sa collaboration avec OMP Racing et Bell Racing dans le cadre de son programme mondial de détection des jeunes talents du rallye.
Depuis sa création en 1973 à Gênes en Italie, OMP Racing s'est imposé comme un des acteurs majeurs dans le secteur des équipements de sécurité pour le sport automobile. En 2019, OMP a fait l'acquisition de Bell Racing Helmets, un des principaux fabricants mondiaux de casques et protections pour la tête en sports mécaniques.
L'étendue de l'expérience d'OMP Racing en compétition est inégalée, avec des succès obtenus tout au long de son histoire. L'emblématique logo noir et jaune est indissociable des triomphes des plus grandes icônes du rallye, de Juha Kankkunen à Ott Tänak en passant par Didier Auriol, Tommi Mäkinen, Carlos Sainz et bien entendu le septuple Champion du Monde Sébastien Ogier.
Le partenariat entre FIA Rally Star et OMP Racing est bien plus qu'une traditionnelle association d'image : à partir des Finales Continentales de l'opération, chaque participant sera doté des équipements de sécurité ignifugés OMP : combinaison, gants, bottines et sous-vêtements. De même, les XC LifeLive TN5 et M-Sport Fiesta Rally3 utilisés pour le programme seront équipés par OMP. Cet élément du partenariat démontre l'engagement de la firme italienne à soutenir, supporter et protéger la prochaine génération de pilotes.
Tous les candidats des programmes de détection FIA Rally Star porteront les casques Bell Racing. Afin de renforcer son engagement dans le domaine du rallye, Bell lance d'ailleurs en 2021 une toute nouvelle gamme spécialement conçue pour la discipline.
Yves Matton, Directeur Rallye FIA : « FIA Rally Star s'est mis en quête des talents les plus prometteurs, qui pourront rejoindre Ott Tänak et Sébastien Ogier au sommet. Ces deux Champions du Monde FIA ont bénéficié de programmes similaires à FIA Rally Star plus tôt dans leur carrière. C'est un clin d'œil à l'histoire de constater qu'ils ont aussi bénéficié du soutient d'OMP au cours de leur carrière ! La sécurité étant au cœur des préoccupations de la FIA, nous sommes fiers de recevoir le soutien d'OMP Racing et de Bell Racing Helmets, deux marques reconnues dans le monde entier pour leur expertise et leur expérience. »
Paolo Delprato, Président-Directeur général d'OMP Racing : « Nous sommes ravis de soutenir le programme FIA Rally Star et de devenir fournisseur officiel en matière d'équipements de sécurité et de protection. Chez OMP Racing et Bell Racing Helmets, nous sommes absolument convaincus que nous devons créer des opportunités pour la prochaine génération et participer à la recherche des grands talents du futur. L'histoire parle d'elle-même lorsque nous parlons de notre engagement envers les jeunes. Nous avons vraiment hâte de poursuivre dans cette voie et de soutenir les champions de demain. »