Pioneering Spirit
In a career stretching back almost 70 years, Dr Jean Jacques Issermann has championed a range of medical advances in motor sport. And as he continues to set the standard for driver extrication procedures – at 95 years of age – there's no sign of him stopping yet.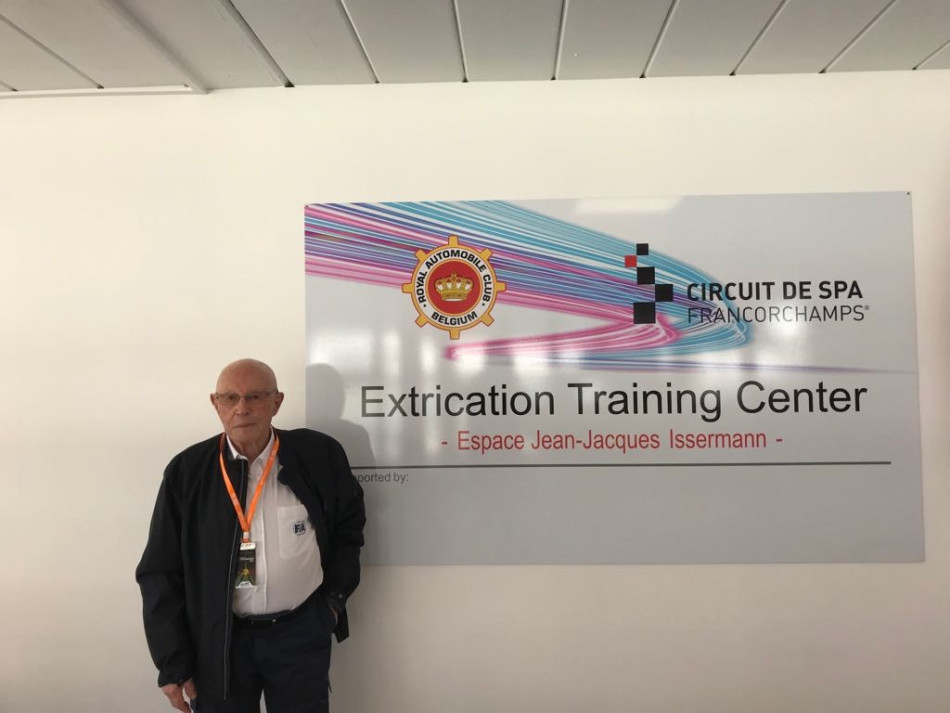 Jean Jacques Issermann was born in Paris and trained as a doctor, but his first job, as a village GP, involved him relocating to a small town near Le Mans. The year was 1949, the first year that the world's greatest endurance race was run following the end of the Second World War. It was the year of Luigi Chinetti and Ferrari. "When the train stopped at the Arnage station (on its way to Le Mans), I heard some noise coming from cars," recalls Issermann with a grin.
At the following year's 24-hour race he was trackside, a young doctor willing to be on duty through the night, at the Mulsanne Safety Post (PSR 78). Issermann was again there in 1955, and too far away from what remains the greatest tragedy of the whole history of motor sport: the debris of Pierre Levegh's Mercedes killed 83 spectators and injured almost 180.
The year after the tragedy, Dr Issermann moved to Chevilly-Larue, south-west of Paris, not far from another famous race circuit: Montlhéry. The young doctor decided it was about time he started driving properly, taking courses at the local driving school and beginning to compete, in addition to returning to Le Mans every year as a medic. He also became the chief doctor at Montlhéry, in charge of training all medical teams on that track after another tragedy: five people killed during an early edition of "1000 Km de Paris", a very popular sportscars race.
In 1967, Jean Lucas introduced Dr Issermann to Claude Bourillot, then president of the French motorsport federation (FFSA), and insisted on "the need to create medical structures that did not exist", starting with dedicated emergency and 'reanimation' teams on French tracks.
The demand led to Issermann extending his visits to circuits at which he raced with a different purpose – seeking out medical facilities and building capacity. He managed to convince the Citroën Total Foundation to finance an innovative emergency vehicle to attend major motor racing events in France.
Dr Issermann was at Circuit Paul Ricard for the inauguration in 1970, having set up the whole medical structure at the new track. He then made history in 1972 at the French Grand Prix in Charade, during practice, when he asked Vic Elford to drive a Porsche in the middle of the F1s. Two days later, he did it again, at the start of the F3 race, but at the back of the pack. A crash occurred on the opening lap and Dr Issermann was able to respond rapidly. The medical car was born and two young French drivers were on duty that Sunday, to drive it in case of a crash at the French F1 Grand Prix: Jean-Pierre Jabouille and Patrick Depailler, who later won several F1 races for Renault and Tyrrell.
Medical advances
Dr Issermann followed Jean-Marie Balestre, who trusted him, from the FFSA to the FISA and then the FIA, where a Medical Commission was created in which he worked closely with the late Dr Sid Watkins.
In 1989, French driver Philippe Streiff was involved in a huge crash at the Brazilian Grand Prix and lost the use of his legs. Balestre then promoted Dr Issermann to the position of Permanent Medical Inspector of the FIA, in charge of evaluating and rectifying medical structures at all circuits around the world hosting a FIA-labelled World Championship event, a job he did for the next thirty years. Then, at Hockenheim, for the German GP, Italian hopeful Emmanuele Pirro also had a horrendous crash. So President Balestre called him "at three o'clock in the morning", Dr Issermann recalls. "He told me me that if I could not find a solution within 48 hours, he would sack me. Hopefully, I already had a few ideas, thanks to various experiences in the UK or Hungary. I also remember getting a complete rescue unit (KED) from a cupboard at Birmingham Hospital, on the occasion of a F3000 race. It had been created for victims of earthquakes and, obviously, they had never used it. So I borrowed it..."
At the start of 1990, the FIA World Council for Motor Sport ruled that dedicated extrication teams must be present at every track where an FIA-sanctioned world championship race was being held, and training soon started at various French circuits (Le Mans, Magny-Cours and Le Castellet) supervised by Issermann and Professor Gérard Saillant, President of the FIA Medical Commission. Over the past 28 years, dozens of extrication teams from all corners of the motor sport world have been trained. Race stewards and doctors mostly, but also members of well-established racing teams from every discipline.
Earlier this year, a significant extraction seminar happened in Le Mans, organized by the FFSA and the ACO, with a wide array of beautiful racing cars headed by a Toyota TS030 Hybrid offered by the Japanese giant. Extraction teams from across Europe attended as well as F1 and endurance race crews, with observers from Baku and Luxemburg.
Medical teams are certified for just two years, because "updating the extrication process on a regular basis is crucial. Automobile technology changes fast," Professor Saillant underlines. "We need competent and well-trained teams because the first gestures [of the emergency team on the bodies of crashed drivers] are crucial."
At the end of July, a new extrication training centre was opened at Circuit de Spa-Francorchamps in Belgium, on the eve of another famous 24-hour race – the flagship event of the Blancpain GT Series. Issermann was there and was honoured for his half-century of work to prove that extrication by well-trained medical teams armed with the right knowledge and equipment is key to saving drivers' lives. "At Paul Ricard in June they all thanked me, kissed me – even [F1 Race Director] Charlie Whiting," he laughs. It's only fitting.