Opening speech of Michèle Mouton at the Closing Conference of the FIA European Young Women Programme, the Girls on Track Karting Challenge
Michèle Mouton, President of the FIA Women in Motorsport Commission, today welcomed more than 100 European commissioners, executives from national, public and European institutions, and representatives from within sporting, motor sport and women in sport organisations to the Closing Conference for the FIA's European Young Women Programme at the Bibliothèque Solvay, headquarters of the EU Commission in Brussels.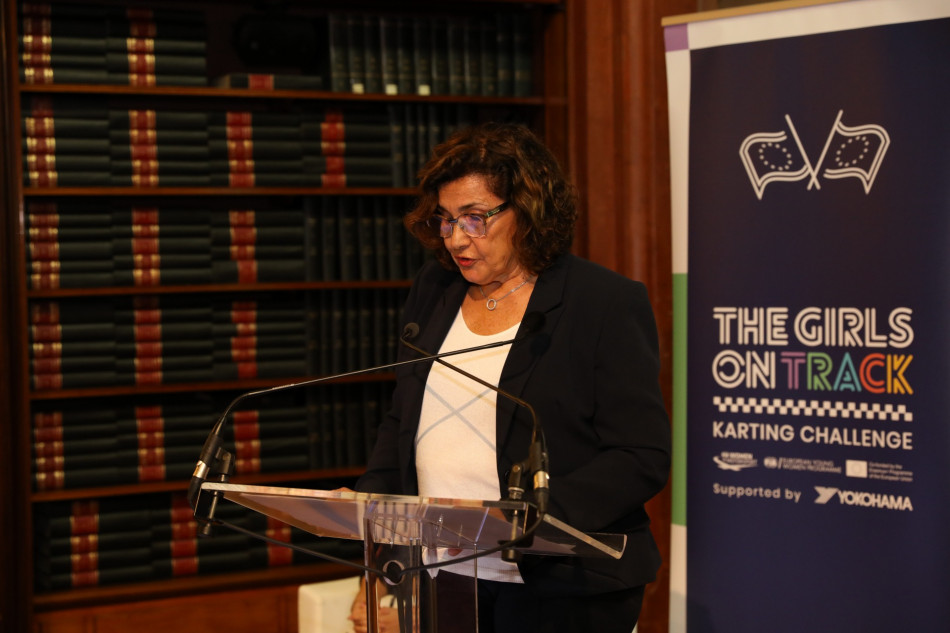 FIA President Jean Todt, Violeta Bulc, European Commissioner for Transport, and two of the six Girls on Track Karting Challenge finalists joined the opening session, discussing the two-year EU Erasmus+ supported programme aimed at championing gender equality and increasing the participation of women in the sport.
Michèle Mouton's opening speech:
It is an honour and a pleasure to be here representing the Fédération Internationale de l'Automobile, the governing body for world motor sport and the federation of the world's leading motoring organisations. We were founded in 1904 as a non-profit making organisation and now bring together 240 national motoring and sporting organisations from 144 countries on six continents.
Together, the FIA and its member clubs around the globe have a huge reach to millions of motorists and their families, and this is where our opportunity to make a difference, and make change, presents us with such potential.
The FIA Women in Motorsport Commission - one of nearly 30 commissions within the federation - is where we are striving to demonstrate our sport is open to all. We are one of a handful of sports where men and women can and do compete together. But, we are challenged with changing the perception that this is largely a male dominated world, and are striving to encourage more women to be part of all aspects of the sport.
Our sport is tough, but it's tough for anyone, male or female. And, having an equal opportunity to prove your worth - in any capacity - is what makes a difference.
Our journey started at the end of 2009 when our World Motor Sport Council - presided over by FIA President Jean Todt - approved the creation of the Women in Motorsport Commission. It was with enormous pride that I was asked to head this new and exciting chapter in the history of the FIA and it brings me immense pleasure to sense how much progress is being made. Times are changing, perceptions are shifting, opportunities are being realised and young girls and women of all ages are feeling more empowered to chase their dreams.
The whole world is changing and reviewing its attitude towards women in the workplace; this is not just about motor sport.
I am proud our Women in Motorsport Commission, its members, national sporting authorities and representatives around the world are helping to promote the place of women in our sport and seeking to create opportunities to encourage greater participation. And, there are many many other individuals and organisations playing a vital part too, not only raising awareness through their own involvement and personal experiences, but in concrete support - jobs, opportunities and race seats.
During our first meeting in April 2010, we established clear goals of what we needed to achieve. Naturally, one of our key messages is to demonstrate that women are recognised, and very much welcomed, by the highest body responsible for motor sport. But, it's not just all about competition; we also have to promote the openness of our sport in all of its aspects. Those young women who look at engineering, team management, becoming an official - taking up any role in the sport - they have to be aware it is equally possible for them to do this. There cannot be perceived stereotypical barriers that are putting females off looking at our sport as a career option.
Developing programmes with our own sporting and non-sporting commissions, member clubs and other key international federations has also been important in our mission to spread the message and provide opportunities.
Motor sport still only has around 5% female participation and the goal is to make this 50%. It's ambitious but a target we must have. It's not going to happen overnight but, from the outset, knowing the reason why there were and still are comparatively few women represented in the sport was - and continues to be - one of our biggest challenges.
Through our national sporting authorities around the world, we are able to establish what percentage of women are license holders, in any capacity, but we have to reach out to more. The work of these clubs and our women's commission representatives helps us dig deeper into what is holding more people back. This support on a global basis assists with identifying future action plans nationally and internationally. We also have to consider cultural issues; what works in one country is not necessarily the best strategy in another, and this is where our internationality provides so much knowledge and understanding.
If we look at the competitors, to the world at large being a motor sport driver is high-profile and quite some target to achieve, especially at the highest level reached by just an elite few. Competition is fierce, even in the lower grassroots formulae, and this is where we feel the greatest difference can start to be made. We need to target the future generation at an early age. It is only natural that if there are very few girls competing against boys as youngsters, the percentage of them going further is always going to be smaller. We have to look at increasing the number of girls participating at the base level, the bottom of the pyramid, and in this way their chances of progressing further become more equal.
This was very much part of the philosophy of our EU supported Girls on Track Karting Challenge; getting young girls inspired and having a go, opening their eyes to motor sport and challenging themselves by doing something perhaps only their brother had done.
Having a target young generation audience also provides us with important opportunities to keep delivering our social, educational and safety messaging. Aside from the driving element of the Girls on Track Karting Challenge, many fun but educational activities were incorporated into the programme, including road safety and environmental awareness workshops that underlined potential dangers on the road and the importance and impact of recycling on our planet.
Since the inception of the Women in Motorsport Commission we have supported many initiatives to assist female drivers of all ages and this is where working with our commissions and member clubs has been so effective. For 10 years, we have been supported by our colleagues in the Commission Internationale de Karting, the FIA's specialist karting commission at the grassroots level of the sport. This is exactly where we want our young Girls on Track drivers to progress to as their first step up the motor sport ladder. It is the discipline where virtually every top driver in the world learned their race craft. Working together, we have reserved at least one kart each season for an upcoming female racer to provide them with an opportunity to compete on equal terms in identical machinery. Many of these young girls have gone on to race in more advanced formulas and taken that next step in their racing career. Identifying more and greater opportunities in karting is key, as this really is where our future female racers will start their racing careers.
Our 32-strong elected Commission membership also includes representation from the car manufacturers and gives us a crucial link to decision-makers who can help us create opportunities and chances for female racers. Collaborating with the Manufacturers' Commission is key to us helping to open doors, make introductions and put top drivers in the frame when racers are being tested and driver line-ups are being decided.
After many years of working together, we can see the progress being made when some of these important manufacturers are making contact with us, asking for assistance in identifying young talent they can train for the future. As such, we are also now working on the development a young talent pathway from next year, where we can help guide these female racers through their progression.
As I have mentioned, working with these Commissions helps us realise more goals and joining forces with the FIA Drivers' Commission recently presented another opportunity to assess 15 of 25 of the world's top female racing talent during a two-day assessment designed to achieve a clear overview of the potential of drivers from different disciplines. Knowing the level of our talent pool - who have been benchmarked against professional drivers - puts us and these drivers in a far better position with the manufacturers who now have concrete data about their performance level. From this, nine of our assessed drivers were invited to Saudi Arabia for tests in the all-electric FIA Formula E Championship cars, with two of the drivers invited back for further assessment. The support of the Single Seater Commission, the teams and the promoter of the championship played a huge role in making this happen and these opportunities further benchmark the female drivers against their male counterparts, critically in the same machinery being raced by the teams' contracted drivers.
We are also working on similar opportunities with the FIA Endurance Commission in sports car racing. Not only are we supporting an all-female crew in the American series, but we were delighted another of our Commission supported crews secured an entry for this year's Le Mans 24 Hours; quite some achievement considering the limited places on the grid and the consistently high level of global interest. This was a huge opportunity for them at the world's most famous endurance race and our goal in this discipline is to get women onto the podium of this iconic race. Their performances in their GTE category, both at Le Mans and in Europe, certainly suggest this is realistic and our future plans are looking equally bright. We are already in the process of helping another all-female crew compete with a professional team in the European Le Mans Series, but in the next category up the racing ladder, LMP2. Our dream of having these top female racers on the podium in the European series, as well as at Le Mans, is starting to be realised.
In some of the less promoted categories, there are also numerous female race winners and title holders in every discipline from drag racing to truck racing, rallying, British sports cars, touring cars and electric racing. Having these winners as ambassadors to other females gives hope and inspiration and part of our mission is to promote what these women around the world are achieving, demonstrating what is possible with drive and determination. We know having someone to look up to is motivating and inspirational and we are very proud of the successful women who represent the FIA Women in Motorsport Commission on a global basis in the areas of driving, engineering, officiating and management.
A high proportion of our Commission membership comes from the national sporting authorities themselves, the clubs around the world representing and governing the sport in their country. The future generation of competitors, officials, volunteers and so many other people who join our sport together are as important to them as they are to the FIA. Their national initiatives will help boost participation across many different levels and by working together too, we can achieve even more. In 2015 we partnered our federation in Qatar for a world-wide search for upcoming talent in the cross country rally discipline and a call for candidates was launched through the FIA's global network to find 16 drivers and co-drivers to undertake a training and selection programme. Three crews ultimately got the chance to participate, free of charge, in Qatar's round of our FIA World Cup for Cross Country Rallies. The value of these type of opportunities, as well as the promotion the women receive, is immeasurable.
It is easy to focus on the high-profile competition side of the sport, but without the support of so many volunteers and officials there would be no events. This is another area where we work collaboratively with our Volunteers and Officials Commission, highlighting the work of these unsung heroes, male and female, who we need to encourage friends, family and the younger generation to come and join us. Incentivising and recognising their work is so important and initiatives such as a female officials exchange programme for volunteers and officials is not only part of a training programme but also recognition of the role they play in the success of motor sport around the world.
Within many organisations, women are holding top positions in a wide variety of departments, but there is always more to be achieved. We recognise the significant ambassadorial role these women have and their sometimes moving, but always inspirational stories make them great role models for the future generation, underlining that barriers only exist if you let them.
International seminars and conferences also provide us with the opportunity to network and share best practices, not only within the motor sport industry but also with colleagues from different sports and organisations. To date we have hosted two seminars with a third planned next year. In 2014, the FIA, on behalf of the Women in Motorsport Commission, also signed the Brighton Declaration on Women and Sport. With more than 500 organisations as signatories, this again underlines our commitment to encouraging and supporting the promotion of women in motor sport.
In conclusion, the FIA and its Women in Motorsport Commission are committed to making motor sport all-inclusive. The IOC fully recognises the FIA's leading role in the promotion and governance of motor sport. Gender equality is very much part of our commitment to conforming with the Olympic Charter and we are steadfast in our goal to meet and exceed the best international sporting, governance and ethical standards.
Thank you.
To see the best pictures of the Closing Conference of the FIA European Young Women Programme, please click here.